Archaeologists used mapping technology to locate the Maya city in northern Guatemala
The modern world is always hungry for knowledge about the wonders of ancient civilizations. Chief among those ancient civilizations is the Maya, the Mesoamerican civilization that still invokes awe.
A recent discovery in America only adds to the wonder. Archaeologists have mapped an extensive arrangement of Mayan structures in northern Guatemala constructed thousands of years ago.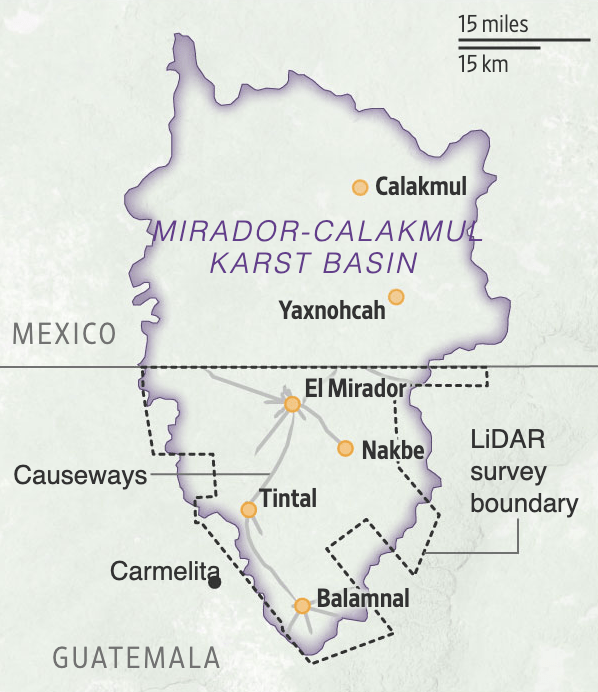 The group of archaeologists detected almost 1,000 colonies, consisting of a huge network of passageways that connected to pyramids, mansions, game courts, and reservoirs that were likely built in the period between 1,000 B.C. and 150 A.D.
Using advanced laser-mapping technology to pierce through the thick jungle, the archaeologists were able to make their discovery and counter the widespread belief that this area of northern Guatemala had few people.
Guatemalan and U.S. scientists began to explore this region of northern Guatemala and southern Mexico a few years ago using a lidar-equipped plane. Researchers say that this advanced technology has allowed them to "map in minutes what we once mapped in years."
"We had no idea of the concentration and density of ancient cities out there," Dr. Richard Hansen, one of the archaeologists who made the discovery, told the Wall Street Journal. The breakthroughs "tell a story of the rise and precocious development of an incredibly organized, sophisticated society."
Referring to it as the "first freeway system in the world," archaeologists also found more than 100 miles of lifted roads, which they say indicates that the Maya had a relatively advanced level of bureaucracy and infrastructure that enabled them to thrive in a region filled with swamps, jungle thicket, sun-blotting canopy, and an unrelenting tropical climate.
"It shows the formation of a complex kingdom, or state, very early in Maya history," Hansen said.