Jorge Garza masterfully mixes Chicano heroes with Aztec art and pop culture.
In a sea of various art movements and styles, the art from the Aztec culture remains distinctive and appealing. Aztec art is sharp, geometric, and colorful in its nature. In its original form, this style of art honored the natural world and paid homage to the various gods of the Aztec culture.
Jorge Garza (aka Qetza)
The art of Jorge Garza (aka Qetza) pays homage to the Aztec art style via his illustrations. His illustrations adopt the sharp angles, vivid colors, and mythical icon focus of Aztec style. However, his illustrations do not depict the Aztec gods of the past, but instead Qetza has applied these stylistic features to the "gods" of our modern pop culture.
One "god" that Qetza has honored and revived in the Aztec style is the beloved cumbia queen Selena Quintanilla. Her image is one that is loved by Latinos everywhere and Qetza's spin on the classic purple jumpsuit is one that iconizes her in a way that honors her god-like place in the hearts of Latinos. Qetza's illustration depicts Selena squatting in the classical Aztec position with arms extended and prone.
However, instead of holding a weapon like the Aztec gods of old, she is holding the microphone that she used to slay the cumbia music scene of the 90s. Her purple jumpsuit, bright red lipstick, and striking black hair are presented in an angular and color-rich approach that mimics the icons of the Aztec gods.
Aztec-Inspired Art
These bright colors and sharp angles contrast boldly against the acid washed background that mimics the weathered walls of Aztec wall art. All of these elements blend together to create a piece that is reverent, creative, and fun. Qetza has applied this same Aztez stylistic approach to other "gods" such as: Darth Vader, Cheech and Chong, The Teenage Mutant Ninja Turtles, Prince, and Frida Khalo.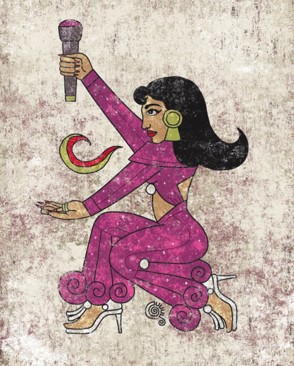 Qetza's unique style is rooted in his own cultural roots. Qetza was born in Indiana to Mexican parents and it was through studying his cultural background that he dove into the myths, folklore, and history of the Mexican culture.
It was in his research that he discovered the ancient and foundational influences of the Aztec, Mayan, and Olmecs. These indigenous influences sparked Qetza's interest in ancient cultural art and this style eventually became his artistic focus and style of choice. Along with Qetza's love for ancient cultural art, he also adopted a deep love for the graphic and colorful style of comic books.
As a child he devoured comic books and followed the adventures of his favorite heros as they played across the colorful blocked pages. Qetza's childhood interests of Mexican history and comic book culture influenced his creative approach and interests and this is evident in this current art.
Pop Culture With An Indigenous Twist
In his art, Qetza has found a way to blend the classic indigenous style with the modern in a way that unexpected, unique, and still respectful to the ancient art of the indigenous cultures of the Americas.
This blending takes the ancient and niche and makes it universal and digestible for the masses by embracing the "gods" of our modern pop culture. It is through his art that Qetza embraces his own cultural roots and history with his interests in comics and pop culture.
His work is drawing admiration from various populations, but the Latinos of America are drawn to his work because of its blending of the ancient world of Mexico with the modern world of America. It is in his work that Latinos can embrace the duality of their own identity via the colorful and fun art that Qetza has created.
Qetza's art can be found on his website which showcases his work via his portfolio and provides an avenue for purchasing his work via his online store. The store includes t-shirts, hoodies, prints, magnets, and stickers. So, check out his work and show some love for an artist that has found a way to blend the ancient and the new in a way that pays homage, encourages some fun, and allows Latinos to represent their own heritage.
Get Stories Like This In Your Inbox
To receive weekly updates like this in your inbox, subscribe to The Daily Chela newsletter here.