Chicano art has long been anchored in both political activism and strong themes of overt cultural pride.
For many Mexican Americans, "Chicano" entails a nuanced and ever-evolving cultural identity that has been unequivocally expressed and documented through art. Spanning across different nations, languages, and ethnicities, Chicano art has long been anchored in both political activism and strong themes of overt cultural pride.
But as Chicano artists continue to transcend and challenge old notions of what is considered "mainstream" or "traditional" fine art, over the decades Chicano artists have increasingly seen their own lives, culture, ideas, and struggles reflected more broadly in contemporary art.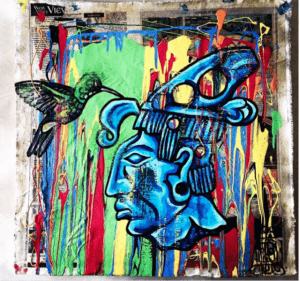 And as digital communication and social media make artists and their work increasingly more accessible to audiences, artists such as Edgar Fernandez (also known as Ocho Ahau) have carried on this rich tapestry and celebrated tradition into the 21st century.
Hailing from Phoenix, Arizona, Fernandez's work is decidedly pro-indigenous and exuberates a strong sense of Chicano identity. With depictions and re-interpretations of Chicano history going back to the pre-Columbian era, Fernandez's work intertwines traditional folklore, modern pop culture, and contemporary Chicano culture.
Edgar Fernandez AKA "Ocho-Ahau"
Edgar Fernandez was born in Torrance, California in 1990. Born to immigrant parents, originally from Jalisco and Guerrero, Fernandez and his family spent the early years of his life living in Los Angeles county. However, the backdrop of early 90s era Los Angeles proved to be a less than ideal environment for Fernandez's parents to raise a family in.
"Around that time in the early 90s some of the neighborhoods in L.A. weren't too friendly and were pretty bad," Fernandez recalled. "My parents didn't want my brother and I to grow up in that environment, so they decided to make a drastic change and moved us all the way to Michigan in 1995."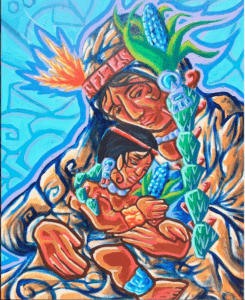 It was through family in Michigan that Fernandez experienced his first visceral connection to art.
"I had an older cousin that was really good at drawing and drew his own cartoon characters," said Fernandez. "When I saw him do that from his own imagination that is when I started picking up some of his skills and techniques by watching him."
In 2000, the family made their final move to Phoenix, Arizona, where Fernandez came of age, embracing both his Chicano identity which cross-pollinated with his passion for creating art. Along with embracing his Chicano identity, the move to Phoenix was marked by Fernandez' enumeration of Hip-Hop and graffiti street art.
"Once I entered middle school, I got into the graffiti scene, which I picked up watching my older brother and his friends," said Fernandez. "I loved how they expressed themselves even though society was telling them "you can't do that." It was a form of expression releasing certain anger and emotion that society projects on people of color always being targeted."
Discovery & Reimagining
Upon graduating high school, Fernandez began studying art at Phoenix Community College, a move that would be pivotal in a series of events of self-discovery that would cumulate into him pursuing an artistic career.
"When I took my first painting class, I had an instructor that was Native American and he really got me to dig into my own roots," Fernandez recalled. "That's when I really started looking heavily into the Chicano culture and basically expressing my identity."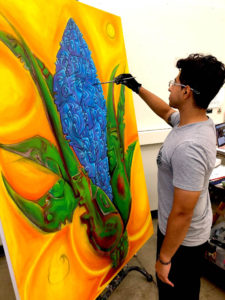 Later, in the spring of 2014 Fernandez would take a trip to Mexico City, visiting historical sites such as Teotihuacán, an experience that would leave a lasting impact on his art. "I was just in complete awe, inspired by the environment and culture", Fernandez said. "It was breathtaking, when I was there I could see the daily lifestyle that our ancestors experienced and I could feel their spirit around me. That trip and experience are still being projected in my work that I create today."
Fernandez eventually transferred to Arizona State University where he completed his BFA in painting in Spring 2019. Since then he has gained public recognition in Phoenix and beyond through gallery showings, solo exhibitions, youth workshops, and various public mural projects. With his art and those of other contemporary Chicano artists gaining more mainstream popularity, Fernandez reflected on the popularization and acceptance of Chicano art outside of Mexican American communities.
"It's not just Chicano culture, it's all walks of life that are coming and seeing this work because of the power and beauty that lies within it," Fernandez explained. "For our ancestors' art is not just a static image, it's something that has our essence in it and our soul lives in each piece. That's why a lot of the ancestral work and Chicano artwork is so powerful."
Ancestral Art For A New Age
As the work of Chicano artists continually become more widely embraced by the art world and broader mainstream culture in the U.S., Fernandez highlighted the continued importance of reimagining powerful, cultural imagery for modern audiences.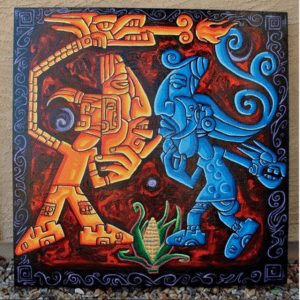 "The ancient art of our ancestors serves as my foundation and anchor, even if I use these contemporary ways of expression to create a new formula that is expressed through spray cans on a wall, acrylic paint, or mixed-media," Fernandez said.
"As artists, we're mediums to help people look at themselves, society, and the world differently. We get them to look within, use their imagination, and use their own self-will to empower others…the message behind my art is to spark wisdom and to create an ancestral dialogue between the viewer and who their ancestors were."
With the world of Chicano art more diverse than ever, artists like Edgar Fernandez continue to push modern audiences to embrace the duality of culture and continue the tradition of empowering communities like great Chicano artists of the past.
Get Columns Like This In Your Inbox
To receive weekly updates like this in your inbox, subscribe to The Daily Chela newsletter here.