Teen Angels was bold, beautiful, and influential. But its eclectic founder makes it that much more interesting.
When it comes to Chicano publications during the 90s, no magazine was more prolific than Teen Angels.
Known for its black and white prison-style art, poetic prison letters, and depictions of various barrios across the west, Teen Angels not only helped popularize Chicano street culture, but the iconic art behind it.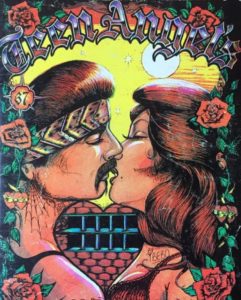 The magazine, founded in 1979 by San Jose-based artist David Holland, became a mainstay at Chicano-clothing stores and lowrider shows over its 35 year existence.
In many ways, it even served as the first national platform Chicanos used to communicate with each other prior to the web.
But few know the story behind the man who founded Teen Angels, which would go on to become the most popular underground Chicano magazine in history.
Even fewer know that he wasn't even of Mexican descent.
Lowrider and Pachuco Culture
Prior to founding Teen Angels, Holland was not only living in Northern California, but was an artist working at Lowrider Magazine under the pseudonym "Teen Angel."
Feeling restricted on what he could draw or write about, however, he decided to branch out and launch his own magazine. That magazine would focus less on lowriders, and more on the cholo street culture that sometimes overlapped with lowrider culture.
According to his friend David De Baca, Holland was infatuated with 1940s and 1950s pachuco culture (a precursor to cholo culture which I wrote about here).
But for those who have paid attention to the trajectory of Chicano culture over the years, Holland's interest shouldn't come as a surprise. Chicano culture has arguably become one of the most unique, visible, and influential cultures in the world.
More Chicano Magazines Emerge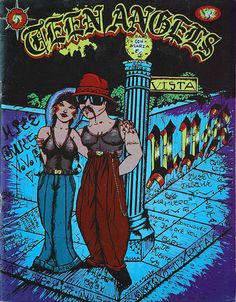 Today, major corporations such as Nike regularly turn to Mexican American artists to help them design products with a heavy Chicano aesthetic.
But Holland was at the forefront. He recognized the market for Chicano culture early on, and played a significant role alongside Lowrider Magazine in helping usher Chicano culture into the mainstream (for better or worse).
The irony is that his former employer would also become his competitor, launching its own Chicano art magazine in the 90s called "Lowrider Arte."
But Lowrider Arte wasn't alone. Due to the popularity of Holland's Teen Angels Magazine, numerous other magazines emerged during the 80s and 90s. Among them, Corazon De Aztlán, Mi Vida Loca Magazine, and Subculture Magazine, each tailored to a different sub-culture within the Chicano community.
However, none of them would ever quite gain the prestige and popularity of Teen Angels.
The magazine, in fact, was so popular at one point that there was hardly a record or clothing store in the west that didn't carry it. However, the magazine's prevalence didn't come without its downsides. As we would later learn, the police often used the magazine to track people.
David Holland, Teen Angel Legend
Over time, Holland shied away the public, eventually disappearing completely and becoming a recluse.
In an interview with De Baca at L.A. Weekly, De Baca said the following about his friend:
"[He] told me, 'I haven't left my house in 15 years, and I don't leave my house. I always wanted a '37 Chevy model car but hated leaving my house so much that I won't go to the store to get it. I don't want to deal with the public, and I don't want to talk to anybody either."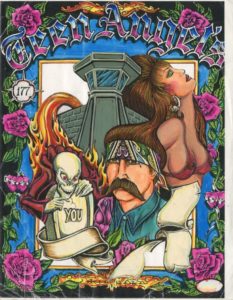 Holland died in 2015. However, the influence he had on Chicano culture is undeniable.
Not only has Teen Angels Magazine continued to influence the creation of new Chicano publications across the web, but continues to maintain a cross generational appeal.
In fact, the magazine can be found everywhere now from gallery shows to auctions.
In celebration of Teen Angels Magazine, below is a look at some of the Chicano art that appeared in Teen Angels Magazine over the years.
Teen Angels Magazine
Get Stories Like This In Your Inbox
To receive weekly updates like this in your inbox, subscribe to The Daily Chela newsletter here.