The relationship between street food vendors and consumers just might be the radical formula for change we have been looking for.
My ancestors crossed freely from Mexico to the United States as food vendors and agricultural workers. My ancestors were also fishers from Japan. My ancestry was born from the indigenous borderlands of Mexico, the United States and the island of Japan. My life began on Tongva land that is now called Boyle Heights. I always consider myself a privileged guest and unapologetic outsider on California lands.
Regardless of economic class, we all have privileges and bias that needs to be kept in check. Those with the most privilege wax poetic about how the United States government does not do enough for its citizens. This is exclaimed across social media. But the vast majority who ask these questions seem to forget that the United States was born and bred of settler colonialism.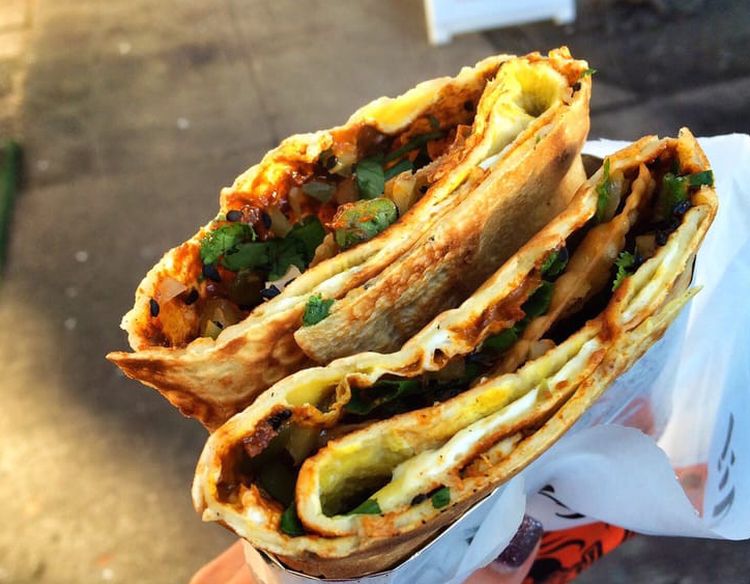 Because most of us are guests on indigenous land, perhaps a better question to ask is: what have you done for your neighborhood and town? Democracy is the polar opposite of authoritarianism. As a result, it needs to be nurtured, and requires direct participatory engagement.
It also requires constant practice & exchange with others.
Yet as the world turns and laments, democracy marches forward in a not so surprising institution: street food culture. It is the street vendors and their consumers who are leading a quietly radical democracy by finding power through utilizing the relationship between consumer and vendor.
The Culture Of Street Food
My love and passion for street food began in my early twenties. I lived in Los Angeles' Korea Town. Every morning at 5 am, as I headed to the Beverly and Vermont train station, I would purchase my champorado from my favorite vendor.
This vendor, like countless others across the city, brews and loads the sweetly warmed beverage onto their trusty shopping carts long before the city rises. The warmth of the champorado in the iconic white styrofoam cup kept me going through the rigors of being a first-generation college student at East Los Angeles College.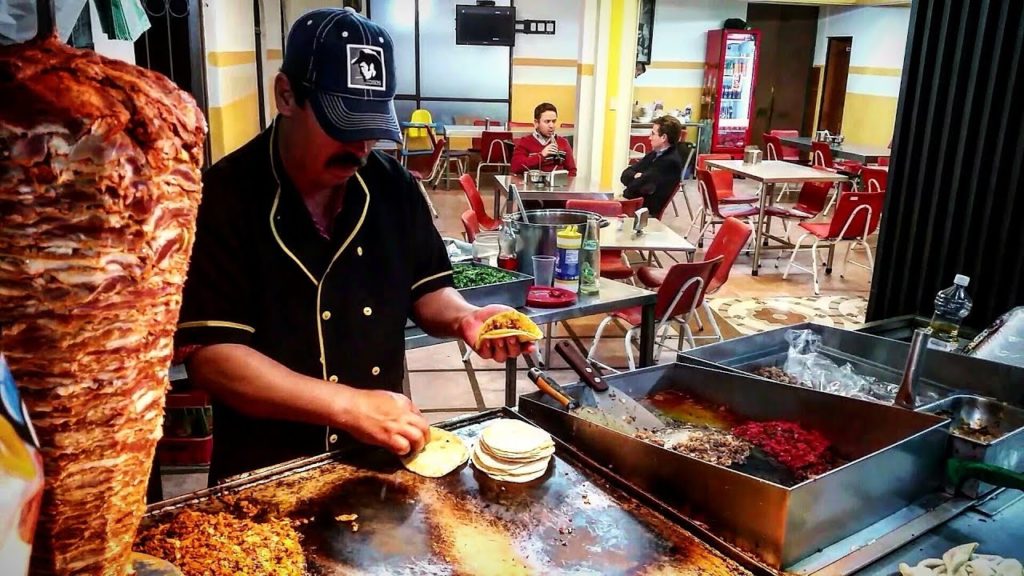 I am forever indebted to those street vendors. The conversations we exchanged about Chicana/o culture of the 1970s empowered me to continue my education. Those vendors always reminded me that my attending college mattered. They were right, and a decade later I have the privilege of sharing this story for an audience.
In 2010, cultural critic Anthony Bourdain outlined how street food culture has the ability to transform the landscape of a space. In his book, Medium Raw: A Bloody Valentine and the People who Cook. Bourdain critiqued the restaurant industry's collapse of the 2009 recession.
He wrote, "If any good comes out of all the pain and insecurity, I can only hope that the Asian-style food court/hawker center is one of them. This institution is way overdue for an appearance (on a large scale) in America."
It should be no surprise that Bourdain was a champion of not just street food culture, but creating the spaces for it to thrive. In 2016, Bourdain supported New York City's Street Food Vendor project where he stated, "There is nothing more vital to a city and a city's health than good street food and more of it."
There is no justifiable argument other than privilege to not take Bourdain's and the street vendor's lead to begin to think of street food culture as a way to transform local economies and ethos.
Privilege
During a global depression, slow dancing with street food is the remedy for the aches of the soul and wallet. Street food is also pure free market. Cash circulates directly from vendor to consumer. The cash can also be utilized for an array of purposes ranging from survival over the loss of a job to ensuring the comfort of elders and their families.
Street food democracy thrives in spaces like South East Chicago. Last month, the community came together to raise funds for Don Rosario, a paletero. A family purchased all supply so he could spend time with his family during Father's Day. Thanks to the power of social media, the video went viral.
Every day as the privileged lament and celebrate contemporary cultural landmarks ranging from citizens not wearing masks (a legitimate gripe) to colonial statues toppling—the poor still live, breathe and nurture democracy by utilizing street food culture and sustaining communities.
The beauty of this story is not just about the family who stepped in to support their local hero, it is also about Don Rosario's ethos. After hearing the news of kindness, Don Rosario wept and later danced.
Reclaiming Our Roots
This all too familiar humility and strength reminds us of our roots. Who among us did not have a tio or abuelo that regardless of their job knew you had to dress sharp and remain humble? Be of service to your community?
I still remember that both of my grandfathers ironed and pressed your clothes the night before as they labored cleaning pools and picking fruits and vegetables along California's coast.
As the elders continue to show, democracy is rigorous work which starts at home.
Back in Southern California, the artist, Caelitum, who tweets from the account @caelitum took to Twitter to give her mother a digital boost for her upstart vegan tamales business after losing her multiple sources of income:
The sheer power of resiliency that comes from this tweet. Through financial fear and uncertainty, Caelitum's mother persists, but with power through democratic action. She is turning to social media and her local community to follow her passion, cooking.
When was the last time you heard about someone truly and authentically following their passion? If you ever deeply engaged with street food culture on your walks home from school, you know the toughest and most compassionate people are the ones selling you your tamales to share with family and friends during holidays and major gatherings.
Myths Of Colonialism
The public discourse surrounding how poverty functions needs to transform. This persistent myth that guillotines and uplifting of the masses through violent revolution needs to fall away because it is rooted in colonialism.
If that type of revolution worked, then why is the world the way it is?
The street vendors serve as powerful check on this elitist militaristic narrative. They have always stood in their agency and power with a quiet and peaceful radicalism. Street vendors serve as the wise sages and griots as they encourage their communities to do better and live our dreams.
Street food also sustains the most potent form radicalism ever: a local free market that cares, nurtures, and sustains its community through direct democratic participation. Now that's hood politics.
Get Columns Like This In Your Inbox
To receive weekly updates like this in your inbox, subscribe to The Daily Chela newsletter here.