If you find yourself in Guadalajara, this place is a must try.
Across from the United States Consulate in Guadalajara is a food court with an eatery that stands in stark contrast to the BBQ stand I last reviewed.
El Vegano boasts a robust and inspired menu, which upon first reading leaves you with high expectations. You will not be disappointed.
The dishes range from a traditional Mexican breakfast like Chilaquiles to more filling and lunch-size plates. One particular plate is the Tacos No Fish, a play of words on the now-famous dish served everywhere.
These tortillas are filled with a stupendous roasted cauliflower perfectly spiced, topped with assorted greens, giving it a brittle bite to enjoy with a refreshing, creative beverage made from guayaba, strawberries and lemon.
No salsa needed here. The taste is complete, and the plate truly resembles a common fish taco.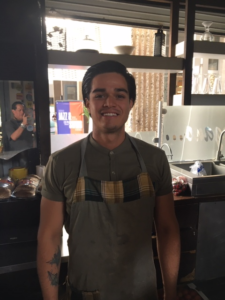 Vegans fill the tables nearby as they love the Spaghetti with Eggplant, a robust Cannelloni filled with spinach in a tofu ragu, topped with a light tomato couli. You can choose the Lasagna, Enchiladas, Baguettes and more.
The menu is well thought-out, so don't miss eating here. Even a dedicated carnivore like me can love it.
Try the Aguachile de setas, a tostada topped with marinated oyster mushrooms in a spicy green salsa.
One side note: I would like to see ginger used creatively here in some dish or the other, but, I just had to write about this exciting food experience.
The owners both attended culinary school in Mexico so you know you can depend on tasty plates.
El Vegano
Mercado Via Libertad
Avenida Libertad and Colonias
Colonia Americana
Guadalajara
$$ out of $$$$$