The San Pedro Fish Market knows its Latino-base.
If you visit the Long Beach location of the San Pedro Fish Market, you should eat the shrimp chilaquiles. Immediately. It will be difficult to look like a decent human being when that glorious mountain of food is presented to you. It will be like nothing you've seen before. It's a heavy plate laden with a base of red-chile-soaked tortilla shreds mixed with so many shrimp that you almost feel guilty because you might be contributing to shrimp genocide.
But not that guilty. Here, the chilaquiles and shrimp are one. This isn't chilaquiles with shrimp, it's more like shrimp-aquiles. The cornucopia of red-chile-adobo-soaked shrimp and tortillas are crowned by a couple of poached eggs so creamily pillowy that they can be appropriately categorized as breakfast candy.
The first move, then, is to cut into those luscious eggs and let the rich yolk flow over the shrimp chilaquiles like a mountain spring over thick moss. It's all of life, and it's amazing. And you can get it at the San Pedro Fish Market in Long Beach, one of the Italian Ungaro and Amalfitano family's burgeoning set of fish markets that have catered to Latinos for decades.
How the San Pedro Fish Market Caters to Latinos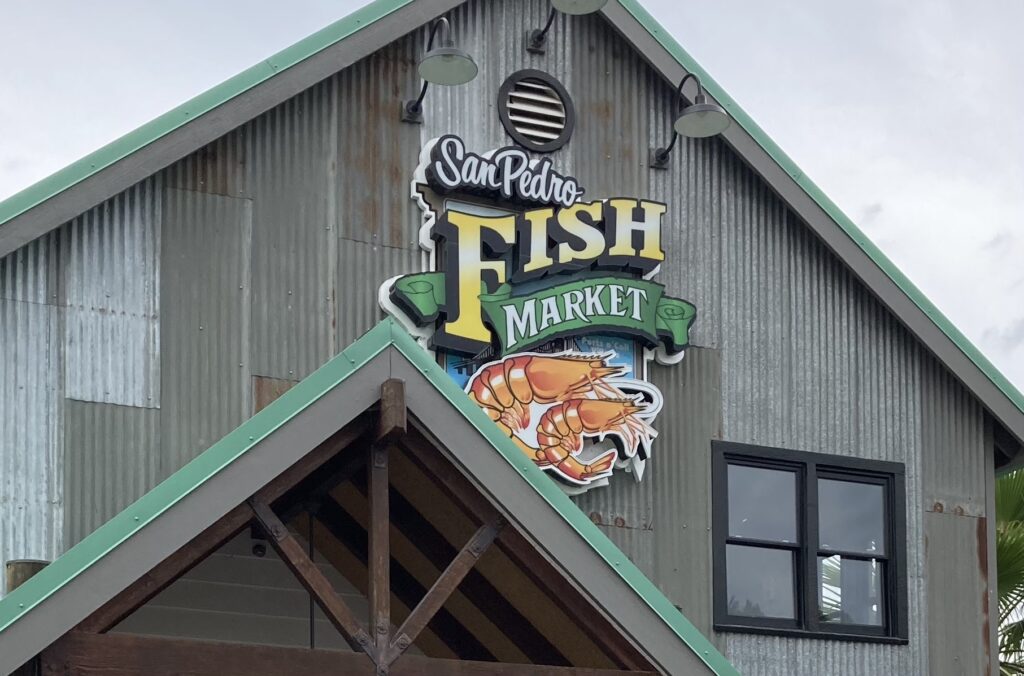 At first glance, the original San Pedro Fish Market is a typical fish market in a working harbor. And for decades since it was founded in the 1950s, it was just that. It sold fish for people to take home and cook to their liking, acting as a commercial fish market. Eventually, they turned it into a restaurant.
But things drastically changed in the 1980s, co-owner Mike Ungaro told me. The market had already started to attract Latino customers with Mexican dishes like mojarra and huanchinango, and their additions of Spanish music and alcohol to the atmosphere made them even more popular with the Latino crowd. But Tommy Amalfitano, one of the restaurant's founders, noticed something being offered in another restaurant—they were fajitas.
Fajitas are classic Tex-Mex fare, but Tommy decided to innovate and began crafting trays of seafood fajitas. The trays can be made with a customer's choice of seafood, but the classic is the shrimp tray, made like classic fajitas but with red potatoes and sides of either corn tortillas or garlic bread. Those trays continue to be hits for the restaurant, which now has locations throughout the South Bay and Long Beach and is planning on building a new restaurant to replace its San Pedro flagship.
Many of these other locations, such as the spot in Long Beach, have offerings like fish and shrimp tacos, chilaquiles, and ceviche in addition to their iconic shrimp trays. At any location you can find micheladas and aguas frescas; the San Pedro location has had mariachis on the weekends for years, regaling visitors as they feast and watch ships steam into the port of Los Angeles.
It's no surprise, then, that Ungaro let me know their customers were 95 percent Latino for years. This has changed recently, since their social media presence has gone global, but their family orientation and catering to the taste and culture of Latinos is ineffably unique and will ensure that Latinos will always be a huge part of their clientele.
Latinos not Ignored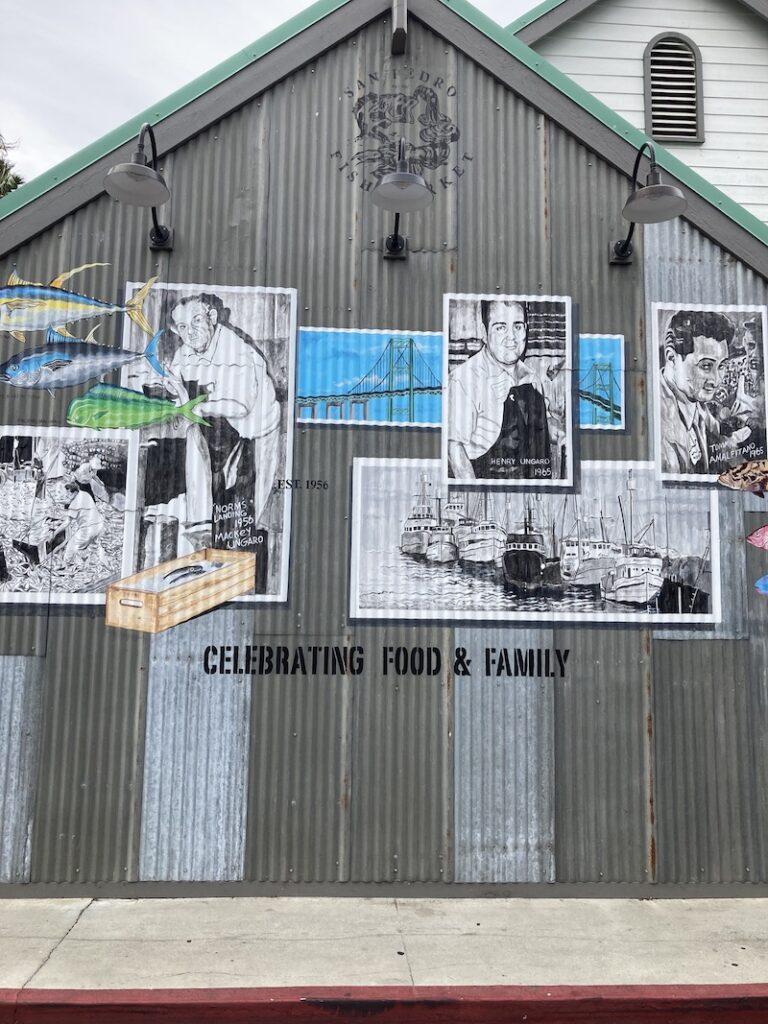 It's common for Latinos to be ignored by the mainstream. Our broader community has been experiencing this for years, be it a lack of representation in the entertainment industry, to a dearth of Latino leaders in politics. What's made it all the more ironic is that Latinos, particularly those of Mexican descent, have been here. We are not new by any means.
What makes the San Pedro Fish Market so special is that they understood this, that they didn't let ignorance and prejudice cloud their ability to make pragmatic business decisions that ultimately led to their wild success. Not only that, but many members of the Ungaro family married into Latino families, so the appreciation and connections are real.
Still, it was somewhat of a surprise when Mike Ungaro let me know that  he enjoyed my story on gentrification in San Pedro. Lots of people enjoyed the essay, which not only told the story of San Pedro's demographic and economic changes, but also emphasized its Latino population and how it's largely been ignored for decades. I knew it would get its fair share of criticism by certain folks, and it did—I was accused of being racist against Europeans, which is comically ironic given that others tend to criticize me for being a "white Latino."
But Mike Ungaro didn't see it that way. He and his family were used to operating their restaurant at the former Ports 'O Call Village in San Pedro, an old-timey mélange of shops constructed in the style of an old New England town. Locals tended to avoid the area in recent years, claiming that it was a rundown ghost town devoid of visitors.
People were always surprised to find that gobs of Latinos would descend on the village every week to indulge in something uniquely Latino and San Pedro. So Mike Ungaro has spent years letting people know that they and their Latinos customers have been here.
And they'll continue to be there. The restaurant is growing, and will have a new location near the cruise ship terminal in LA within the next few years. Latinos will no doubt continue to flow into the area to partake of its fish and enjoy the mariachis and cruise ships. But this time, something will be different—everyone will know that they've been there.