"A million Miles Away" is an inspirational story that would have benefited from a stronger script.
As the months go by, it becomes clear to me that 2023 may be considered as the year of Latinos in media. From "Flamin' Hot" to "Blue Beetle" to "American Homeboy," we've seen a variety of films starring Latinos, specifically Mexican-Americans. We continue this trend with "A Million Miles Away," starring Michael Peña as the former NASA astronaut José Hernández. The biopic follows José's upbringing, his dreams to become an astronaut and his journey getting into NASA.
The film opens in the fields of central California. José's parents were farm workers and constantly had to travel long distances to work. They'd travel so often that José's education was on the verge of being threatened due to his inability to focus (he often slept in class). After a talk with his father, José decides to follow his advice and aspire to work towards a goal. The film then divides itself into segments titled "ingredients" where each ingredient is a piece of advice from José's father.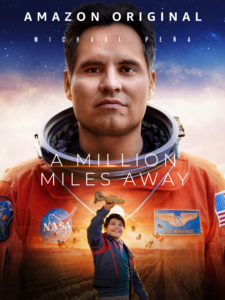 The story is an inspirational tale about working hard to obtain your dreams while honoring your family's sacrifices. There were certain topics that could've been explored deeper. For example, a conversation between Jose and his cousin briefly mentions the value a migrant going to space could bring as they know what it's like to explore an unknown location.
However, the inspirational story wasn't enough for me to fall in love with this film. The script was not the strongest element. The film felt bleak at times while also lacking some heart.
I was supposed to root for the protagonist's success, but at some points, I felt anxious and slightly bored. Anxious because of the frustration I developed as the film progressed. The chemistry between Peña and Rosa Salazar is nonexistent. Their marriage is supposed to be the soul of the story, yet it isn't since their dynamic isn't believable, and at times it feels awkward. A great deal of the dialogue induces some eye-rolling. The pace feels disjointed and at times it feels too long.
Most of the emotional moments fail to hit. In its efforts to highlight Latinidad, there are times when it feels a bit too forced. I didn't mind some song selections since they aid in some character development, but for the most part, it adds no substance whatsoever and feels more like another tool to present the character's background.
I did appreciate their usage of songs from Los Tigres del Norte, a norteño Mexican band that takes pride in singing music about migration and the challenges migrants face daily. Some of the farm workers' scenes feel overwhelmingly too much, losing any significant meaning.
The camera work was also distracting. Some aerial shots felt shoved in places that didn't make any sense. I know why they would be in this film (a viewpoint from above…from space) but it adds nothing to the movie. The acting was as equally underwhelming as the writing, dialogue and cinematography.
But the third act cameo is perfection as it is reminiscent of the "Apollo 13" cameo of the actual astronauts making an appearance. Here, the real José Hernández aids Peña in adjusting his suit by making sure everything is well equipped. They exchange some words which end in a fist bump, reminding us that this story is based on someone's life and that these events are sure to inspire other Latinos who might have the wrong impression that they don't have what it takes to become a NASA astronaut.
Overall, "A Million Miles Away" had the potential to be more than an average biopic. The story of José Hernández is an inspirational and compelling one to tell. However, not all the ingredients mixed well with each other.
2.5/5