La Mission movie deserves a space in the canon of Latino-American cinema.
Films are a cornerstone of Latino American pop culture. Unfortunately, the few films for, by, and starring Latinos are underappreciated and framed as mediocre.
Given the ample time the quarantine provides us with and in an effort to spotlight these commonly glossed over gems, I am beginning a series of articles in which I recommend and provide an analysis/review of what I believe to be some of the most significant Latino films of the last few decades.
Lack Of Representation
To provide context, Latinos are severely underrepresented in mainstream media. In 2019, the Annenberg Inclusion Initiative at the University of Southern California found that only 3 % of the top performing film's lead or co-leading roles were given to Latinos. Additionally, only 4% of all those movies were directed by Latinos.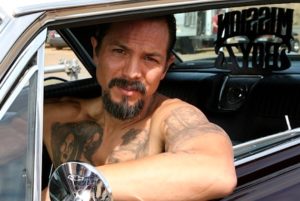 This finding positions the movie, La Mission (2009), as a rarity in of itself because, firstly, the cast predominantly comprises Latinos. Secondly, notable Latino actor Benjamin Bratt plays the leading role and his brother, Peter Bratt, directs. Lastly, the film even features lowrider culture, Mexican iconography, and Latino/Chicano music.
These aspects of the movie show that La Mission is a love letter to the barrios and to the Latinos/Chicanos of America.
Although there will be spoilers throughout this article, I will specifically label the paragraphs in which I spoil the ending.
The movie follows a Chicano father, Che and his son Jes, who live in a barrio in the Mission District of San Francisco. After Che discovers that his son is gay, he shouts obscenities at him, beats him and kicks him out of the house. Though they try to coexist peacefully in the same house, Che continues to perform violently which eventually damages his relationships with his family members and his own personal peace.
Help support Latino Media. Subscribe for only $1.00 your first month.
The film received mixed reviews at the time from several (mostly, white, male) critics who called the film unauthentic and irrelevant. Conversely, after examining the many comments under the YouTube posting of the film, it is clear that general audiences actually appreciate the film's themes and authenticity. I aim to go beyond the analysis of those mainstream critics and take a deeper look into the themes that general audiences seem to appreciate.
I posit that the film makes significant points throughout the plot about Latino masculinity, homophobia and gentrification.
Masculinity and Machismo
To begin, I'll provide some background knowledge about these topics. In academic circles and public discourse, Latino masculinity typically becomes synonymous with machismo, misogyny and homophobia. Some argue that labeling and stigmatizing Latino masculinity as inherently homophobic and patriarchal, is a racially charged attack that points fingers at a minority group for something other men, regardless of identity, are guilty of as well. Although this argument is deserving of an entire separate discussion, to surmise my thoughts, I believe there are truths to both sides.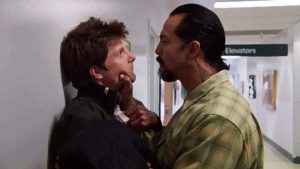 I think masculinity in all cultures and ethnicity groups has potential to serve as a form of protection that at times becomes violent and hateful. Nevertheless, there is still significance in studying masculinity in specific cultures and environments. Masculinity should be examined with an intersectional perspective that takes all social factors into account. When this is done, researchers record noticeable differences based around social factors.
What I mean by this is that social factors such as environment and social identity should be taken into account when examining the successes and failures of different forms of masculinity. By doing so, as researchers and people of the community, we not only better understand different cultures and environments, but we can also reflect and improve on societal and cultural values.
Using Che as an example, his masculinity is exacerbated by his social identity as a Chicano man and his living environment in a continually gentrified town.
Chicano Culture and Gentrification
As a Chicano, Che is visibly tied to his culture. We see this through his love of lowriders and historical knowledge that he holds of his ancestors. In one scene, he explains to a group of neighborhood teens that La Virgin was originally named Tonantzin before "the conquerors came and forced their language and religion on everyone."
This line not only speaks to a disdain for the colonizers who once dominated his ancestors but also to a fear of this process repeating itself through gentrification and progressive ideals.
For example, in another scene, Che begins to bicker with a newly arrived neighbor, telling her he will be there "long after all the hipsters and new money types get tired of slumming it." This line speaks to his animosity towards the incoming wealth that is pushing Che's people and culture to the margins.
In another scene, Che speaks with a co-worker about a recent date he had in which the woman told him that he was oppressing her for opening her door. (While an obvious exaggeration on her part), when his coworker explains that she is very political, Che responds by saying she's just confused. This provides evidence for Che's rejection of progressive ideals.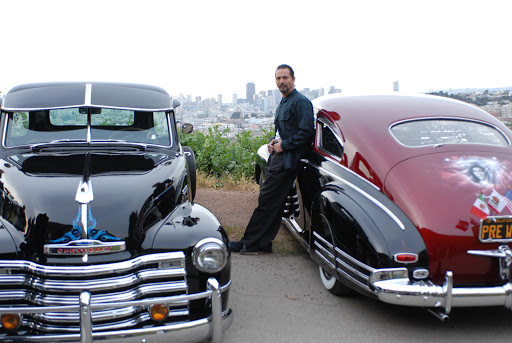 For Che, gentrification and progressive ideals read all the same. They are both threatening his ideals and the home that he has known his whole life. Keeping in mind Che's disdain for the European conquerors of the past, Che may feel as if gentrification is like modern colonization and as if progressive opinions are like "forced language and religion."
Che's animosity towards gentrification and progressive ideals explains his desire to protect his culture and family from (often Anglo led) projects that dominate his familial space and erase the Latino culture embedded within it. For this reason, he commits to protecting both the physical space of his home and that which comprises his home: his family. Unfortunately, his form of protection is extremely violence-based.
After he finds Polaroids of Jes and his boyfriend kissing, Che aggressively interrogates his son.
Che: "Now tell me. Who's the f*cking white boy?"
Jes: "He's a friend."
Che: "What kind of friend?"
Jes: "A friend."
Che: "Is that why he's manhandling you like you're some kind of Mexican b*tch."
This scene not only shows his violent tendencies but also speaks to how race plays a role in his anger.
Furthermore, upon meeting Jes' boyfriend, Che chokes him against a wall and tells him to stay away from his son.
La Mission: A Brave Movie
Some researchers argue that men of color over perform their masculinity as a way to overcompensate for their lack of societal privilege or to protect themselves from oppression. This theory might explain why his desire to protect manifests in violent actions.
Following this line of thought, Che reacts violently to Jes's homosexuality not only because his sexuality embodies the progressive ideals that Che resists but also because it puts his son in a position of vulnerability and stigma, given that homosexuality is a deprivileged identity.
Furthermore, Che specifically threatens the affluent boyfriend because in some ways, he represents the historic and contemporary oppressor of people of color, a white colonizer. Theoretically, Che violently performs masculinity to quell his son's homosexuality and protect his son from the influence of his white boyfriend.
Unfortunately, Che's violent tendencies cause Jes to get closer to his boyfriend and distance himself from his father even more. This leaves Che visibly depressed and vulnerable. This vulnerability allows Che time to reflect; he does so through his culture and community.
Help support Latino Media. Subscribe for only $1.00 your first month.
[Ending scene spoilers] In an ending scene, Che comes across a memorial service for the high school teen who earlier in the film, shot Jes for being gay. When Che sees a sign that reads "No Violencia" beside the teen's mourning family members, he begins to have flashbacks to all his violent actions since finding out that his son was gay.
[Ending scene spoilers] Che is surrounded by cultural memorial displays and indigenous dance performances. Because of this, he is reminded of the true essence of his culture and home. It begins to rain, which represents Che's rebirth in which he realizes that violent protection is destructive to the collective family structure. Che decides to go see his son and repair the chasm in his family.
The film explores many other themes regarding, for example, culture, alcoholism, relationships, and family dynamics. I believe the film can be relatable for a diverse audience, so I invite others to watch and reflect on the parts of the film that speak to them. I highly recommend watching this film not only because of the significant, complex themes it explores, but also because the film is of the few that centers the Latino experience in such a particular niche.
Yet, given the film's niche, audiences likely only felt drawn to the movie, if some or all of the film's topics related closely to their own lives. This film, often described as a labor of love, saw a domestic total gross income of $1,062,941 during a year in which the average movie earned $18,982,600 (Box Office Mojo).
Making this film was a brave venture that set aim to communicating a message rather than generating profit. I praise Benjamin and Peter Bratt for creating this film, which I believe holds a significant space in the canon of Latino-American cinema.
If interested a free version of the film is available to stream on YouTube. To support the film, you can also purchase the full unedited version on Google Play or YouTube.
Get Columns Like This In Your Inbox
To receive weekly updates like this in your inbox, subscribe to The Daily Chela newsletter here.