Blue Beetle is a funny, heartfelt and culturally-significant entry into the superhero genre.
My most anticipated movie of 2023 is finally here!
"Blue Beetle" is the newest DC entry in the James Gunn era. It introduces Jaime Reyes (Xolo Maridueña) and his journey to becoming Blue Beetle. Directed by Angel Manuel Soto, the story distinguishes itself from other superhero origins by involving the family in Jaime's journey. Uncle Rudy (George Lopez), Nana (Adriana Barraza), Milagros (Belissa Escobedo), Reyes' mom Rocio (Elpidia Carrillo) and his dad Alberto (Damián Alcázar) all collaborate to help save the day.
To many, this is another superhero film. To me, it's more than that. It's the fruition from decades of activism and the constant struggle for representation. Our culture, traditions and everyday lives are presented on the big screen in a superhero movie, and it fills me with happiness. Little kids will be able to see themselves depicted on film, and they'll know that they too can be heroes. The cherry on top is seeing that your nana, sister, tio, mom and dad can too be heroes—a beautiful sight to witness.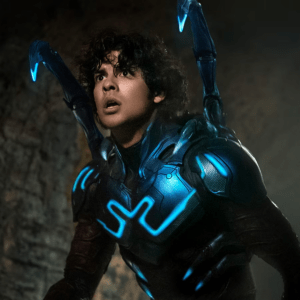 Maridueña delivers a star-making performance as Jaime. He's magnetic, likable and versatile. Uncle Rudy stole many moments, but, Nana manages to progressively steal the show. As the matriarch, her wisdom guides the family during difficult times because she's respected and looked up to. Everyone else's performances are great. I appreciated how every family member gets a moment to shine.
The references to Chapulin Colorado, Cronos, Sabado Gigante, Macario and the iconic telenovelas "Maria la del Barrio" and "Maria Mercedes" are nuggets that can be easily recognized by people who've seen these films, TV shows and novelas. These references pay homage to the past projects that paved the way for a "Blue Beetle" to exist. It doesn't escape me that this is possible because this script is written by a Mexican, and we see this family's narrative through his perspective.
Soto doesn't shy away from depicting specific scenarios that many Latino families have lived through. Although to many, being an immigrant and/or undocumented immigrant is a stereotypical depiction of Latinos (specifically Mexicans), this doesn't mean that they don't exist. My mother was undocumented, and I know many people who are undocumented. It doesn't mean their stories are any less valuable because the media depicts them more often so.
To sit through the sequence where the family is raided was a direct reflection of what many Latino homes face with ICE. The snippets of separation of families and ultimately having Milagros cry out for her mother as she's left behind with her dad was such a powerful thought-provoking sequence.
The song selections were stellar. Opening with Calle 13's "Atrévete-te-te" sets the mood for the film. Never thought I'd hear "La Chona" by Tucanes de Tijuana in a superhero film, but Soto incorporates it effortlessly. A variety of genres is a perfect comparison of how Latinos are not a monolith, and we create an array of music.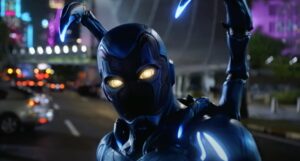 The film's antagonists are larger than Victoria Kord and Carapax. It's gentrification, the exploitation of resources in Latin American countries, and the constant microaggressions Latinos face every day. Mispronouncing names, generalizing names (Harvey Guillen is constantly referred to as Sanchez), and microaggressions mocking all Latinos by saying random Spanish terms such as andele.
Making comments like "cigars that are made by real Cubans" are sporadically thrown in and they do so to send the message of how these comments aren't necessarily wise things to say.
This brings me to some criticisms. The film doesn't come without its faults. Susan Sarandon as Victoria Kord was slightly underwritten. She's a one-dimensional antagonist, and Raoul Trujillo's Carapax is also a little underwhelming until we learn his back story in the third act.
Overall, "Blue Beetle" can safely say no contaban con mi astucia (a Chapulin Colorado common saying). A funny, heartfelt and culturally-significant entry into the superhero genre. With family at its center, the film's true superheroes are the Reyes family.
4/5