In both California and Texas, lowrider enthusiasts are beginning to speak out against the ongoing destruction.
This week, Torres Empire—one of the largest lowrider show organizers in the nation—issued a statement condemning looting and ongoing confrontations with law enforcement.
The full statement read:
"We as a lowriding community do not condone or support any riots, or protests that involve crime, or hate, and most certainly not disrespect [of] any law enforcement agencies, we as a big lowrider family do not support this type of behavior."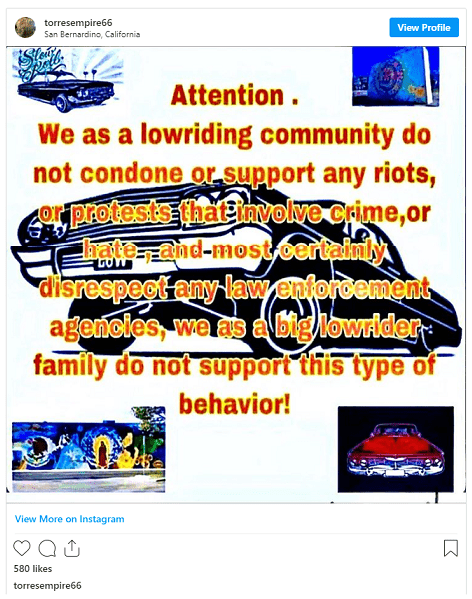 The statement, which was met with both support and criticism, comes as lowrider enthusiasts also recently took to Whittier Blvd, a popular lowrider cruise spot, to condemn looting.
One of the signs read, "Don't steal or disrespect Whittier Blvd."
Over the years, the lowrider community has fought hard to dispel the perception that they are nothing but gang members and criminals.
Complicating matters is the fact that many law enforcement officers—particularly in California—are members of lowrider clubs in their off time.
Lowrider Magazine once profiled one of those officers below.
Earlier in the week, numerous Instagram accounts also changed their account photos to brown to commend the Latinos who have been killed by police violence.
The move was viewed as controversial by some.
Get Stories Like This In Your Inbox
To receive weekly updates like this in your inbox, subscribe to The Daily Chela newsletter here.