"Spy Kids: Armageddon" stays true to its essence, depicting children as more than capable of saving the world.
"Spy Kids: Armageddon" is co-written and directed by Robert Rodriguez. This reboot of the beloved franchise follows the Tango-Torres family. Tony (Connor Esterson) and Patty (Everly Carganilla) are left with the responsibility of saving the world after their parents, Terrence (Zachary Levi) and Nora (Gina Rodriguez) are captured by game developer, The King (Billy Magnussen), who is trying to take over the world.
Learning about the production of this project made me hesitant because I unapologetically hold a nostalgic bond to the original trilogy. After all, Juni and Carmen were the kids I grew up watching and admiring.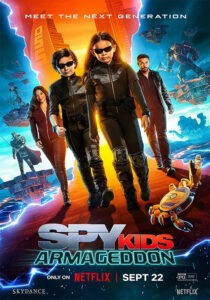 However, I'm also conscious of the evolving technology and the newer generations. So, I was relieved to learn that Robert Rodriguez, the original creator of the trilogy, was collaborating with his son, Racer Rodriguez. Where Robert's upbringing heavily influenced the original trilogy, this latest version would be more influenced by his children's upbringing. 
"Spy Kids: Armageddon" stays true to its essence, depicting children as more than capable of saving the world. The film is aware of its audience and goes out of its way to service them. By highlighting video games and the competitiveness that comes with them, the premise showcases the importance of learning to move forward with the times while granting children the opportunity to further develop their technological skills. In this case, it's those skills that make it possible to save the world.
This film could be better though. The dialogue may be corny at times but in this instance, I'll make an exception because I'm not the targeted demographic. The "Spy Kids" franchise distinguishes itself by depicting children as cool with hero qualities.
Rodriguez reminds us that kids are not helpless, in constant need of protection nor are they dumb. We underestimate their capacity to be creative and intelligent. Additionally, their innocence makes them compassionate, a quality that is emphasized throughout the film. If we were all a little more compassionate and understanding, maybe the world would look a little different.
The iconic score returns with added layers of guitar sequences, giving a familiar but unique feeling. It's a nice reminder that we're watching a Robert Rodriguez movie.
The action sequences are entertaining and will keep the little ones engaged. The villains have fun fighting scenes. Some even have a child-friendly design. There are some fun moments I found inventive. For example, as part of taking over all the technological devices (whether it's alarms, phones, home security systems, ATMs, cars, etc.), people must pass a level of the game to unlock those devices.
The family dynamic worked. Tony and Patty convinced me of their sibling relationship, while Gina and Zachary sold me on their marriage. The quartet played out fairly well when they were together on screen.
Overall, "Spy Kids: Armageddon" does a good job rebooting the franchise for the newer generations. It does pay homage to the original trilogy while also introducing new ideas and adventures. It's engaging, funny, and a solid adventure where children are heroes and protagonists of this story.
3/5
The film is currently streaming on Netflix.