"The Three Caballeros" by Disney is legendary, disappointing, and entertaining all at the same time
When reminiscing old classics from the Disney vault, we usually bring up "Bambi," "Pinocchio," "Snow White and the Seven Dwarfs," or other great animated achievements that the Walt Disney animators brought to life.
However, one movie that seems to have gone under the radar for Disney fans is the 1944 animated/live-action hybrid "The Three Caballeros," starring Donald Duck and his Latinx co-stars, José Carioca from Brazil, and Panchito Pistoles from Mexico.
If you grew up in a Latinx household, chances are you vaguely remember this obscure and experimental cartoon where Donald Duck dances around Latin America with a Brazilian cigar smoking parrot and a Mexican gun-toting rooster.
If it wasn't for Disney+, people wouldn't believe this movie even existed.
Legend Of "The Three Caballeros"
The premise of the movie is simple: Donald Duck receives multiple gifts from his Latinx friends for his birthday, magically sending him through the big cities and small villages of Latin America where he sings, dances, and celebrates the Latinx culture.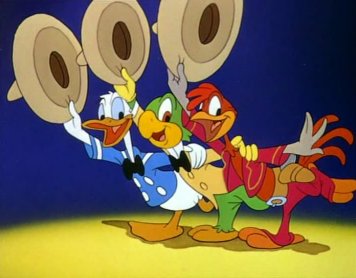 The film is a loose sequel to another Latinx-themed Disney production called "Saludos Amigos," released two years prior in 1942.
Unlike "Saludos Amigos," "The Three Caballeros" is less about cartoon characters epitomizing cultural appropriation (like in a scene from "Saludos Amigos" where Donald Duck purchases the clothes off of a Peruvian man and calls it a costume as he tours around the Bolivia/Peru border), and more of a thoughtful look at Latinx culture.
It is cultural appreciation, if you will.
It's also forgotten that this was the first film from Walt Disney Studios to feature animated characters interacting with flesh and blood, live-action actors. Actors who took up a surprisingly all Latinx cast. This was the early 1940s, after all.
The majority of "The Three Caballeros" takes place in both Brazil and Mexico, specifically in the cities of Baía, Mexico City, Veracruz, and Acapulco. "The three Caballeros" themselves are actually able to travel to so many places in a single day because of their magical serape that flies them anywhere.
Shorter segments, or vignettes, are featured taking place in Uruguay, Chile, Peru, Ecuador, and Antarctica, centering on a penguin named Pablo who yearns to live on the Galápagos Islands, and a young boy who befriends a flying donkey.
Each scene takes its time to teach the audience about different Latinx cultures. For example, the segment on the history of Las Posadas, a Mexican tradition that occurs during Christmas, and how Mexico came to have an eagle holding onto a snake perched over a cactus on its national flag.
Music Of The Three Caballeros
The music featured in the film is also a form of cultural celebration, featuring music that was already popular in their native countries, like Brazil's "Na Baixa do Sapateiro" and "Os Quindins de Yayá," and Mexico's "La Sandunga" and "Solamente una vez," composed by the iconic Mexican pianist and singer, Agustín Lara.
Even the main titular theme song, "The Three Caballeros," uses the same melody as the Mexican song "¡Ay, Jalisco, no te Rajes!" made popular at the time by its original performer and now Mexican icon, Jorge Negrete.
And yes, some of these songs are performed by Donald Duck's hard to understand vocals. In fact, this is one of the only Disney produced musicals to not feature an all original music soundtrack.
My only complaint is that I wish they didn't change the original Portuguese and Spanish lyrics to English on the majority of the songs in the film.
While "The Three Caballeros" isn't as problematic as one might think it would be regarding representation of Latinx life, its origin story and pre-production is something that has been raising eyebrows.
Fighting Nazis
During the second World War, U.S. government paranoia rose out of fear Latin America would be vulnerable to Nazi propaganda that was being distributed around South America, particularly as some Nazi officials fled to countries such as Argentina.
In addition, several South American governments had close connections to Nazi Germany.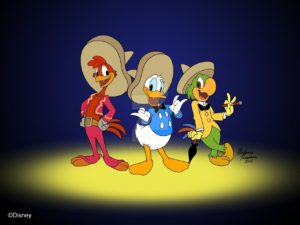 Seeking to strengthen relationships and safeguard the Western Hemisphere from Nazi infiltration, the U.S. government approached Walt Disney with the idea to go on a goodwill tour of Latin America in hopes to foster better relationships between the Americas and what is now known as the U.S. (something that was not being accomplished by President Franklin D Roosevelt at the time).
Disney was approached due to the incredible popularity of Mickey Mouse and other Disney characters in Latin America. Disney agreed and became the ambassador of the goodwill tour, which was completely financed by the U.S. government.
As a result, Disney, along with his wife and twenty of his artists, composers, and technicians, were flown to several parts of Latin America. While visiting, the artists sketched caricatures of local residents, painted the historical buildings, and curated music that would be featured in their upcoming movies.
Disney and his artists were nicknamed El Grupo by the press. Upon their arrival back to the U.S., "Saludos Amigos" and "The Three Caballeros" were born. Footage of the artists touring around Latin America is featured in short segments in "Saludos Amigos" and in the documentary "Walt & El Grupo," which chronicles the events of the goodwill tour led by Disney.
While I have always admired "The Three Caballeros" for being a whimsical musical about Latinx culture, I think the reason for it existing is kind of disappointing. It should also be noted that not one Latinx person was involved in the production of this film, which isn't totally surprising since this did come out in 1944.
Is this an underrated Disney classic? Yes. Is this also a propaganda piece? Yes. However, "The Three Caballeros" is still a special movie that deserves to be revisited, regardless of the fact that it was made as a result of paranoia during a war.
The film is available to stream on Disney+.