A unique, bold reenactment of real life events.
"The Infiltrators" is a docudrama, featuring reenactments of real-life events, about two undocumented dreamers who intentionally get detained by the Broward Transitional Center located in South Florida.
The film follows Marco and Viri as they make their way into Broward and come across everyday people who have been detained, some who were arrested by ICE for no further reason than being in the wrong place at the wrong time. 
Help support Chicano/Latino Media. Subscribe for only $1.00 your first month.
The infiltration itself begins when a man named Emiliano contacts the National Immigrant Youth Alliance about his father, Claudio Rojas, who has been taken by ICE directly from his home. As a result, Marco detains himself to help Claudio get released from Broward and back to his family.
Meanwhile, Claudio becomes an essential part of the strategic planning from within the walls of the detention center.
The dynamic is somewhat reminiscent of the popular Spanish Netflix show Money Heist or Casa de Papel. Mohammed and the National Immigrant Youth Alliance is the professor. Claudio is an undercover expert, ready to dismantle from within. Viri and Marco are the students that infiltrate the "bank." And the precious cargo are the people, which they need to get out by any means necessary.
To raise awareness of the mistreatment of individuals within the facility, Marco and Claudio organize a "spiritual" based hunger strike. Mohammed then uses this protest to gain media attention where the organization could demand the release of several people.
The most compelling part of the film was the presentation of real-life stories highlighting the violations that arise within deportation centers. The film also showed how our own legal system uses a law-abiding logic to detain undocumented people in a jail-like atmosphere while simultaneously breaking U.S laws designed to protect those individuals.
Many are taken advantage of due to the lack of available information and educational resources.
Fear seems to be a constant theme, as it is so often referenced throughout the film. In many ways, the film itself raises awareness, so people can continue living and existing within this country undocumented and without fear.
Or as the National Immigration Youth Alliance would say, "Sin documents, sin miedo."
As a viewer, the massive amounts of info about laws, facts and hurdles quickly school the audience about the deportation process. For example, during the infiltration, Broward had more than 600 detainees, many held without any criminal offense or prior criminal record/history. In addition, undocumented detainees had no right to trial before being hauled off to the detention center.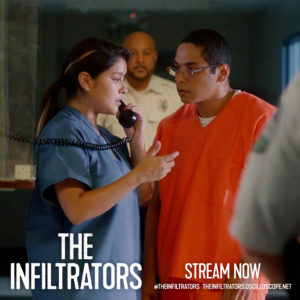 There are no sentences from judges, so people were often held at Broward for years at a time in a limbo state, not knowing if and when they would be able to stay or be deported. Meanwhile, families of the detainees often refrained from visiting if they were undocumented themselves due to the fear they would be arrested.
It was common for an organization to be denied personal info on each case due to the "right to privacy" of the individual. This was how information was moved back and forth from inside Broward's jail-like cells to the larger operation at hand.
They show the discharge of various people (Marco and Viri included), but of course the topic of immigration and deportation is a never-ending battle. And while the Infiltration was a small win, there is a long way to go when dealing with an evidently broken system of ICE law enforcement and deportation.
This film is an insiders look on the daily life of what it's like being undocumented and detained. I felt the film overall was educational and exemplified there are many things that can be done legally to keep families together no matter someone's citizenship status.
Although, I do think the film would benefit from an alternative ending featuring a briefing in how laws and detention centers have changed since the Obama years. It would be interesting to know whether or not similar tactics used in the film could still be effective today.
Get Columns Like This In Your Inbox
To receive weekly updates like this in your inbox, subscribe to The Daily Chela newsletter here.