Picchio Verde in Guadalajara is at the forefront of new and exciting cuisine.
Guadalajara, Jalisco is Mexico's second largest city, and for many Los Angelenos, a short three- hour flight to a much loved vacation spot to many Americans.
There you will find that the city now recognized as Mexico's Silicon Valley has a great deal to offer in new cuisine. Guadalajara's gastronomy scene is as impressive if not more so that say, that of San Miguel de Allende, Guanajuato, now a true food destination for Mexicans and travelers alike.
One of the areas most visited by American visitors and ex-pats is Colonia Americana mostly because it is located in what is Guadalajara's Centro, but more importantly because it is within blocks from the now trendy and very alive Chapultepec area. Tons of bars and breweries, restaurants and small discos line the street, people crowd the sidewalks and Ubers stop nearly on every corner. You don't need a car in Colonia Americana.
Picchio Verde is a little, charming and welcoming Café with outdoor seating, new tables, very clean everywhere you look, offering a smart and innovative breakfast menu like you don't see in the city. Jose Fragoso, the manager welcomes you with a handshake and shows you to your seat. The short but enticing menu tells of dishes such as Chilaquiles en Mole Oaxaqueno, made in a little Oaxaca village and delivered by its cook is a delicious and filling dish.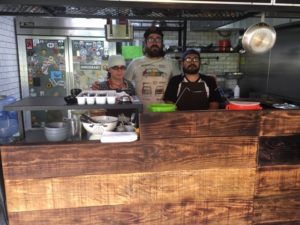 Don't miss the Chilaquiles with Portobello Mushrooms. So, chilaquiles is an old and traditional breakfast dish in Mexico, made with lightly fried cut-up corn tortillas and ingredients such as tomato, garlic, onion and offered with eggs. A tasty salsa accompanies the plate and there you have a delicious meal to start your day.
Another traditional Mexican breakfast dish known as Molletes comes with various toppings. Molletes is a Guadalajara original dish using the local bread birote made only in Guadalajara, a tasty and crunchy bread resembling a French bagette.
The Café offers Eggs and Omelets with salmon, tomato, onion, Portobello mushrooms and so on. During one recent conversation Jose revealed most of the recipes came from his mother's kitchen. He invented a few dishes along the way too and so too you will find fresh juice, lattes, smoothies, chais, and so much more.
A small natural goods store stocks an excellent selection of coffee from Chiapas, Guerrero and Veracruz, as well as soaps and oils, probiotic drinks, and my favorite, the ginger soda. Jose describes the menu as Invented and Innovative Contemporary Mexican Cuisine—and it is all that.
An evening Menu is being created as we speak, and of course, the recipes will be from Jose's tried-and-true dishes as well as invented plates. Stay tuned.
Service is excellent.
Picchio Verde
Morelos 1476
Colonia Americana
Guadalajara
331-338-8043
Prices $ out of $$$$$