You would think a café that makes its own pasta would deliver. It didn't.
Caligari was recommended to me by a local restaurateur. The place is a small neighborhood café caught in between numerous businesses and residential homes. Its entrance boasts a grey and black mural of no significance. The place is named after a 1920's German movie, The Cabinet of Dr. Caligari, an early horror film.
The place is separated by four rooms, the front room, the middle, the back room and the tiny bar in back where all the help seems to congregate and socialize, making the service practically non-existent.
While waiting for someone to show up I looked at my phone for messages, hoping a coffee might show up by itself, or that someone might bother offering a menu.
After settling down and deciding to be patient, I found the menu at another table, and to my surprise I noticed some interesting items. Again, the Chilaquiles selection called my attention—chilaquiles with toppings, local cheese, eggs and a salsa. The omelets came in bacon, onion, cheese tomato, poblano peppers and make-your-own.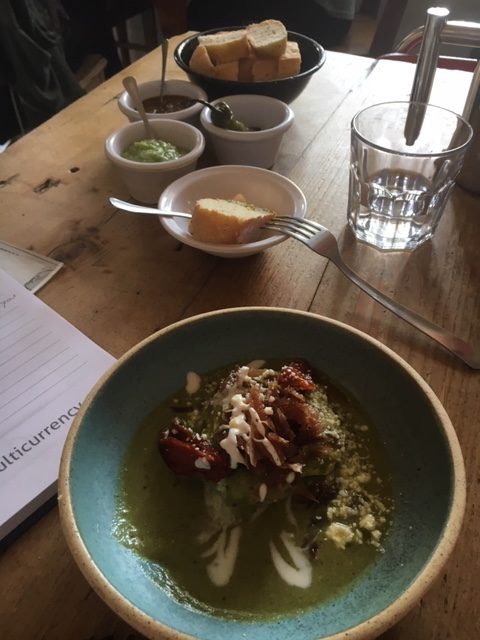 The Molletes were tasty but came in a small portion. I had the Poblapoche sencillo, topped with poblano sauce on a bed of refried beans and topped with local dry cheese.
Try any dish with the local queso adobera. It's said to be mostly used to make quesadillas. It would have been something to taste one topped with poblano sauce. I have cooked haute cuisine for many years, and like Jose Fragoso, I have my own ideas of how to create a tasty dish.
On my second visit I had three dishes. The Salmon Carpaccio was crunchy with roasted corn kernels alongside chopped red onions and capers, which I found much too salty. A finely roasted serrano pepper added fire to the dish but hardly flavor. I only ate half a portion.
Next, I ordered a Spaghetti Bolognese. You would think a café that makes its own pasta would deliver. It didn't. The Bolognese sauce was quite dry, as if cooked yesterday and stored for further use.
The parmiggiano cheese added more salt to my order. One, tiny little basil leaf adorned the portion. I would have liked to see a few more leaves that took away the saltiness of the dish.
Finally, I chose Ravioli filled with spinach, cheese, tomato, bacon and again, capers. This time the salt was overpowering in every sense. I drank a glass of mineral water to wash the salt down.
A lot of locals come in for coffee and breakfast.
Caligari is open until 11:00 P.M. Main courses at night include Shrimp, Teriyaki Chicken, Steak Filet and Vegetarian Dishes for your pleasure. They do offer wine and beer. Oh, and there are Pita dishes accompanied by an assortment of Greek products like olives, hummus and cheese.
The service was pleasant, but not there.
Caligari
Calle Juan Manuel 1406
Colonia Villasenor
331-523-1382
$ out of $$$$$