The Beef Tartare explodes in your mouth, giving you a kick on the palate that you didn't expect.
As a beer lover, and a person who has visited many breweries, both in Mexico and in the United States, I have to rave about this location.
When you walk in you are greeted by any and all of the staff that happens to be on the first floor, where a small office serves as a meeting point. Six aluminum tanks shine like the moon before you, eliciting an instant desire to taste their award-winning beers.
The brewery and its restaurant, Umho—signifying "smoke" in Spanish—rests on the second floor, an area that was once an outside terrace to the building. With time, the owners covered the area and so now it is enclosed, holding some 20 wooden tables where the delicacies of Umho are served alongside the now famous beer.
The beer in question here is aptly named Clandestina, titled after a well-known American beer brewed during Prohibition. It turns out the owners educated themselves quite well before starting the business, reading up on and tasting many beers on the market.
The Clandestina is a lager with a refreshing taste because of the herbs and spices within.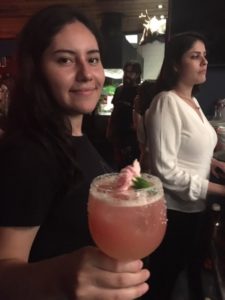 This particular beer is meant to be appreciated, to be sipped and tasted, to allow it to settle into you. To drink this beer is akin to having a fresh slice of a perfectly cooked piece of foie gras.
The Clandestina won a Gold Medal at the International Beer Challenge in London this very year. It was selected as the best beer overall from the American Continent. Strong words given to a Mexican beer, considering that the American market pretty much considers the usual commercial Mexican bottled beers to be good. No need to mention names here, but once Clandestina is your favorite, you'll forgo the renown bottled beers, believe me.
Regarding the dishes at their restaurant, you will find a variety of unique, ultra-modern plates using the finest produce in the area. The Crostini on aguacate is a sublime starter, and quite filling. Topped with the famous Mexican peasant style cheese by the name of panela, and a splash of caramelized corn, finished with a generous portion of freshly sliced avocado, you have a mouthful of crispy, sweet and softness to start your dinner.
The Beef Tartare explodes in your mouth, giving you a kick on the palate that you didn't expect. It's not a spicy kick but more of a light, acidic attack that is pleasurable.
Other dishes to try are the tostadas de pulpo, tacos de pescado, a dish with a fried fish that is crunchy. My favorite main dish was the Costillas de res that come in the brewery's Porter beer, reduced down to a rich sauce. Accompanying the ribs is a potato puree, silky and smooth.
The bread is made on site. There is a light brioche for the sandwiches, a pan de campaña, and a regular sliced bread that is used for various purposes.
Carvecería Loba makes an awesome Double IPA with a taste of grapefruit, a perfect finishing touch to a wonderful experience and a great meal. In my case, I opted for the Double IPA for dessert.
The brewery also serves mixed drinks. One of the fan favorites is the Sueño Rosa, a refreshing mixed drink. The pour is a tonic made with guayaba extract, pink prickly pear and a half glass of lager. The drink comes with ice cubes and is then given a garnish of a fresh flower or carnation.
The list of beers is extensive. Loba IPA starts the list, followed by their award-winning beer Paraíso, then one called Alfa, a tasty light beer with a big alcohol content, and then the Negra, a chocolaty beer that will give any porter a run for its money.
The staff is friendly and helpful in describing the various tastes of the available beers. They are knowledgeable in all things Cervecería Loba. Although the bar serves tequila and mezcal, the liquor list is limited because as the manager said, "We want to sell our beer."
I highly recommend this brewery in Guadalajara, not only because of its newfound stature in the business, but because you will be impressed with every aspect of the presentation.
Cervecería Loba
Calle Gregorio Dávila #76
Colonia Americana
44100
332-035-6401
Price: $1/2 of $$$$
Agustin Eliab Juarez is a novelist and screenwriter having earned two Stanford degrees, the latter a Master's in Cultural and Social Anthropology. He is a foodie and a "home chef" as well as a wine connoisseur.
Latest posts by Agustin Eliab Juarez (see all)