Onyx the Fortuitous is a love letter to '80s horror movies.
"Onyx the Fortuitous and the Talisman of Souls" is directed, written and stars Andrew Bowser. It follows Marcus J. Trillbury, aka Onyx, as he struggles with every aspect of his life.
One day his life takes a turn when he's invited to the mansion of someone he admires, Bartok the Great, to be part of a ritual that raises the spirit of an ancient demon. The film also stars Olivia Taylor Dudley, Jeffrey Combs, Ralph Ineson, Rivkah Reyes, and T.C Carson.
I went into this film without any knowledge of who Onyx was, but apparently this character is well known from Bowser's past short films and in the YouTube sphere. And boy, did I have a blast watching this film.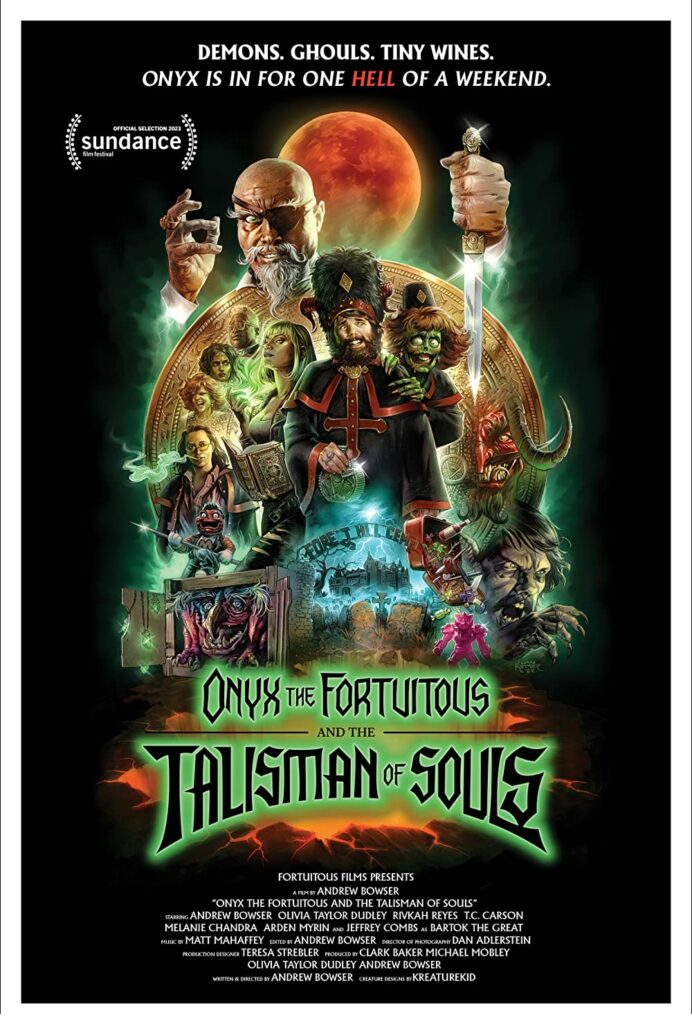 Onyx is someone who is a bit socially awkward, quirky and a unique individual all around. He has a tendency to finish every other sentence with "I don't know," and when the film eventually tells us the origin of why he regularly says that, I was emotionally moved.
The film is filled with dark humor, gothic/horror themes and focuses on the satanic side of things. There are supernatural elements throughout and I was engaged with every character presented. The five individuals selected to take special part in the ritual were great! Their dynamic was believable, and the friendship they develop is grounded in reality due to the script's ability to touch upon certain sensibilities.
This film is filled with practical makeup, costumes and designs that its monsters give a resemblance to the creatures from the '80s.
This movie is a love letter to '80s horror movies, and as someone who grew up watching these films, it hits various nostalgic cords. What better way to pay homage to the genre than by casting Combs, who is known for many '80s horror movies, most notably the 1985 cult classic "Re-Animator."
Needless to say, Comb's performance as Bartok the Great is superb. The overall performances were stellar, and I'm fascinated by the various hats Browser wears to bring this film to the big screen.
"Onyx the Fortuitous and the Talisman of Souls"is certain to become a cult classic. Heavily influenced by '80s horror films, this filmtouches upon the absurdity of those films from that time, but with shades of emotion, comedy and horror.
I anxiously wait to see what Bowser does next.
4/5