According to the U.S. Department of Labor, last November marked the lowest unemployment rate in 50 years. However, since 2018, Latino unemployment still remains above the national average.
In simple terms, the unemployment rate is calculated by taking the number of individuals who are unemployed, but actively searching for a job, and dividing that number by the labor force.
In November 2019, the national unemployment rate was reported to be 3.5%, which was slightly lower than in 2018, but better than in 2017.
If we compare the unemployment rate at the height of the Great Recession of 2007-2009, we now have half the number of unemployed individuals compared to 10 years ago.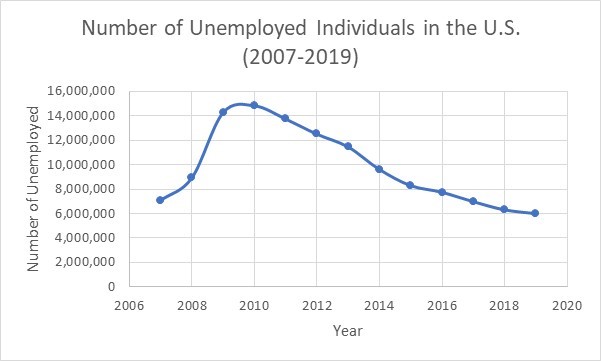 However, with an increasingly diverse population, we also need to understand how demographics like race, ethnicity, age, and gender play a major role behind the numbers.
The most recent data on unemployment by race and ethnicity from 2018, for example, shows Latinos have a higher rate of unemployment than the national population.
Looking at major Latino groups, we also see that those with a Puerto Rican background experienced an even higher unemployment rate.
In addition, those with some college had a lower unemployment rate than those without a high school diploma. And Latinos without a high school degree had a lower unemployment rate than the national average without a high school diploma.
But Latinos with at least some college experienced a slightly higher level of unemployment when compared to the national average.
These numbers are important to know. Even though we have experienced a healthy economy in the past 10 years with a historically low unemployment rate, unemployment numbers still differ by race, ethnicity, and gender.
To maintain a vibrant economy over the next 10 years, it's important we make diversity a key element of the workplace.