La Victima was created during the height of the Chicano Movement and the Chicano Theater Movement.
Being Latinx in L.A. may seem like a title we want to heavily protect. With the rise of cultural differences we tend to find ourselves straying away from unity. But in times like these it is important for us to stick together as a community so that we can overcome the trials we're faced with.
The Latino Theater Company (LATC) is doing just that. In the historic eight story facility located in downtown L.A., the LATC has one mission: to provide a place where artistic abilities will flourish, in a location that brings people, cultures, and ideas together for the future.
The UCLA School of Theater Film and TV, in collaboration with the East Los Angeles College Theater Arts Department (ELAC), presents La Victima coming this November.
Written by El Teatro de la Esperanza in 1976, and directed by Jose Luis Valenzuela during the height of the Chicano Civil Rights and theater movement, La Victima still resonates with our community today.
La Victima tells the story of two Latinx families during the Great Depression, and the economic difficulties they faced. The production also examines U.S. immigration laws, stereotypes, and political issues similar to today.
It's a story that we can often relate to within our own families and communities. The act of traveling to the U.S. for a better life and the American Dream. People leaving behind their home countries, often fleeing poverty, lack of employment opportunities and lack of education to venture into the unknown.
Yet the unknown may seem brighter than the situation they are currently in.
Immigration laws are a continued fight that we face. Many different ideas come from the discussion of immigration which often leads to a disconnect inside communities. With ICE raids increasing, members of different ethnic groups are scared of what comes next.
José Luis Valenzuela wants to reignite a story that not only mirrors today's climate but rehashes the same fight that began long ago. He is the artistic director of the Latino theater company and a distinguished professor at UCLA, as well as the director who is bringing La Victima to stage.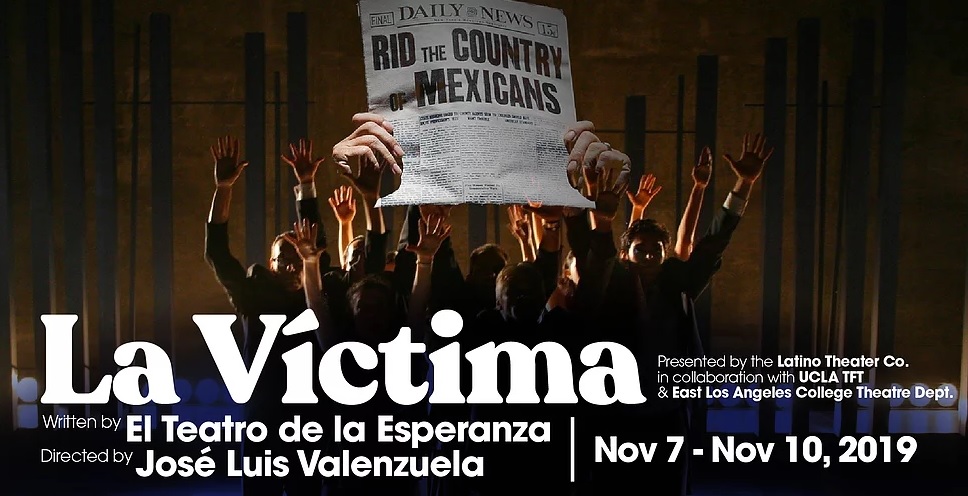 Valenzuela is widely known for directing critically acclaimed plays. His plays were often performed in important regional theaters like the Los Angeles Theater Center, where he founded the Latino Theater Initiative in 1985.
Most recently brought to stage are his work in Dimentia, A Mexican Trilogy: An American Story, La Olla, La Virgen de Guadalupe, and Dios Inantzin, to name a few.
As Latinx theater often does, it will take serious, real issues and infuse the story line with humor, music and dance. Students from UCLA and ELAC will be performing to help bring the 1976 play into action.
We all have a story, we all have dreams for the future. Some of us are the product of our parents' struggles, born into a privilege we never knew we could have.
The truth is not everybody takes time to read each other's stories. Some people take rhetoric to extremes. And in an age of 24/7 media, often filled with negative connotations, feeling safe in our own skin sometimes seems difficult.
As a community we need to rise above the differences, we need to remember what makes communities great. We need to take into consideration every culture, every tradition, and every historical platform that has founded Los Angeles in its entirety.
Coming to Los Angeles November 7th through December 8th, La Victima will strive to bring the community together again. Bringing to life the characters we often see written about in our own stories, detailing struggles we've seen in our own families, and highlighting the voices often hidden in the shadows of the generations before us.
The LATC Is currently seeking community partners to showcase this important piece at no cost to the public.
You can RSVP now on their website in order to save a front row seat for the show that everyone will be talking about. A show that will bring much needed theatrical relief to a community that in this climate may feel under attack.