Indigenous Cats traces its roots back to their shared infinity for classic Boom Bap-style hip hop production.
For the past several years underground hip hop duo Indigenous Cats, composed of recording artists Calmplx (pronounced Complex) and Ina, have made their rounds in the underground hip hop scenes of Los Angeles, California.
Garnering a dedicated and growing audience on social media, the group has made a name for themselves incorporating philosophies of decolonization and Indigenous empowerment into their unique brand of music.
Utilizing classic Boom Bap production, Indigenous Cats have crafted a unique sound that invokes the nostalgia of hip hop's heyday and conjures memories of a by-gone era while still addressing dilemmas of the 21st century. Together the duo has created a tapestry of eclectic sounds, ideas, and philosophies in their music unlike anything else being created by their musical peers.
Humble Beginnings
While both Calmplx and Ina shared a deep passion for Classic and Underground hip hop, their paths to eventually picking up the mic differed. Plex grew up in a household where his father would often play oldies and his mother would listen to the sounds of Salsa and Cumbia. However, it was an older cousin of his that would introduce him to the underground hip hop scene.
"My cousin had nothing but underground albums. Gang Starr, Wu-Tang, A Tribe Called Quest, you name it," Calmplx recalled. By high school, Plx was regularly freestyling with friends and before long he began recording his own music.
Ina grew up immersed in the sounds of Neo-Soul and 90s era R&B. Influenced by the collections of her older siblings who played artists such as Lauryn Hill and Erykah Badu. Eventually, Ina would be introduced to underground hip hop by an older sister.
"That's when the door to the underground scene really opened for me. My sister would always play artists like ATCQ, The Fugees, Atmosphere and it immediately reeled me in," Ina explained. "Ever since then I've been drawn to that 'old school' sound and jazzy-soul in hip hop."
Eventually, she adopted the stage name Ina, which means mother in Ilocano, the language of her Filipina grandmother.
Traveling Souls
As one might imagine, the origins of Indigenous Cats trace their foundations to the couple's mutual love for music, which ultimately led to both crossing paths.
"Calmplx and I knew each other throughout our teenage years, and we kept bumping into each other in town. We're both into meditation and we would share our own practices and tips," Ina recalled.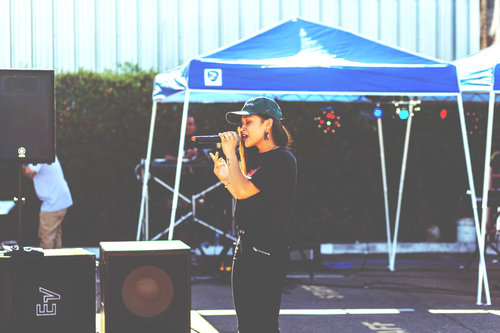 While both had been working on their own music individually, the two grew close following a recording session at the home of a mutual friend.
"I remember singing him a Buddhist mantra and he really liked it," Ina said. Calmplx was impressed by Ina's singing abilities and asked her to record vocals for his solo project. Before long the two began dating and performing at local venues/shows together.
Inspired by past iconic hip hop duos, the pair decided to officially create a group of their own.
The group's moniker refers to the duo's 'Indigenous' ancestry of El Salvador and the Philippines, and the slang term "cat," referring to a person who is considered to be "cool." Ina described how the name Indigenous Cats came to them after performing a show in Van Nuys. "After the show, we were sitting down outside the venue and we came up with it right there on the spot, we thought the name was dope and it's been Indigenous Cats ever since."
What's Old Is New
After coining the group's name, Calmplx and Ina began work on their debut project. Equipped with only a computer and an old mic the duo began recording music at their home. The duo released their debut in the summer of 2019, a seven-track mixtape entitled Traveling Souls Project that utilized vintage production from artists such as M.F. Doom, Jeru the Damaja, Jay E.L.E.C.T.R.O.N.I.C.A., Jedi Mind Tricks, and Atmosphere.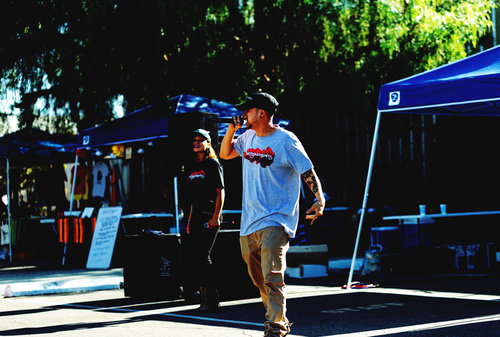 The duo's unique sound traces its roots back to their shared infinity for classic Boom Bap style hip hop production. Accompanied by crisp jazzy production, the smooth lyrical flows of Calmpx and Ina were deliberately crafted to invoke the spirit of the same tunes that played in neighborhoods throughout New York in the early-90s.
Like their musical predecessors, the music of Indigenous Cats brings abstract and open-minded lyricism together addressing a wide range of topics. From spirituality and modern living to race, religion, decolonization, and other subject matter as well.
Future Before Nostalgia
Although COVID-19 delayed the group's plans to release new music following the release of their debut, Indigenous Cats promised a slew of new projects with a tentative release date of late 2021/early 2022. The emcees plan on releasing a full-length Indigenous Cats project, and both intend on following up by releasing their own solo projects as well.
"These projects will also have all original beats this time around, so we're definitely excited to share it with the world very soon!" Calmplx shared. "We're so excited for what is to be released, we have some fun stuff that I think the fans really dig. We have amazing features and I really want to shout out artists we have featured but we agreed to keep it a surprise."
Please Consider Becoming A Subscriber
We have made tremendous strides since we first launched last year, but we can't keep growing without your support. Please consider becoming a Daily Chela subscriber and supporting our work. Choose from our different plans here.