Love him or hate him, one Chicano rapper has written the blueprint everyone else follows.
Hip hop might have first emerged in the 70s against a backdrop of cocaine fueled optimism, but the commercial pinnacle of hip hop emerged in the 90s against a backdrop of uncertainty—a tumultuous age that likewise gave birth to the Los Angeles riots and hundreds of gang related homicides each year.
The latest incarnation of hip hop, which the media would dub "gangster rap," not only terrified middle-class America at its sheltered core, but unapologetically offered an entire generation of angst-ridden youth an unfiltered microphone.
But beyond the unrest was an evolving musical form. While in the east, a ruckus trio known as the Beastie Boys catapulted to commercial prominence by mixing rock and rap a few years earlier. In the west, a new form of rap blended Mexican and American culture and shed light on the harsh realities of life in the barrio.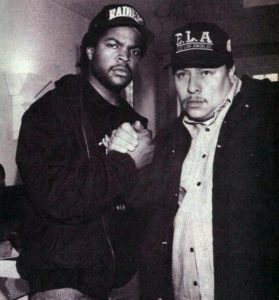 This new form of rap spawned dozens of legendary Chicano rap artists, including Lighter Shade of Brown, MC Boulevard, Brownside, Proper Dos, Lil Rob, Spanish Fly, and Psycho Realm. Yet more than three decades later, virtually every critic agrees one legendary Chicano rapper paved the way for everyone: Frost.
If the name doesn't sound familiar, then you haven't been paying attention. While most Chicano rappers from Los Angeles and San Diego rose to prominence during the early 90s, Frost began making music a decade earlier. And while he was initially constrained by an industry that primarily catered to black and white audiences, it wasn't long until he proved the market for Chicano rap had considerable, if not unlimited, potential.
By the mid-80s, Frost had not only carved out a name for himself in an unforgiving and competitive industry, but managed to land a coveted record deal with Virgin Records. His first album, Hispanic Causing Panic, was an instant success. Released in 1990, the album featured the hit single "La Raza," which would become both Frost's biggest song and a Chicano rallying cry across the west.
The song did more, however, than unify Chicanos and rattle trunks from California to Texas. It thematically served as a foundation for all future Chicano rap artists to build on. Similarly, terms like "La Raza" became more than a cliché saying from the barrio. They became a declaration of both war and unison at a time when Chicanos were fighting for respect and status in society. Frost just happened to go on record and express it.
Two years later, Frost released his much anticipated second album, East Side Story, which featured the popular single "No Sunshine," a remake of Bill Withers' award winning 1971 classic by a similar name. The track not only epitomized Chicano rap's defining characteristic—blending oldie chord progressions and choruses with modern Chicano themes—but was prominently featured on the soundtrack for Edward James Olmos's controversial 1992 film, American Me.
Frost's hard hitting style came full circle with the production of his third and most popular album, Smile Now, Die Later. Released in 1995 on Ruthless Records, the album delivered a number of popular tracks, including "East Side Rendezvous" and "You Ain't Right," while featuring legendary soul artist Rick James in a remake of his popular song, "Mary Jane."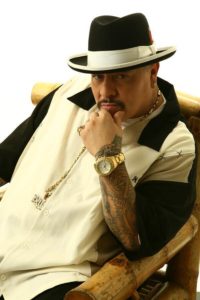 The album also featured a new Chicano anthem entitled "Mi Familia." The song, which talked about the power of culture and family, not only promoted Chicano empowerment, but added to the groundbreaking legacy "La Raza" had commenced five years earlier. The album's success cemented Frost as a Chicano rap legend.
Frost ultimately released more than a dozen albums and toured the world between 1995 and 2014, performing alongside some of the industry's biggest stars. His son Scoop Deville has likewise become a powerhouse in his own rite as a rapper and producer, collaborating with everyone from Snoop Dogg to Kendrick Lamar—sustaining the legacy his father helped create.
Today Chicano rap is a lucrative industry that reaches every corner of the United States and entails dozens of products. And with an ever-growing Mexican American population, it's only a matter of time before Chicano rap becomes a mainstay on radio and satellite stations outside of the west.
And when this happens, whether you love him or hate him, one Chicano rapper will have written the blueprint everyone else follows—Frost.
Get Stories Like This In Your Inbox
To receive weekly updates like this in your inbox, subscribe to The Daily Chela newsletter here.