With the release of his debut solo project, Calmplx holds his own outside of Indigenous Cats
Although hip-hop groups have become a rarity in today's hip-hop scene, for many hip-hop heads the classic formula of the quintessential rap duo remains a tried-and-true formula. A formula that evokes memories of iconic duos from the genre's golden age such as Public Enemy, Gang Starr, Pete Rock & CL Smooth among others.
But even some of the culture's most iconic duos have taken the occasional moment to branch out and explore their sound as respective artists. One example is Calmplx Teteoquichtli, better known as Calmplx (pronounced Complex).
As one half of the Los Angeles based underground hip-hop duo Indigenous Cats (composed of himself and emcee/vocalist Ina), the duo has made a name for themselves by incorporating classic Boom Bap production interwoven with a unique takes on decolonization and the incorporation of Indigenous empowerment.
In his second solo project entitled Abstract, Calmplx treads new waters, away from his partner-in-rhyme Ina, to prove he is more than capable of holding his own outside of Indigenous Cats.
On Abstract, Calmplx continues his deep affinity for beats crafted in the vein of early 90s boom bap style hip-hop production. However, unlike Indigenous Cats' Traveling Souls Project which mined from the catalogs of other artists, Abstract Calmplx assembles a crew of producers to craft an all-original production.
A Mix Tape Style
Keeping in line with past efforts from his time as part of Indigenous Cats, the production featured on much of the Abstract project sounds more like a long-lost mixtape from the early-90s era in New York (a stark contrast compared to much of the material currently being produced in California's underground hip hop scene).
However, that doesn't mean Abstract is retreading old ground or creating a stripped-down Indigenous Cats project. On Abstract, Calmplx aims for a decidedly darker, more brooding sound for his debut as opposed to the brighter and upbeat sound heard on past records for Indigenous Cats.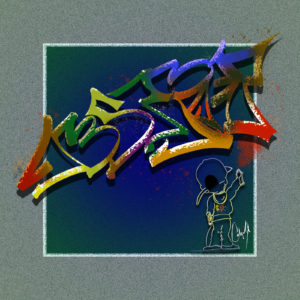 That's also not to say the Southern California emcee has stagnated lyrically or sonically. Instead, Calmplx raises the bar, making the eight-song album his most coherent and emotional collection of work yet. Showing self-awareness and reflection, Calmplx kicks off Abstract with 'Be Yourself', a pounding underground beat, layered with organ samples. The song serves as an ode not only to being a better person, but being the best, most authentic version of yourself.
Songs such as 'Humilidad', a bilingual track with a slick East Coast production, utilizes a piano sample to become one of the album's stand out cuts. It's tracks like this where Calmplx shines, feels the most at home showing off his lyrical dexterity, and incorporates his affinity for New York inspired production.
Calmplx's bilingualism isn't relegated to English or Spanish either. As a versatile emcee, he shows off his Nahuatl skills on the track 'Tiahui", which means 'to keep moving forward' in Nahuatl. Featuring a spooky, piano layered production, the track is a reminder that Camplx is an artist filled with hidden talents that had not been featured on past efforts.
A Solitary Effort
But if there is a crowning achievement on Abstract, that honor goes to 'Alphabet.' Utilizing a catchy vibraphone sample, the track is a lyrical exercise in creativity where Plx goes down the alphabet, utilizing words that begin with each respective letter.
If Abstract has one shortcoming, it's the album's brevity. Clocking in at a mere twenty-three minutes, the project plays more like an EP than a full-length project. However, in an era where artists regularly release bloated projects, seeing an artist take a 'quality over quantity' approach is a refreshing change of pace.
Although Calmplx's Indigenous Cat partner in rhyme Ina only assists him on the album's outro respectively, Abstract is largely a solitary effort, and features no other contributions from fellow artists or vocalists (another rarity when most contemporary hip hop albums and mixtapes have more features than actual tracks featured on a project).
Overall, Abstract is a solid, albeit short debut from Calmplx. Plx has proven himself to be more than capable of handling the mic outside of Indigenous Cats, and is full of unique concepts as a solo artist.
With another Indigenous Cats project also planned for the latter half of 2022, Calmplx has a bright future ahead in the ever-changing underground hip hop scene. And although Abstract can be played several times in under the span of an hour, it's an experience that fans of Indigenous Cats are sure to return to many times over.
Abstract is available now to stream on Spotify, Apple Music, YouTube and Amazon Music & all other major streaming platforms.