The list of Mezcales is small but impressive.
Located on one of the more beautiful city streets in Guadalajara—López Cotilla—and a few blocks from the American Consulate, El Habanero Negro rests in a corner, almost invisible to the public, covered by big, leafy tree branches over its awnings.
This is a cool place, very hip, young and fun with its global music playing in the background and Tuesday night Cuban band. The name can be deceiving. The Café is named after the famous, tongue-burning chile habanero, an orange-colored small bell-shaped pepper that will make you sweat with just a tidbit of a taste.
Usually this chile is used in salsa picante, or in Chimichurri, an Argentinian salsa used primarily on big hunks of steak. This eatery takes its name after a rare, and almost unavailable black habanero chile, found only in certain, far-reaching villages in Veracruz. Its seeds are rare to find, and when found they can be very expensive, even for a successful restauranteur such as here.
Twenty-two unfamiliar items make up the menu—from a luscious sopita de lima, a light chicken broth with lime juice, shredded chicken and crispy corn bits, to the renown Cochinita Pibil, a shredded pork cooked in a flavorful Achiote. Plantain is used in a number of ways, its sweetness accentuating the hot chiles and creating a sweet-and-sour taste to the dish.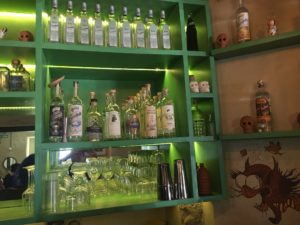 I have read a few reviews of the place, by visitors writing it was less than stellar as spoken by word-of-mouth, but I won't support that because I find the food and ambiance to be quite unusual as the taste buds explode in your mouth although the food itself is not hot spicy. A certain freshness well describes the plates because nothing is pre-cooked. Everything is made-to-order.
The Café looks like a little, run down tropical, beach diner from the Fifties with folding Corona beer tables and art-deco chairs, leaving you with expectations of a sand dune floor and colorful sun umbrella at the foot of the ocean.
El Habanero Negro has a subtitled name too: Taberna del Mayab, meaning "The few, not the many," or, perhaps this can also be interpreted as "The Chosen" in ancient Maya language.
To understand this Maya philosophy, it is important to quickly address the culture. Maya society was comprised of three tiers: the royalty, the priests (the "Learned Ones") and the peasants, thus 'the few.' Exclusivity has existed since the dinosaur.
Exotic and colorful drinks reign the day here, from a Chejuino (a made-up name) consisting of a fermented corn drink mixed with beer and lime juice, a popular Jalisco drink originating from the nearby Huichol Indian people, a recommendable refreshing drink, to a Toronjo, a "dry, grapefruit/tequila/rosemary mix" to start your meal.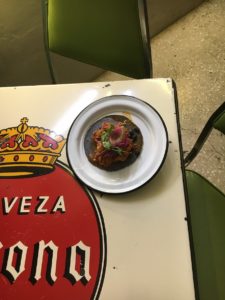 The aroma is citrusy, fresh and I will describe the taste as "the first day of Spring." Mona de Guayaba will leave you wanting to have another. Guayaba, Mezcal and another local Guadalajara favorite, Tepache—a fermented drink made from pineapple peels—rounds out the first items to ask for after taking your seat.
Yes, the drinks are exotic, almost mystical and different altogether making El Habanero Negro a favorite hangout.
A Chicharrón de pescado is delightful, a crunchy deep-fried fish skin accompanied by freshly-made guacamole and tortillitas—baby tortillas. The above-mentioned Cochinita Pibil has no rival in Guadalajara. Grandmother's recipes rule the day. The Achiote is shipped-in from Veracruz, where an elderly woman has been making the paste for decades. The plantain tortillas are quite flavored with anything that is placed on top.
The list of Mezcales is small but impressive as it primarily consists of artisan labels from Oaxaca, Jalisco and Puebla—all Mexican states known for their Mezcal distilleries.
I am impressed with the attentive service and the staff knowledge of all things here.
Finally, I would like to add that when visiting a restaurant as a food critic, I usually have a few suggestions on how to improve a plate or two, because as a Chef myself I notice inadequacies or flavorless tastes, presentation and so forth, but this cuisine is so unusual and there is no other to compare it to. Besides, it is all so excellent and pleasurable in taste and the balance of flavors.
El Habanero Negro
Calle Manuel Lopez Cotilla 1228
Colonia Americana
Guadalajara, Jalisco
Four Stars out of Five
$ out of $$$$