There's something for everyone at Tacos Don Goyo.
Let's taco 'bout Tacos Don Goyo, located on the corner of Telegraph Road in Downey, California. Where the tortillas are made fresh-to-order and each bite brings you back to the authenticity of Mexican street tacos.
With 10 different meats to choose from, the menu satisfies even the largest of appetites
Their original Quesatacos are served with onions, cilantro, and guacamole. But it doesn't stop there. The fries with meat are also a must try on this menu.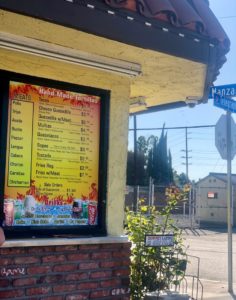 Tacos Don Goyo prices range from $1.85 to $7.50, so the menu has something to offer everyone.
The outdoor seating sports 4 family sized tables. And while parking is a little less accessible, additional street parking can be found in the nearby neighborhood.
The location is a bit hidden, but don't let it take away from the bigger picture: Tacos Don Goyo is a Tijuana-inspired taco shop located just miles from the heart of Los Angeles.
Yelpers rave about Don Goyo's Horchata, which seems to be a fan favorite among customers.
My personal favorite was the Quezadilla with carnitas. The cheese and juicy meat made it a savory bite.
My second favorite was the Quesatacos with Asada. The cheese melted on the tortilla gave it a rich flavor that quite literally melted in your mouth.
The fries with asada also didn't disappoint. The fries were topped off with nacho cheese, guacamole, Pico de Gallo, and sour cream.
Open Tuesday through Sunday, Tacos Don Goyo is the perfect destination for any time of the day. You can even find them on Door Dash for a more convenient way to grub.
Follow them on Instagram for more updates and a foodies dream of looking at delicious bites on your timelines. If you give them a try, share what you liked most in the comments below!