In a world where nation-state borders feel increasingly rigid, Twitter appears to be transcending them one tweet at a time.
On November 1, 2019, the grassroots organization, M Power Change tweeted to their 10.7K followers, "Attn: According to CNN, Trump may be expanding the Muslim ban to include even more countries." M Power Change then proceeded to provide links for telephone numbers and emails for interested parties to contact their representatives in the U.S. House of Congress to voice their concerns over the expansion of The Muslim Ban.
On Twitter, there are countless examples of grassroots organizations taking the platform to get their message out. Through the platform, it isn't just organizations, but also activists, artists, and everyday people that are growing movements, raising awareness and creating support networks for causes around the globe.
In a world where nation-state borders feel increasingly rigid, Twitter appears to be transcending them one tweet at a time.
"As protests continue to erupt throughout the world as a response to rising authoritarianism and social inequality, many are looking to Hong Kong front-liners for tips and a sense of solidarity."
The political punditry class has been quick to dismiss the power of Twitter. There have been countless articles and TV commentary in the United States that state activism on Twitter "isn't real life." However, a deep dive of these activist networks emerging across the globe are showing a very different reality. These informal networks are agitating change not just in the United States, but around the world.
Historian Akira Iriye challenges scholars that research nation-building, globalization, and transnational connections to explore how people form a sense community beyond immediate geographic location and national identity. In his 2002 seminal work, Global Community: The Role of International Organizations in the Making of the Contemporary World, Iriye asserts that people form networks that transcend the nation based on the idea that regardless of where they live, they share similar concerns and hopes for the world.
Loosely organized movements such as human rights, climate change, and anti-imperialism are recent examples of global communities. These movements are in constant contact with the local and international and stand in tension with universalism and diversity.
On October 31, 2019, journalist and filmmaker Jake Hanharan tweeted, "Protestors in #Chile employing the same tactics as protesters in #hongkong, techniques that have been widely shared online to all the countries on the street now."
Hanharan shared a video below the tweet of young protestors on the streets of Chile covering thrown tear gas canisters with boxes, large bottles, and other assorted items before the gas could deploy and harm the crowd. Comments of support, shock, and awe filled the comments section from around the world. As protests continue to erupt throughout the world as a response to rising authoritarianism and social inequality, many are looking to Hong Kong front-liners for tips and a sense of solidarity. Chile is no exception.
The Hong Kong protests grew purely from social media and the internet. On the ground, journalists like Laurel Chor provide in-depth coverage and analysis on Twitter of the protests that is often overlooked by Western cable news. Twitter has played an undeniable role providing instant access to news around the world.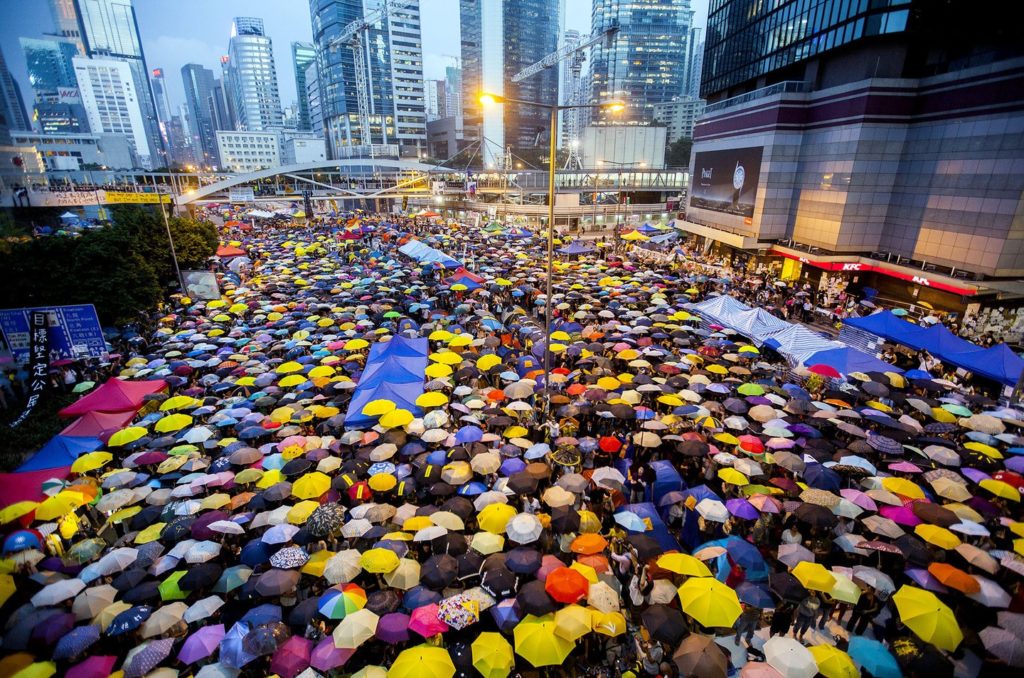 Chor, who also films and photographs protest activity from her feed, has also created a list of fellow journalists on the ground for her English speaking audience to follow. Translation of protest signs, the nuisances of culture in Hong Kong, and even interviews in real time simultaneously educate the West and give followers a sense of community with individuals thousands of miles away.
The Aussie Chinese artist and activist Badiucao has helped to spread news of Hong Kong in a unique manner through cartoons and tweets. Through his breathtaking drawings, he is able to communicate to people around the world the brutality those on the front lines face daily in Hong Kong. In September, Badiucao unveiled his infamous "Lennon Wall Flag" on Twitter. Hong Kongers and supporters around the world can print the vibrant and punchy design via a web link or a QR code.
In a Tweet, he hoped the flag would not just stand as powerful symbol of hope and freedom for Hong Kong, but for all fighting for the same ideals around the world. What began as a movement limited to the city limits of Hong Kong is spreading around the world. Badiucao's Lennon Wall flag has been spotted in pro Hong Kong protests in cities around the world.
I reached out to Badiucao on how Twitter has helped spread the message of hope for Hong Kong and a turbulent world.
He reflected, "Twitter is hugely important and useful compared to other social media platforms. Twitter has more journalists, activists, and politicians. It is a platform that brings updated info about protests around the world."
Badiucao has been especially pivotal in bringing attention and creating solidarity between Chilean and Hong Kong protesters. He often highlights Chilean protest art. The artist uses his large platform to attempt to track down Chilean protest artists so that their work is elevated and shown to the world.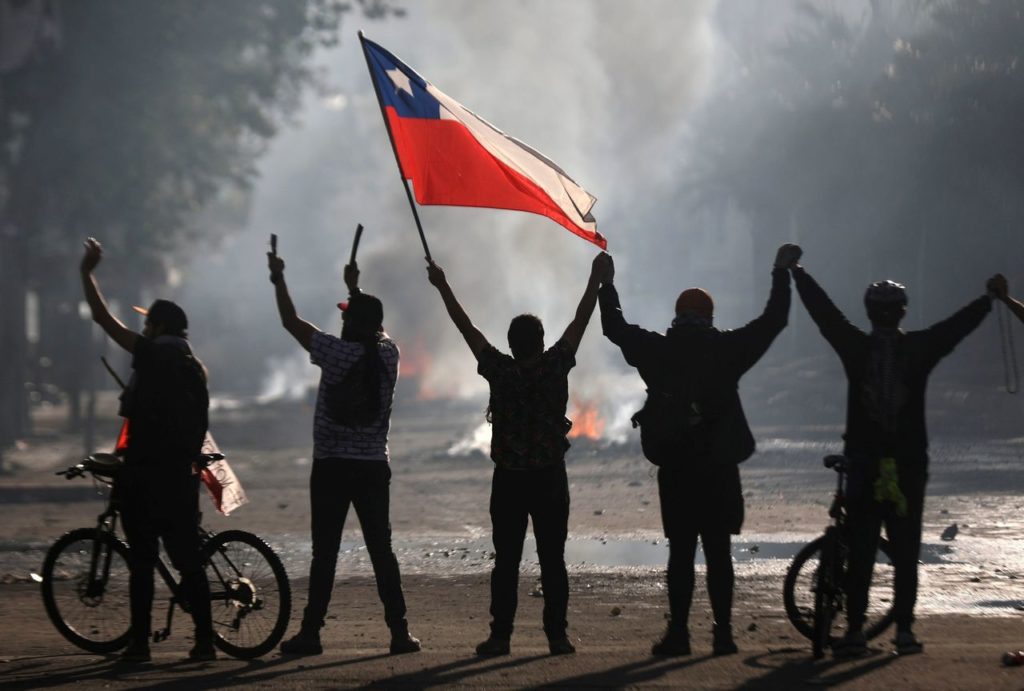 Thousands of miles away from Badiucao, activist Sarah AlGhazawi discussed how Twitter informs her humanitarian work and activism on the Gaza Strip.
She stated, "Before creating my Twitter account, I thought that no one actually knows about us. I gradually started to find out there are lots of people around the world who know about us here in besieged Gaza. I was astonished the most by the fact that they fight every day for us."
Sarah volunteers for a organization known as Palestinian Voices. The organization sells t-shirts and searches for supporters around the world for small dollar donations via gogetfundme. The funds provide food, shelter, and basic necessities for Palestinians living in Gaza. Donors can track how the fundraiser is doing and how the many new donors joined via email updates.
Traditionally, foreign aid was left to NGOs and intergovernmental organizations such as USAID (United States Agency For International Development). Twitter transformed how foreign aid is disbursed to individuals who live in war-torn nations because now donors can bypass the red tape and go directly to the people.
"Much of this nation's immigration history is defined by the haves and have nots."
In the United States, our gaze has turned inwards. Corporate news cycles are dominated by presidential polls and impeachment proceedings. One issue that consumes many people living in the United States particularly marginalized people, is immigration and the border. While cable news remains largely silent on the issue, US border activists have taken to twitter to raise awareness of these ongoing and complex issues.
U.S historians frequently cite the 19th century Age of Expansion in the U.S. as the period of time when immigration and borders became highly contentious. However, our nation's founding was defined by borders and immigration because Native land was violently seized by European settlers. In other words, borders haunt the entirety of U.S., past and present.
However, the pure hardening of borders for international immigration emerged during the Chinese Exclusion Act. This was the first law passed at the federal level that excluded individuals on the basis of ethnicity and nation origin. Interestingly enough, it contained loopholes. Wealthy Chinese individuals still migrated to the United States despite the fact that borders remained closed for poor Chinese. Much of this nation's immigration history is defined by the haves and have nots. Our current immigration and border issues are still informed by this historical legacy.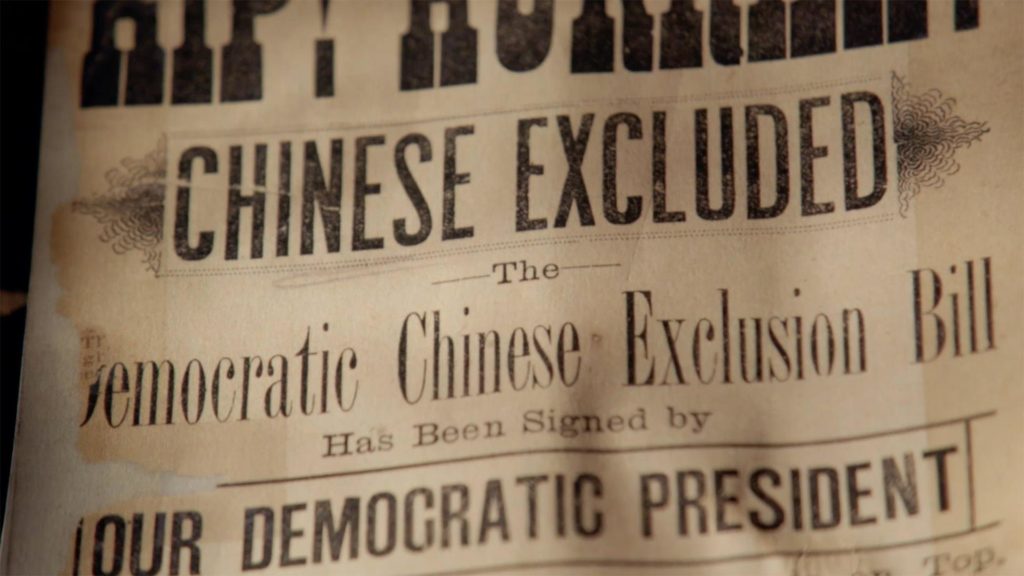 Perhaps the most prominent voice to show this complexity of our border and immigration system has come from former U.S. border agent turned immigration activist, Jenn Budd. Budd plays a pivotal role in keeping issues at the border in the news cycle by providing commentary on the complicated inner workings of the immigration system to MSNBC and the New York Times.
However, it is through her platform on Twitter she provides an intimate portrait of working in and navigating the U.S. immigration system. Budd recently shared an article via Quartz on the rising suicide rates of border patrol agents. She adds her voice to the article via tweets by sharing her heart wrenching battles with PTSD and suicide. She then resumed to retweet fellow activists and organizations that are working at the border. Budd's focus always goes back to her central mission as an activist, the fight for a kinder and more just world.
Budd's Twitter following is perhaps the most intimate of global communities on the platform. Through her brutal honesty and powerful vulnerability, she invites her followers to also share their feelings about immigration. She interacts with her followers on a wide range of issues from US citizenship law to Asylum law. The result is always the same, much of preconceived notions people in the United States have about immigration are misinformed. Budd is able to show the flaws and ambiguity of a system that desperately needs repair.
Former U.S. president John F. Kennedy once said, "History is a relentless master. It has no present, only the past rushing into the future. To try to hold fast, is to be swept aside."
In our times, where history bleeds into the present literally one tweet to the next, it can be challenging to stay afloat. Twitter like the our current times, can be a scary place. Many critics of Twitter have justifiably noted that a rise in hatred, violence, and bigotry has been because of this platform.
But, Twitter like the world, is gray and murky. The flip side is due to Twitter, we are actually becoming more freer and Democratic because of the endless access to information and communication. From Chile, to Hong Kong, to Gaza, to the United States, everyday individuals are slowly building movements that are fighting for a more inclusive and Democratic world, one tweet and retweet at a time.