The postponement marks the first time in the event's history.
It is an understatement to say that the COVID-19 pandemic has turned all of our lives upside down. Last week, with the federal government declaring a national state of emergency in response to the ongoing outbreak inside the U.S., thousands across the country have flocked to grocery outlets and pharmacies, stocking up on food and supplies leaving many stores bare within just a mere few hours after re-stocking.
Within a matter of months, the coronavirus has spread from its original origin in China's central province of Hubei, sweeping across the globe shutting down cities and entire nations, disrupting global commerce and leading to a crackdown on large public gatherings worldwide where the highly transmissible virus easily spreads. So far, as of this writing the virus has spread to some 136 countries, more than 185,000 people around the world have been sickened and nearly 8,000 people have died.
A Ban On Large Gatherings
In response, the CDC has recommended that individuals and organizations should cancel or postpone all events with 50 or more people for the next eight weeks; and that gatherings of any size should be reconsidered unless organizers can protect vulnerable people, ensure proper hygiene and social distancing. Needless to say, no community has been untouched by these shutdowns, including San Diego's neighborhood of Barrio Logan; one of the most colorful and historic Chicano communities in all the country and home to historic Chicano Park.
Like many historic, urban neighborhoods Barrio Logan has experienced a cultural and economic rejuvenation in recent years. Seeped in rich history and vibrant culture, the neighborhood in many ways has become the creative and artistic epicenter of San Diego. Today, an assortment of galleries, studios, boutique shops and restaurants line Logan Avenue. Similarly, large outdoor events such as La Vuelta and the Barrio Art Crawl generate revenue for businesses throughout the neighborhood.
However, with San Diego County effectively banning gatherings of 50+ people or more through at least the end of March, such events are for now effectively on hold. Faced with the residual effects of the shutdown, artists, galleries, and other businesses in the neighborhood that benefited from large crowds and foot-traffic are now faced with the daunting task of remaining afloat.
Chicano Park Day Cancelled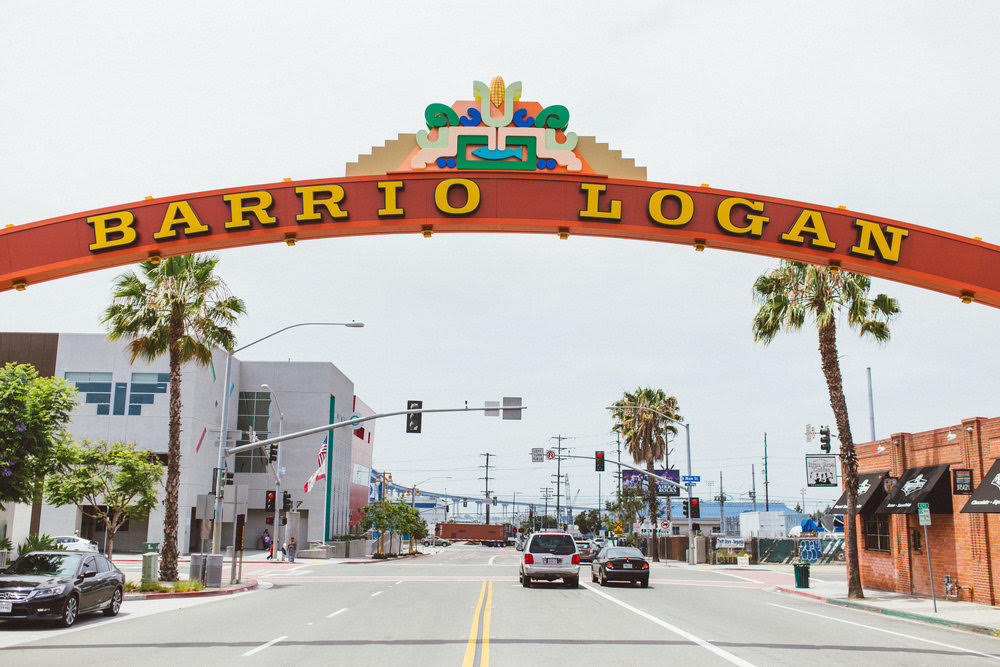 Perhaps one of the most jolting announcements in the community came last week, when the Chicano Park Steering Committee (CPSC), the caretakers and stewards of Chicano Park issued an official statement informing the public that the 50th annual Chicano Park Day and all fundraising activities for the event would be postponed until later in the year due to community health and safety concerns regarding the coronavirus.
The festivities celebrating the park's golden anniversary were originally set to take place on Saturday, April 25th. However, citing an abundance of caution for the safety of park-goers and broader community, the CPSC ultimately made the difficult decision to postpone the festivities until later in the year when it's safer to once again hold large-scale outdoor public events.
The announcement confirming the postponement is an unprecedented move, marking the first time in 50 years since the park's founding that Chicano Park Day has been postponed and will not be held in April. Located under the Coronado Bridge in the community of Barrio Logan, just Southeast of downtown San Diego, Chicano Park is home to the largest collection of outdoor murals in the world. Today, the park is now designated as a National Historic Landmark and is widely regarded as a monument to Chicano resilience, perseverance, and self-determination.
Chicano Park traditionally marks the anniversary by holding the event on the weekend nearest to April 22nd (the day of the Park's actual founding). The day-long celebration features guest speakers, traditional musical and dance performances such as Ballet Folklorico and Mexica dancers, as well as modern bands, arts and crafts, food vendors, merchandise booths and a display of more than three hundred lowrider cars exhibits which are set up across the nearly eight-acre park.
A Grieving, But Resilient Community
Today, with the event only growing in popularity with every passing year, Chicano Park Day now attracts thousands of people to the neighborhood, with some traveling from as far away as Texas and New Mexico to take part in the annual celebration. The postponement of Chicano Park Day, in essence, has marked the gravity of the situation.
With the announcement of Chicano Park Day's postponement and others in the neighborhood set to be cancelled, many community members have shared their grief. Jesse Cannon, a park defender and local Hip-Hop artist that performs under the name Tall Can 420 and was slated to perform at Chicano Park Day for a second time this year, shared his feelings about the celebration's postponement.
"It's a messed up feeling knowing that Chicano Park Day isn't going be held in April this year. But I understand why it's happening. If anybody very old or very young comes in contact with this coronavirus it could be a grave situation, we don't wanna be in as a community."
Other residents such as Brent Beltrán, editor of La Neta 92113, a community magazine that covers the neighborhood also offered up his thoughts regarding the postponement of Chicano Park Day and other events in the wake of the outbreak.
"It's unfortunate that this year's Chicano Park Day celebration had to be postponed due to the coronavirus outbreak," Beltrán said. "It saddens me that this had to happen. Yet with the amount of elders in Barrio Logan, as well as residents with lungs compromised by decades of maritime industry pollution, and the hundreds of shelterless humans living on our streets with unsanitary health habits, the Chicano Park Steering Committee made the correct choice to postpone our beloved event."
In addition, Junco Canche, the renowned Chicano political satirist who also regularly showcases art at Chicano Park Day shared his thoughts on the postponement and the overall affect public shutdowns have had on independent artists in the neighborhood.
"Us local, independent artists rely on these events, such as the Chicano Park Day celebration, to showcase our art, and to make a profit from the fruits of our labor. For some of us, it's our main source of income."
While understandably disappointed, Junco also said he understood the need for such precautions and hoped for a swift return to normalcy, saying, "I understand why these preventive measures have been taken. I can only hope that these times pass sooner than later, that the warning for the virus passes, and we can all return to our normal routines, and local artisans can go back to make a living from their craft, and spread more cultura."
While no concrete date has been set as to when Chicano Park Day will be rescheduled, rescheduling of any events in the city will likely not be until well after the city of San Diego lifts its prohibition on gatherings of more than 50 people, which as of now is set to remain in place through the end of March.
However, with some experts suggesting that the outbreak could last well into the summer, measures such as isolation of the sick, hand-washing, and multiple degrees of social distancing are all likely to remain in place for the foreseeable future.
For now, Barrio Logan's art community will likely face some difficulties in the weeks and months ahead. It's for this very reason that regardless of the city or community you live in, that you continue to support the small businesses and independent artists that have no choice but to remain open to make a living.
Because when this is all over, they will likely be among some of the most affected.