Chicano Park and Barrio Logan have become the creative and artistic epicenter of San Diego.
Last year, 2020 commemorated historic Chicano Park's 50th anniversary. Located in the working-class community of Barrio Logan, Southeast of downtown San Diego, the historic landmark sits nestled under the transition ramps between Interstate 5 and the San Diego-Coronado Bridge.
Fifty-one years ago, Chicano Park was founded by barrio residents led by a coalition of community activists, artists, Brown Berets, and MEChA students who collectively helped stage an occupation that successfully liberated the land that the park would eventually be built on.
Ultimately, the community was able to thwart the construction of a planned California Highway Patrol substation after the city of San Diego backed out of its promise to build a public park long demanded by barrio residents. Today Chicano Park has come to symbolize the Chicano people's struggle for self-determination and self-empowerment in the United States.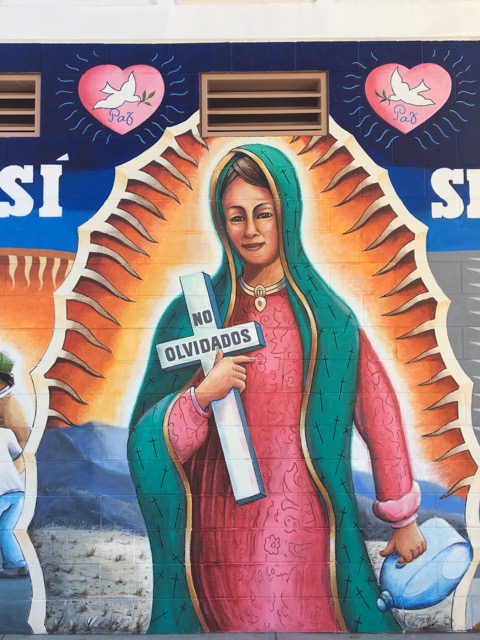 Originally the park's highly anticipated semi-centennial celebration was planned to be marked last Spring at the annual Chicano Park Day celebration. However, all events at the park were postponed indefinitely due to COVID-19 safety restrictions and put on hold until safety guidelines allowed large public events to be held once again. This year, in lieu of a physical celebration, the Chicano Park Steering Committee instead organized an online commemoration of Chicano Park's 51st anniversary.
Festivities consisted of a week-long virtual only commemoration featuring online musical performances, documentary screenings, and panel discussions from lowrider club members, Mexica dancers, and community organizers among others.
On top of celebrating its fifty-first anniversary, this past month also marked the latest additions to Chicano Park's long legacy of colorful murals documenting the neighborhood's vibrant history with the completion of three brand new murals added to its restroom facilities.
Steeped in rich history and vibrant culture, Chicano Park and the surrounding neighborhood of Barrio Logan have come to be known as the creative and artistic epicenter of San Diego. Chicano Park's renovated bathroom facilities were completed in October of 2017, with murals approved by a CPSC majority vote earlier the same summer in July. Now completed, the new murals are the latest in a series of murals that have been added to Chicano Park in recent years.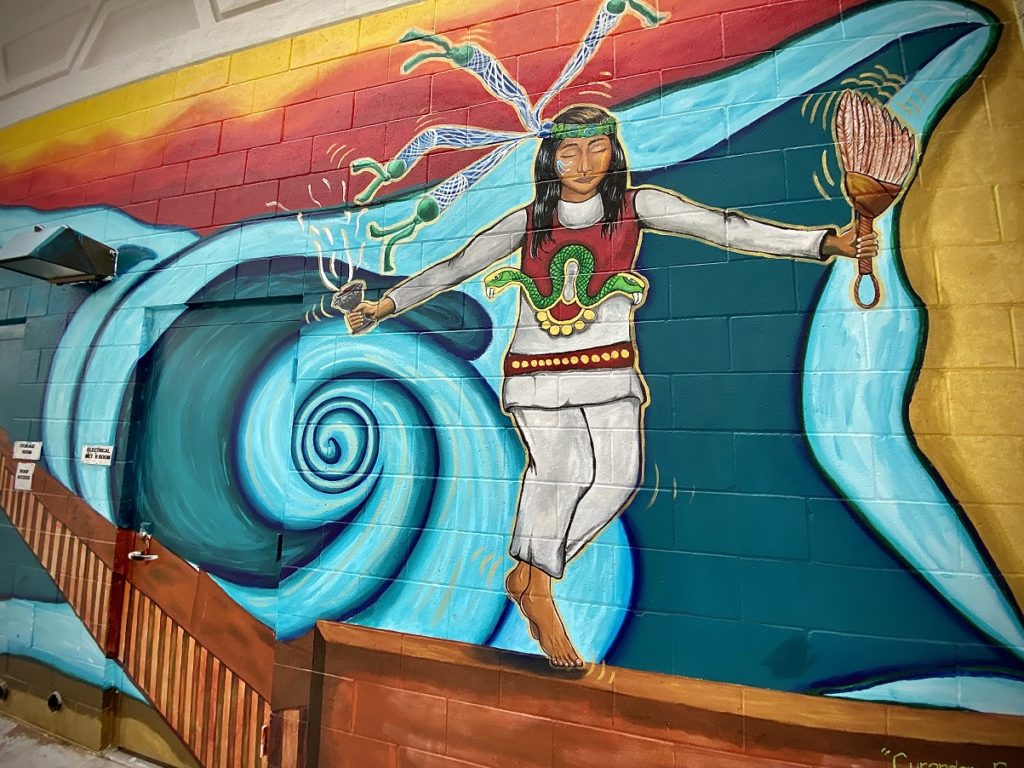 Initially, the sole mural on the building was an older piece, "Barrios Unidos," saved from the park's original bathroom and incorporated into the new facility's infrastructure during construction.
Several months later in 2018, Muralist Salvador 'Sal' Barajas, one of the park's original muralists contributed an original piece titled "Amor Si Se Puede".
The mural depicts the Virgin of Guadalupe as an activist carrying a jug of water in the desert for migrants commissioned by Border Angels, a nonprofit group that advocates for humane immigration reform, and the defense of migrant and refugee rights.
Since murals are funded by artists, whether self-funded or through fundraisers and sponsors, with the backing of Border Angels, Barajas was able to begin work on "Amor Si Se Puede" soon after the vote. However, delays from a combination of time, money, and the COVID-19 pandemic caused work on the facility's murals to be postponed until 2021.
Now, nearly four years later Barajas' work is joined by the latest slate of murals. "Chicano Love" by Giovanni 'MEX' Cerda (and crew), "Curandera Fronteriza" by Patricia Aguayo Cruz (and crew), and a mural depicting Mictlantecuhtli (the Mexica god of the dead) by Hector 'Mexikota Art' Villegas.
The park's restroom facilities briefly fell into disarray last fall when a 15-year-old boy, Brian Romo was shot and killed at Chicano Park on National Avenue which runs adjacent to the park's restroom facilities. Following the shooting, the park's restroom became a de facto memorial site for the slain teenager. And for several months the bathroom facilities were tagged in layers of graffiti.
Today most of the graffiti has since been removed, although some remnants of the tags still remain on the sidewalk adjacent to the restrooms and columns which have yet to be painted.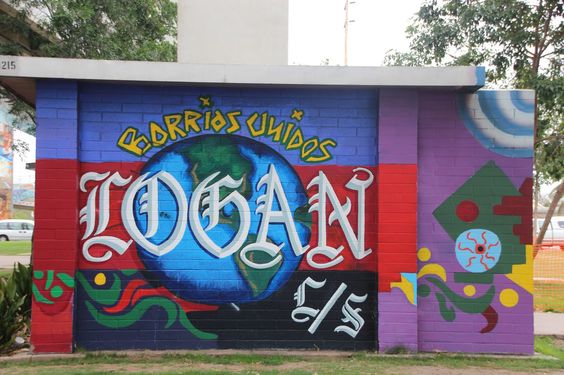 The theme of Memoriam however, ties into several of the park's new murals, particularly Giovanni 'MEX' Cerda's mural "Chicano Love."
The piece depicts Chicano Park's iconic temple kiosko encircled by a pair of skeleton hands in the shape of a heart, dedicated to volunteers, artists, activists, leaders, danzantes (Mexica dancers), and community members who have since passed away that worked to make the park what it is today.
In a video posted on the Chicano Park Steering Committee's Instagram account, Cerda explains the significance of the mural's symbolism.
"This piece is a symbol of love, unity, and respect to our community, and our neighborhood This mural is dedicated to the Chicano Park Steering Committee, the members that have passed away, and also some of the community members that have passed away as well."
In the same video, Patricia Aguayo Cruz also described the significance of her piece, "Curandera Fronteriza."
"This particular case is a tribute to the danzantes that are constantly doing that work for us," said Aguayo Cruz. "I think that every time that they take a step-in ceremony those are prayers — I wanted to honor their work, how they send prayers out to us all the time, and in a way keep a spiritual balance out for us."
Both Cerda and Aguayo-Cruz's murals were community efforts, assisted by teams of supporting artists and community members who took part in the mural's completion. "We had a lot of people from the community painting and coming together," Cerda said, explaining the mural's process. "From kids and elders to the young and upcoming artists, it was really satisfying having the community be part of the mural when it's for the neighborhood."
Patricia Aguayo-Cruz also reflected on the experience of contributing yet another mural to Chicano Park's grounds.
"As a Chicana artist, I always tell people that it's an honor to paint at Chicano Park. It's the ultimate thing that I, as a Chicana would ever want. I just think that it's really important to give back to the community and have art pieces that really show who we are as people."
Get Columns Like This In Your Inbox
To receive weekly updates like this in your inbox, subscribe to The Daily Chela newsletter here.