Prendez has received notable attention for his popular series of oil-paintings and digital artwork that is Chicano-themed.
Since the rise of the Chicano Movement in the late 60s and early 70s, Chicano artists have used a variety of mediums to express historical counter-narratives, encourage political activism, and educate communities. Unsurprisingly, Chicano artists have continued this legacy of Chicanismo into today's contemporary artistic and political movements—taking the moment to express political autonomy, cultural solidarity, and pride in being of Indigenous descent.
Among the many artists continuing this proud legacy is Jake Prendez, a 45-year-old Chicano painter hailing from Seattle, Washington.
Prendez has received notable attention for his popular series of oil-paintings and digital artwork with the specific focus of celebrating themes relating to Chicano and Indigenous culture, social justice, pop culture, and satire. His work depicts a diverse range of resilient, powerful individuals who serve as a contrast to traditional depictions of Chicanos, and other Latinos whose experiences are often overlooked or outright dismissed by the art world and broader society at large.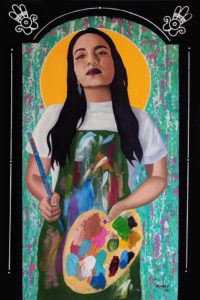 Jake Prendez was born in Hemet, California, a small town about an hour outside of Los Angeles. Surrounded by practically all of his family, Prendez's life changed significantly when his parents moved the family from the dry, sunny deserts of Southern California, to the cooler, drizzly sounds of Seattle. The family settled in the town of Bothell, a suburb just outside the city-limits of Seattle. Immediately from a young age, Prendez felt the culture shock of moving to a new city in a community almost completely devoid of other Latino families.
"Seattle is white enough, especially in the early 80s, and in this white suburb on top of that. Throughout my elementary school years, I don't remember any other Latino kids in my elementary school," Prendez recalled. "I felt like an outsider, I struggled in school but my one outlet seemed to be art. I loved to draw and filled up notebooks with different sketches and drawings."
Prendez continued to struggle throughout grade school, and was placed in special education classes due to undiagnosed dyslexia (a disorder that would remain undiagnosed until after he completed college). "I was a horrible student, teachers hated me. They don't like the cholo or the class clown and I was both," Prendez recalled.
In spite of his struggles, he graduated from high school and enrolled in a local community college. Unfortunately Prendez would continue to face adversity, particularly from faculty at the college's art department who simply did not appreciate his style of art.
"My first semester I enrolled in an art class and I remember the art teachers not appreciating the type of art I was creating. Because I was drawing things like, lowriders, zoot suiters, and other cultural iconography. They would tell me you can't do this kind of art because it's 'too ethnic,' 'too gangster.' It kind of killed art for me so I just stopped creating art for over 10 years."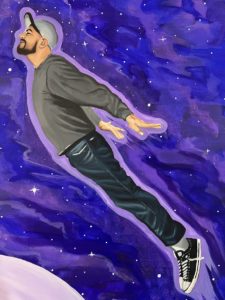 Prendez, however, became heavily involved with the Chicano Movement and student campus organizations like MEChA. He eventually transferred to the University of Washington where he graduated with a Bachelor's in American Ethnic Studies in 2000. In 2003, Prendez moved to Los Angeles to begin work on his master's degree in Chicana/o Studies at Cal State Northridge, which hosted the largest Chicana/o Studies program in the nation at the time.
Prendez's experiences in Los Angeles were a complete one-eighty compared to those he had growing up in Seattle. "I fell in love with L.A. It just felt like home, it felt natural. I was immersed in cultura and no longer felt like the outsider."
While at Cal State Northridge, Prendez decided to focus on Chicano art for his thesis—particularly the connections to social justice and Chicano visual arts—and took a Chicano Studies painting class with famed Chicana Artist Yreina Cervantes. Prendez cites this exact moment as the inception of where 'Jake Prendez the Chicano Artist' was born.
"I just absolutely fell in love with it. I had never really painted before, I would draw but this was my first time painting and it just stuck," Prendez recalled.
For the next ten years, Prendez would hone his craft in his off-time, vending his art at every art walk and street fair in L.A. during the weekends, while working as a college recruiter and outreach counselor for Cal State Northridge. Before long, Prendez began doing shows with other Chicano artists such as Oscar 'Sketch' Navarro and Deadmundo.
For Prendez, this collection of artists served as an alternative platform for artists who had been ignored by West L.A.'s elitist art scene. "I likened the East L.A. art scene at the time to what the Harlem Renaissance must have felt like," Prendez recalled. "I was surrounded by amazingly talented people. And I was constantly around remarkable artists, musicians, poets, and intellectuals from a Chicano/Latino background."
By 2015, Prendez had decided it was time to move back to Seattle to be closer to his children. Initially, Prendez anticipated it would be a temporary move until after his kids had graduated college. However, after one year Prendez decided to make his art a full-time job and began an effort to recreate the art scene he had immersed while in L.A. "Art was always a side hustle, it was never a career. It wasn't until I moved back to Seattle that I had that 'aha moment' of taking art seriously as a full-time career," Prendez said.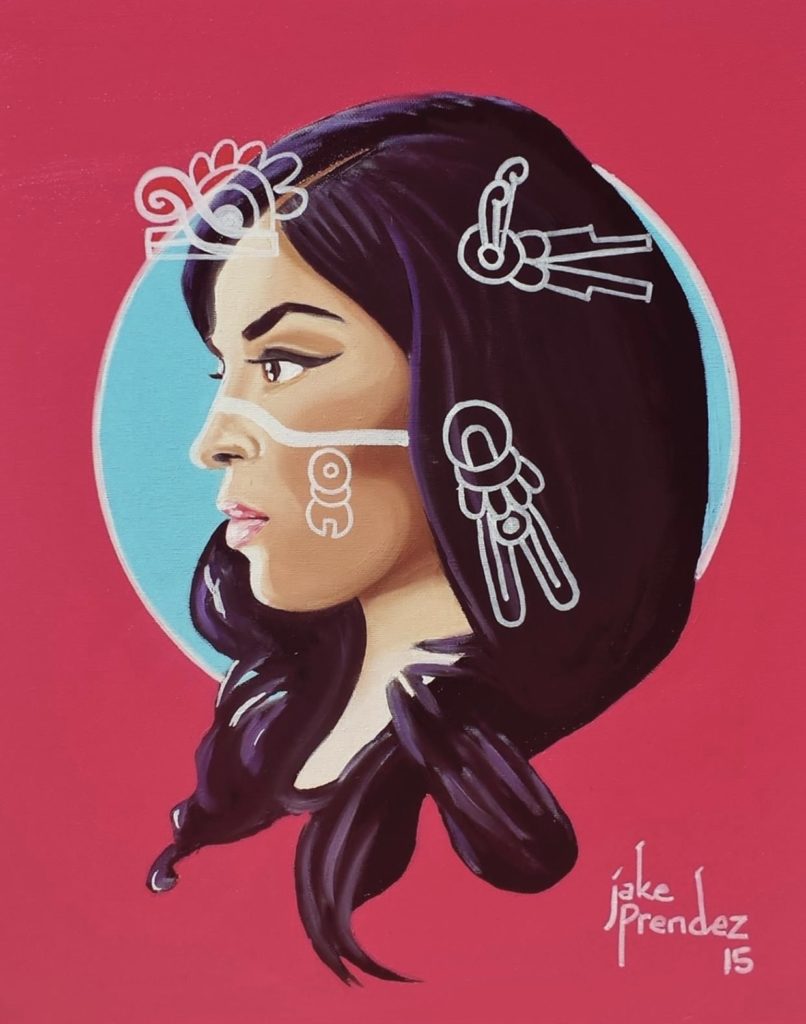 Prendez noticed immediately that Seattle was teeming with talented Chicano/Latino artists, but artists were splintered into different areas of the city, and frequently unaware of the other Chicano artists working in the region. Devoid of any central hub, Prendez created an art space for the community in White Center, an area of Seattle with a large Latino and immigrant community.
Judy Avitia-Gonzalez, Prendez's fiancé and long-time resident of White Center, informed him of the neighborhoods' history and how the area has been historically disadvantaged by Seattle's establishment. In 2019, Prendez and Avitia-Gonzalez (who serves as co-director) opened up the Nepantla Cultural Arts Gallery. ​​The gallery hosts monthly art exhibitions focused on marginalized communities and communities of color, and serves as a community space for events such as arts related lectures, workshops, open mics, and community forums.
The name Nepantla is a Nahuatl term which describes being in the middle or the space in the middle. Popularized by Chicana writer/scholar Gloria Anzaldua, the term commonly references endangered communities, cultures, or genders which due to colonialism/marginalization or historical trauma, engage in resistance strategies of survival.
"We're not 'Mexican' enough for Mexico, and we're not 'American' enough for America, we're in that Nepantla state. That's where you heal, rejuvenate, create…and that's what we do at the Nepantla Cultural Arts Gallery," Prendez said. "We're the only art space grounded in Chicanoismo in the Pacific Northwest, not just Seattle or Washington state but the entire region and our hope is to bring a voice to our community that allows us to share our story to the larger Seattle Community."
Currently, Pendez is in the middle of a series called 'We Still Exist,' a series of oil paintings that celebrates Indigenous communities, and how Indigenous influence still survives in Chicano. In 2022, Prendez hopes to begin work on a comic book-inspired series that incorporates Chicano iconography with that of scenes pulled from the pages of classic superhero comic books.
Reflecting back on his journey, Prendez hopes that his art can serve as an inspiration for younger artists and fill a void that unfortunately was largely unfilled while he was growing up. "Just being Chicano is revolutionary, being a person of color in the U.S. is revolutionary within itself. To culturally survive and exist in a country that is trying to absorb and really eliminate you is a revolutionary act," Prendez said.
"I hope that if anything my art helps make people feel like they're not alone. Fine art is very Eurocentric, especially the stuff we're constantly told is 'high art' and holds value. So I hope people see themselves or at the very least something that resonates with them in my art."
Please Consider Becoming A Subscriber
We have made tremendous strides since we first launched last year, but we can't keep growing without your support. Please consider becoming a Daily Chela subscriber and supporting our work. Choose from our different plans here.