Chicana artist Lucinda "La Morena" Hinojos will lead a design crew to create a 9,500 foot mural in Phoenix during Super Bowl weekend
The majestic serenity of Chicana muralist Lucinda "La Morena" Hinojo will be on full display in her hometown of Phoenix during Super Bowl Week.
The NFL announced Hinojos as the marquee artist during Super Bowl LVII, which is scheduled for February 10 at State Farm Stadium in Phoenix. La Morena is the first Chicana artist to work with the NFL on official Super Bowl theme art.
Her centerpiece work has already been unveiled: a radiant burst of symbolism—the White Tank Mountains, Azteca dancers, fireworks and humming birds—all surrounding the proud Vince Lombardi trophy, itself center grounded with nopals on each side.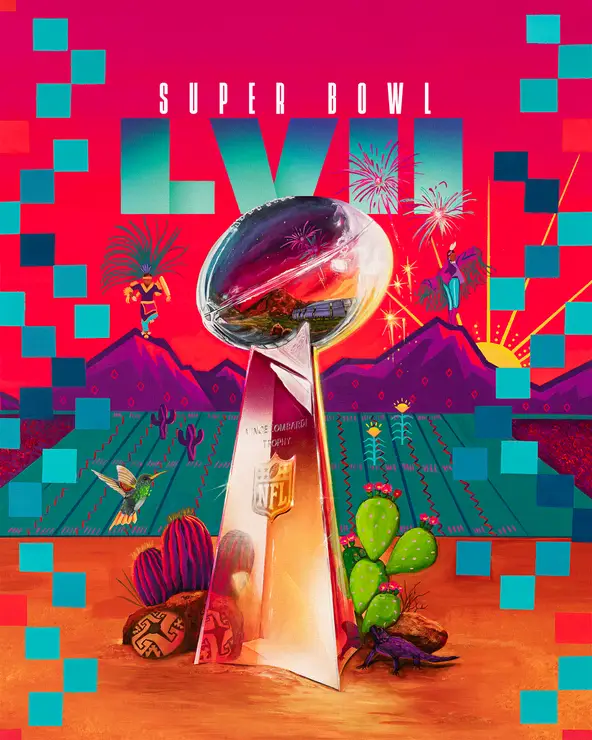 La Morena's design will be displayed on all official Super Bowl tickets. It will also feature prominently on displays and signage throughout the state of Arizona as the Big Game draws near.
Hinojos said the significance of this moment is not lost on her. Being a native of Phoenix with children of her own who play football, the honor is deeply personal.
"I've always thought that the Super Bowl ticket is the centerpiece of this hallmark event, and for me, as the first brown indigenous woman to design the ticket's artwork, it is amazing and something I'm very proud of," she said in a statement.
In the leadup to the big event, Hinojos will lead an artist and design crew that will create a massive 9,500 square foot mural on the Monarch Theatre in Downtown Phoenix. Hinojos will collaborate with Indige Design Collab, an indigenous design network composed of creative professionals all based in the Southwest. The network operates out of the art space Cahokia, also located in Downtown Phoenix.
NFL officials specifically cited La Morena's Chicanisma representation in its official announcement.
"She is a gifted artist, a football mom and a woman who authentically represents her Chicana heritage," said Marissa Solis, NFL Senior Vice President of Global Brand and Consumer Marketing. "We are so thrilled to use the Super Bowl as a platform to showcase her beautiful artwork and by extension, spotlight the local communities integral to Arizona."
La Morena said she hopes her work will spark conversations about the human elements that drive her work and vision. "I create art to hopefully provide an element of healing, unity and real human connection," she said. "So with this Super Bowl piece, I hope people from all over the world can have a dialogue about what this painting means to them …and that's what's beautiful to me