If tattoos tell a story, then the artists behind the machines are the ones who paint the murals of those stories on our skin.
Lidia, a Salvadoran American tattoo artist who founded Brujita Tattoos, is one of those artists.
"Naturally, I gravitated towards the name Brujita as a homage to my family history," she said from her home in Los Angeles. "I come from a long line of brujas and medicine women. As a child I felt very conflicted when it came to the spirituality my family embraced. Now as an adult and a business owner I have tapped into that side of my family, through tattooing."
For Lidia, who grew up in a Salvadoran household, tattooing was once considered taboo. However, Lidia ultimately found herself drawn to tattooing anyway because she felt it transcended pen and paper, and reminded her of the obstacles within her own life that she had overcome.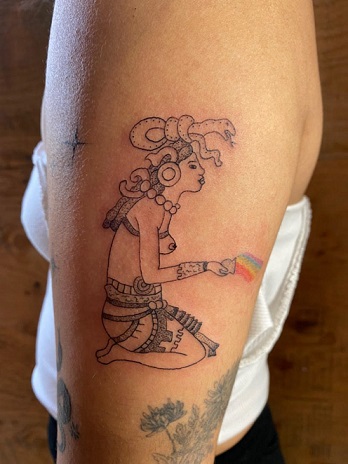 "Ultimately, I decided to try and go for it. In the end I feel like tattooing chose me during a time where I felt lost and hurt. It's been a beautiful journey that I am proud of."
For Lidia, tattoos are a form of expression. She hopes to be that person who helps clients manifest their spirituality, shed their troubles, their pain, and their obstacles in hopes of finding a release.
But her favorite part of tattooing is the people. Coming from Los Angeles, there is a tattoo parlor on almost every corner. However, Lidia's uniqueness sets her apart from the rest, making Brujita Tattoos a one of a kind experience.
"I feel like my personality and style of tattooing makes me stand out. I love all the different people I get to meet through tattooing. I bring spirituality to my tattoos, as well as the space I use to tattoo in. I want each person to be able to express whatever they need to let out. Tattooing is so intimate and it is an exchange of energies. At least that's the way I view it and that's my overall aesthetic."
Tattooing has largely become a trend, but to artists like Lidia it means more than just putting ink to skin. She wants to bring her pointillism art to life.
"I remember in middle school we were taught about Georges Seurat and Paul Signac. I was completely blown away by the fact that they drew tiny little dots that brought this whole image together."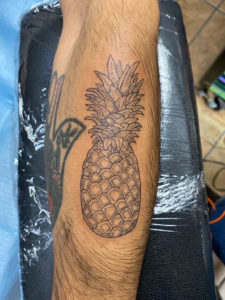 Although now located on Main St., Brujita Tattoos continues to cater to the East L.A. community.
Brujita Tattoos has a $60 minimum for a 1 inch or smaller tattoo, but Lidia believes tattoos should be accessible to everyone. With this in mind, she creates flash sheets for pop up events, giving more people an opportunity to get her designs tattooed at discounted prices.
This also includes personal flashes which have specific designs ready to be tattooed on someone special.
"I wanted to bring my type of tattooing space to East L.A. for all my inbetweeners… You all know who I am talking about. The ones who felt outcasted for being queer or 'different.' Those who want to keep their roots alive and help change the community by introducing new ideas to enrich those."
Brujita Tattoos
1805 N Main St Los Angeles, California