Beach Goons are merely the latest in a long line of bands to come out of Barrio Logan.
Over the years, San Diego has produced its share of prolific bands. From Blink-182, P.O.D. and Stone Temple Pilots, a variety of bands have emerged from the region's diverse arts scene.
Logan Heights is no exception. Boasting musicians such as the late Ramón "Chunky" Sánchez, the neighborhood is also home to punk/garage band Beach Goons who are among the most promising talent in the city's music scene.
The band's changing lineup revolves around singer and guitarist Pablo Cervantez (22) who has produced his own distinct brand of music that is not just unique to San Diego, but Logan Heights as well.
Logan Heights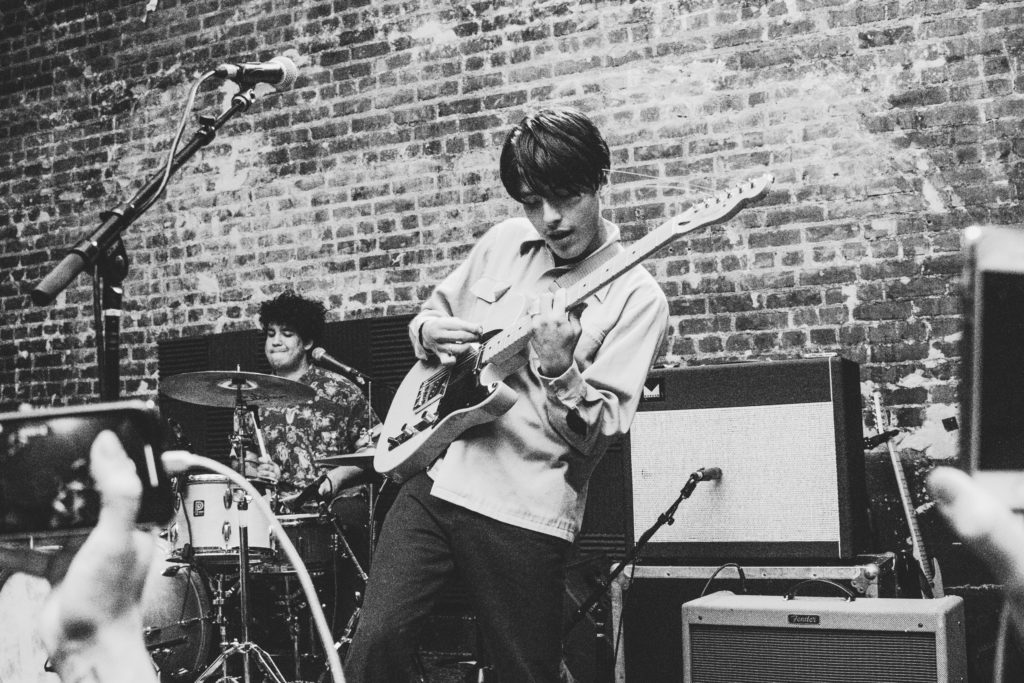 Like many musicians, Cervantez's earliest musical influences came from his family. Born and raised in Logan Heights, the guitarist recalled some of his earliest musical memories.
"My dad had a nylon string guitar in the house just laying around," he said. "I remember I would always pick it up and pretend like I knew how to play. I remember the first time I picked it up I would always try to mimic Rancheras or Corridos, and just basically pretend to play what I was hearing."
The son of immigrant parents, Cervantez grew up in a household rich with an eclectic palette that created a unique mixture of musical tastes that influenced him from a very early age.
"Both of my parents come from Mexico. My Dad's from Guerrero and my Mom's from Jalisco, both from very small pueblitos. Thanks to them I got to listen to Cornelio Reyna, Chalino Sánchez, Ramon Ayala. Just a broad selection of music."
Cervantez's influence was by no means restricted to those of his parent's music either. He recalled the influence of his older siblings, whose foothold in a variety of genres further inspired him.
"My older sister was born in the '80s and loved all of the 80's new wave music," he said. "She would listen to The Cure, Duran Duran, Talking Heads, etc. and I got into that too. And then my other sister listened to Ska, Reggae, Punk, Rap, and R&B. It was just this big pool of music that has been influencing me for a while."
With influences spanning across eras, genres and nations, at an early age Cervantez set his hopes on becoming a musician. "From the moment I picked up a guitar I told myself this is what I want to do, and this is the only thing I want to do."
The Beach Goons
By the time he was in middle school, Cervantez was already playing in a band that he formed with neighborhood friends. Eventually, after a name and a stylistic change, Beach Goons was officially formed in 2014.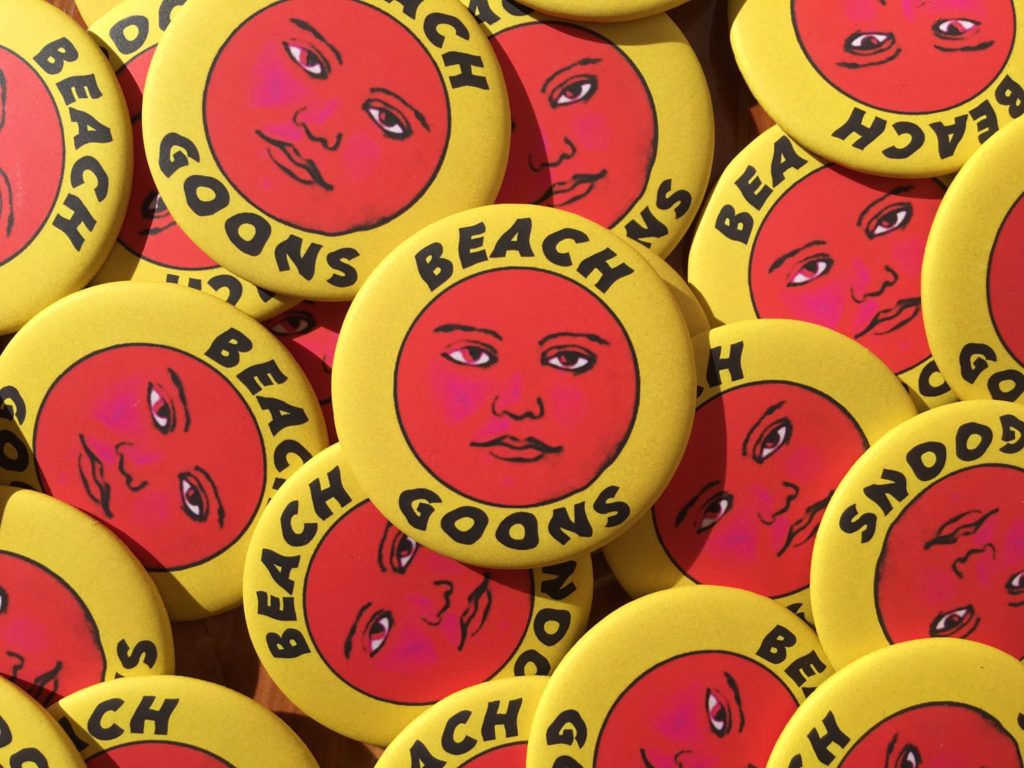 Cervantez recalled the band's early days saying, "The original members were all from Barrio Logan. We all grew up in the same neighborhood, went to the same elementary school, middle school and high school together. The first show we ever played was at Memorial Middle School when they let us play at lunch."
Cervantez remembered one break in particular that came from an unexpected place, the Logan Heights Public Library. "Most of the time it was the Logan Heights Library helping us out. Whether it was them letting us borrow their instruments or letting us use their space to practice," Cervantez said.
"They had a music program that really nurtured and helped us develop, I appreciate them so much for that space. That's why I really, really, rep Logan Heights and Barrio Logan in general, to rep the neighborhood and pay my respects."
The group soon began expanding their performances beyond school, and before long began releasing their own music in 2014. Beginning with a string of projects, Summer Bummer, BoiSad and Beach Freeks, a collaborative EP between the Barrio based rockers and Freeks, a Surf-Punk band from Kelowna, British Columbia.
Following 2015, Cervantez spent the next several years working on dozens of new songs. Over this two-year stretch, the band's membership would once again shift, with Ochoa and Rincon leaving the group, replaced by David Orozco and Chris Moran for the project.
Originally planning another EP, the group recorded so much material that Cervantez opted for another full-length album, hoodratscumbags, released in 2018. Since then the band has made the jump from a local band with regional following to a nationally touring group, even performing at Riot Fest Chicago that year. And Although Orozco and Moran have since left the group, Beach Goons following has continued to grow.
Like many young first-generation Chicanos, Cervantez wrestled with identity growing up, caught in a hazy middle ground where Mexican and American culture clash.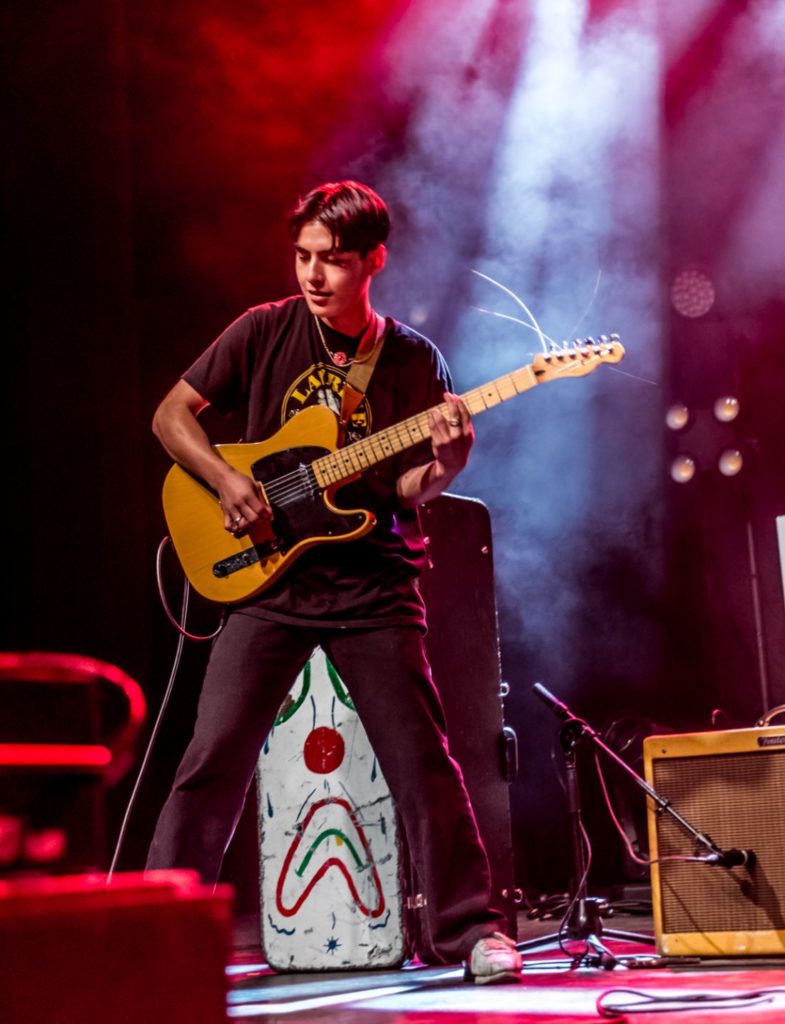 Cervantez recalled his difficulties, "Growing up I remember I hated being from where I came from. I was very embarrassed to be Mexican, because, growing up I was with a bunch of kids that were whitewashed, Americanized. It made me feel like because my parents listened to corridos or because I liked those songs, I was too Paiza. But, as I got older I got to a point where I understood I have to be proud of where I come from, who I am and that there's nothing to be ashamed of."
Through music, Cervantez not only challenged these perceptions forced onto his neighborhood, but it also helped him forge a sense of self. Attuning him to the power of representation in a music scene that traditionally has had little Chicano representation.
The group's significance to young Chicano listeners has not been lost on Cervantez either. "The thing that really stuck out and resonated with me was the fact that there were a lot of Mexican/Brown kids coming up to us saying it's insane to see someone who looks like us representing and playing in a scene that is predominately white. It's cool we're taking up spaces we're not usually taking up," Cervantez said.
While has at times felt like the odd men out in the scene, it has only made him more driven. As he became more comfortable, Cervantez even began writing and performing songs such as 'Chunti' in Spanish, which have allowed the group to flex his Mexican roots on stage.
Cervantez hopes that the group's experience can help young listeners that are also figuring out their own identity. "Jumping in-between being too American or being too Mexican and trying to find a middle when you really can't is always going to be difficult, but I definitely think that the music helps with it," Cervantez explained.
Ultimately, Cervantez' greatest goal is to rep and give back to the neighborhood that molded him like hometown musicians like Chunky Sánchez.
"If I can be remembered in this neighborhood the same way that people remember Chunky, I'd die happy," Cervantez said. "I don't care about any type of worldwide fame. If I can get my community to understand that I wanted to show nothing but love, appreciation and respect that would be the ultimate goal."
Get Columns Like This In Your Inbox
To receive weekly updates like this in your inbox, subscribe to The Daily Chela newsletter here.