With the release of their latest EP, Kozmik Force is proving to be a rare act in hip hop's crowded underground scene.
There are few hip hop artists, let alone Chicano hip hop groups as outspoken and politically active as Kozmik Force. Comprised of Native Threat and Jaguar Arreola, the duo has gained a reputation for being one of the most candid and militant acts in the underground hip hop scenes of L.A. and the Inland Empire.
Garnering a sizable and ever-growing audience on social media, Kozmik Force has endeared themselves to a diverse, global fan base for incorporating themes of decolonization and Chicano/Pan-Indigenous resistance into their projects.
As well as for their blistering critiques of U.S. foreign/domestic policy, the criminal justice system, and for challenging white supremacy in their music.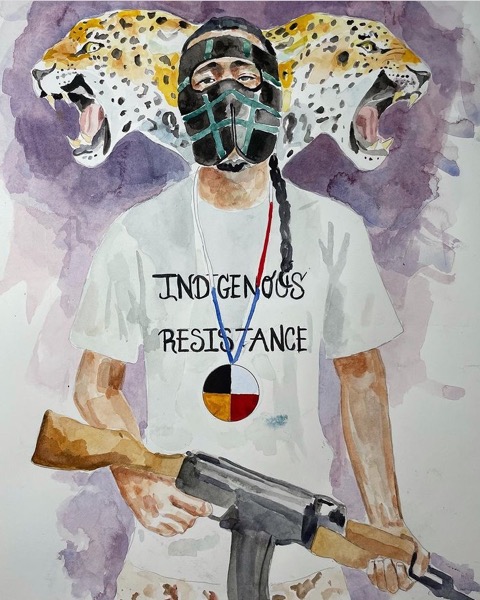 While the COVID-19 pandemic kept most artists off the stage last year, the duo kept busy in 2020, working on a slate of new music. For fans who have patiently anticipated the group's return, the wait is finally over and Kozmik Force is back and bolder than ever with their brand-new EP, Sound of a Weapon.
Crafted amid a global pandemic, nationwide lockdowns, civil unrest from thousands of anti-police violence protests following the murder of George Floyd, and one of the ugliest most contentious presidential elections in modern history, Kozmik Force continues with yet another lyrical assault.
Kozmik Force doesn't just continue their commitment to the revolutionary struggle showcased in their music. They raise the bar, making the eight-song EP their most raw and emotional work yet. Channeling the ups, downs, anger, frustration, uncertainty, grief, and hope that the country collectively endured throughout 2020 and onward into 2021.
Kozmik Force returns to familiar territory on Sound of a Weapon, building on the foundations of its predecessors' Ceremony On Concrete, War Cry, and Untamed, Unchained. Brimming with pro-Chicano messages, Meso-American history, and the promotion of Pan-Indigenous unification across the Americas.
However, that's not to say the duo has stagnated lyrically or sonically.
Showing off the duo's increasingly global perspective and connection to the greater global south, Jaguar and Threat trade verses with Aboriginal emcee DRMGNOW based in Melbourne, Australia on "Medicine Weapon."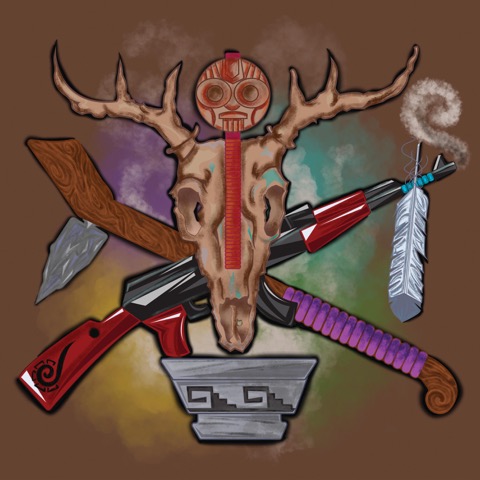 Among the standouts on Sound of a Weapon is also "Another Day," the EP's lead single. Layered with smooth Rhodes keys and classic boom-bap production by producer Acosta the Man, "Another Day" is easily the lightest offering on the EP.
That being said, the duo doesn't shy away from poignant subject matter. Jaguar even pays homage to slain Chicana U.S. Army soldier, Vanessa Guillen, who was murdered at Fort Hood by another enlisted soldier. In addition, Kozmik Force is joined by long-time collaborator Azomali, with the Freeport, New York emcee delivering a smooth melodic guest verse and what is easily the stand-out feature on the project.
While the EP is filled with stellar cuts, the standout track on Sound of a Weapon is undoubtedly, "Shine On," a hauntingly beautiful, and all too timely track detailing the abuse of detainees and unaccompanied minors within border detention facilities.
Never ones to mince words, Jaguar and Threat take aim at Joe Biden, Donald Trump, and their administration's failures to address the intentionally manufactured crises at the border, as well as the epidemic of human trafficking which disproportionately affects Black and Brown communities.
Showcasing production reminiscent of Jedi Mind Tricks producer Stoupe the Enemy, à la the group's Violent By Design days, the project is filled with obscure samples and audio clips that are peppered throughout the EP's heavy, atmospheric production heard throughout much of Sound of a Weapon.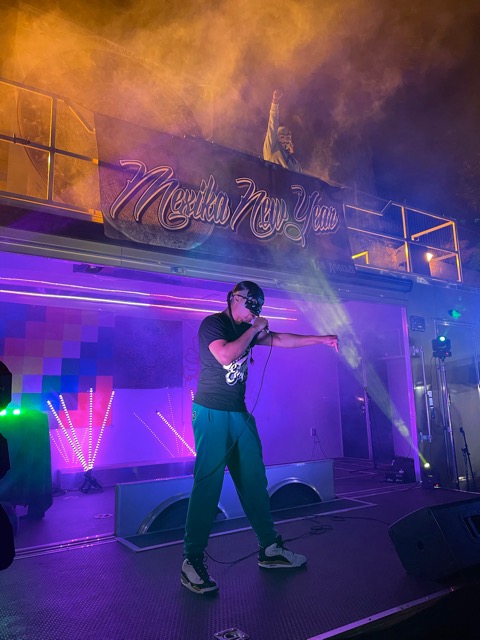 As a whole, Sound of a Weapon is not only yet another solid release from Kozmik Force, it is a moment of clarity for a still relatively young group that has begun to find its voice.
Likewise, the duo has become more comfortable emceeing in both English and Spanish, with both emcees growing more confident switching back and forth between the two. Making clever use of dusty, underground production, and smartly keeping guest appearances down to a minimum Sound of a Weapon is easily the strongest effort from Kozmik Force yet.
As Kozmik Force, Jaguar and Threat have proved themselves to be a rare act in hip hop's crowded underground scene. Without fail the duo consistently gets sharper and more critical with every release.
Sound of a Weapon is essentially a condensed Kozmik Force album, clocking in a brisk twenty-seven minutes. However, in many regards, the eight-song EP outshines its full-length predecessors.
Kozmik Force may not be the most celebrated or widely recognized duo in the underground hip hop scene but, with projects like Sound of a Weapon, Jaguar and Threat have proven themselves to be one of the most consistent up-and-coming groups with a bright future ahead.
Sound of a Weapon is available now to stream on YouTube and Spotify.