30 years ago, A Lighter Shade Of Brown debuted their classic hip hop album, "Brown and Proud."
When discussing pioneers of Chicano Rap, there is perhaps no group more iconic and revered than A Lighter Shade of Brown (LSOB). In the genre's pantheon of heavy-hitters, few artists can boast such a long-lasting legacy and impact on the genre.
Formed in Riverside in 1990, and comprised of Robert Gutierrez—also known as "ODM" (One Dope Mexican)—and Bobby Ramirez who goes by "DTTX" (Don't Try To Xerox), Lighter Shade Of Brown was at the forefront of an explosion of Latino hip-hop groups to rise to prominence during the early 1990s.
This month marks the 30th anniversary of Lighter Shade Of Brown's debut LP "Brown & Proud," the album which effectively launched their careers and helped bring the emerging sub-genre of Chicano rap into the national spotlight of mainstream hip-hop audiences.
Brown and Proud
The origins of Lighter Shade Of Brown date back to the late 1980s when Gutierrez was still a teenager attending high school in Riverside, California. As an avid hip-hop aficionado, listening to artists such as Ice-T, Run DMC, and LL Cool J, Gutierrez spent his time battle rapping with friends at house parties, school dances, and anywhere else he could hop on the mic.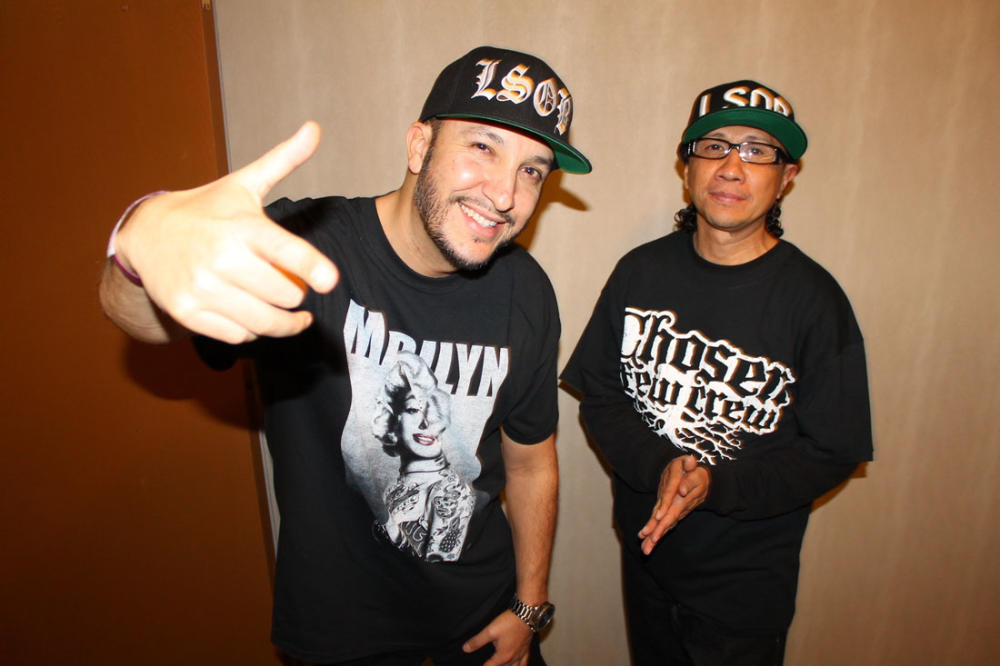 Before long, Gutierrez's rhyming abilities caught the ear of Cliff Richey, a promoter involved in the local music scene who began managing him.
"My manager was trying to make me one of the first Chicano rappers to come out from the West Coast," Gutierrez recalled. "But Kid Frost had just dropped 'La Raza' so he decided to pair me up with somebody and put together a Chicano group."
Seeking a second member, the group's DJ, Fabe Love, suggested Bobby Ramirez—a twenty-year-old emcee who went by the name DTTX whom Love had attended high school with. With Ramirez added to the lineup, Richey coined the duo's name and Lighter Shade Of Brown was born.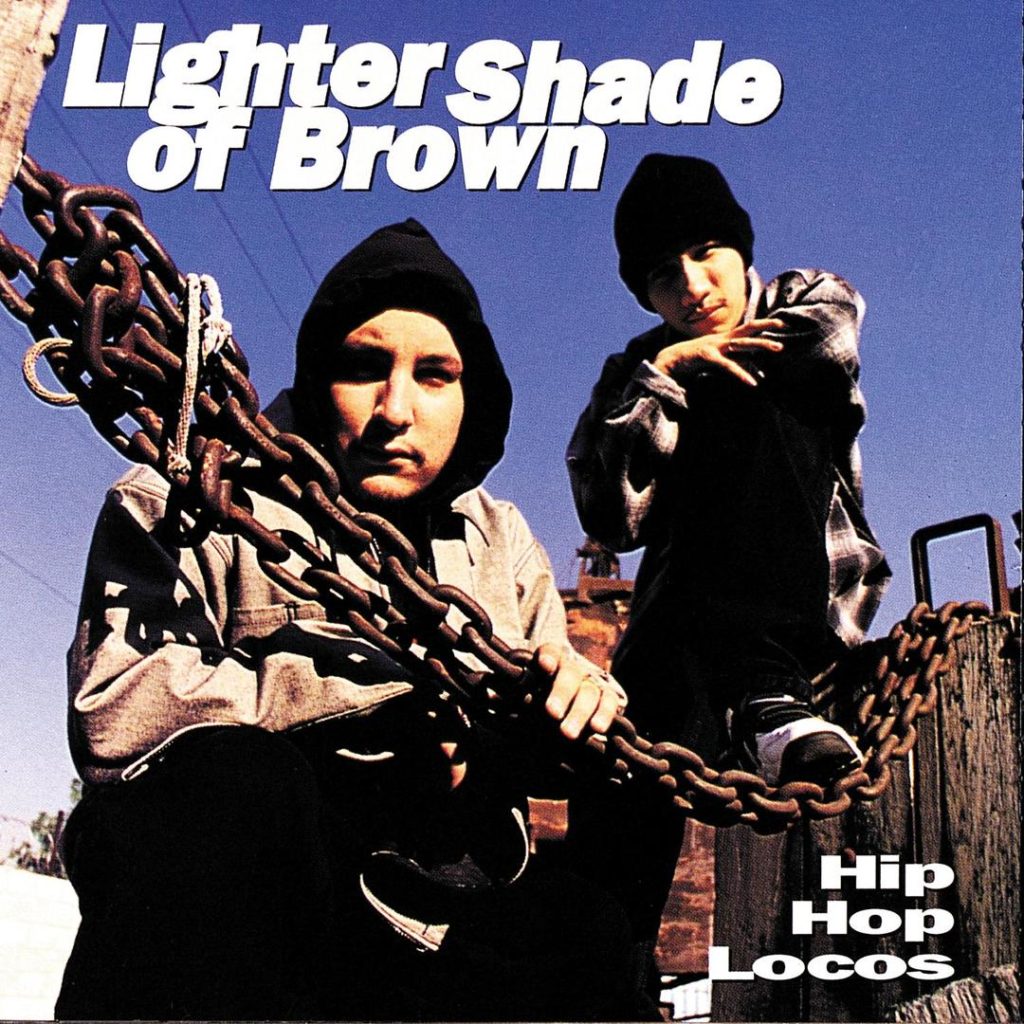 As Lighter Shade Of Brown, Gutierrez and Ramirez began working on music together, eventually settling on a three-song demo which their manager began shopping around to various labels.
"We went to everyone that was around at the time," Gutierrez said. "We went to Warner Brothers, Elektra Records, Delicious Vinyl, Jive, we even went to Ruthless, Eazy-E's label."
Eventually, the duo was signed by Pump Records, a small imprint that was distributed by Quality Records, and at the ages of sixteen and twenty, the duo officially had a record contract.
"We dropped our first single 'TJ Nights' the summer between my junior and senior year of high school and when I came back to school I had a single out on the radio," Gutierrez said. "Everything happened so fast for us I didn't really even know how to accept it."
A Lighter Shade Of Brown: Latin Active
Now signed to a record label, neither Gutierrez nor Ramirez had formal training in songwriting or storytelling. However, under the guidance of their manager, the duo began developing content and subject matter that would become common, recurring themes in their music.
This was perhaps most notable on the group's biggest hit, "On A Sunday Afternoon." Inspired by Will Smith and DJ Jazzy Jeff's hit song 'Summertime,' the duo decided to put their own spin on the concept and show how Chicanos do it on a Sunday hanging in the park, bumping oldies.
Gutierrez also recalled how the group tried to touch on historical and culturally empowering subjects as well on songs such as "Poncho Villa."
"We needed to include a revolutionary leader if we're going to call the album, 'Brown & Proud.' We were young and weren't really political, but we still wanted to share a piece of Chicano history."
The two didn't truly comprehend Lighter Shade Of Brown's cultural impact until they started getting invited to perform at universities for events held by Chicano student advocacy groups, championing causes Gutierrez and Ramirez were unfamiliar with.
"We were doing this college circuit performing shows for M.E.Ch.A. clubs on campuses like UCLA where they were fighting to get Chicano Studies courses at the time," Gutierrez said. "That's when we really got an ear full and started learning more about Chicano history, everything was a learning curve because we ourselves were learning."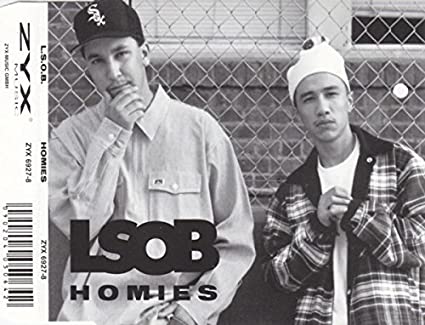 For the duo's follow up album, "Hip-Hop Locos," Lighter Shade Of Brown decided to bring a more street-oriented sound to their second LP, this time with DTTX helping assist with much of the album's production. "Our style changed a little bit for the second album, we went a bit more Hip-Hop as far as the beats," Gutierrez said. "We did something for the radio, for the street, for the ladies, we wanted to touch everyone with it."
In addition, the duo's second effort touched on more serious social issues such as the still all too relevant issue of police brutality and misconduct on the posse cut "Interrogated Cause I'm Brown."
"At the time racial profiling, interrogation, and police brutality was a big deal with the whole Rodney King situation," Gutierrez recollected. "We wanted to touch on it so we wrote the song from our point of view as Chicanos experiencing this harassment from the police in our communities."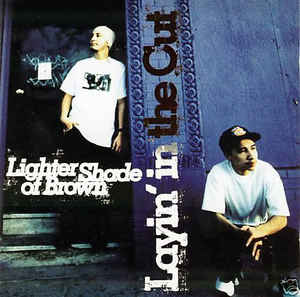 Despite Lighter Shade Of Brown exploring new territory both lyrically and sonically, the group's sophomore album was not as successful as their debut effort. However, the momentum of their first album resulted in Mercury Records signing the duo for their third LP, "Layin' In the Cut" in 1994.
Although the album proved to be the duo's highest-charting album, and spawned hits such as "Hey DJ," "Dip into My Ride," and "If You Wanna Groove" the record still didn't sell as well as hoped, and the group was released from their contracts following its release.
Lighter Shade Of Brown would go on a brief hiatus and reunite for several more albums. However, moving to smaller labels proved once more to be a difficult transition as Lighter Shade Of Brown struggled to get their music radio play. Gutierrez eventually left the group in 1999 after the group's fifth album "If You Could See Inside Me" to pursue a career in radio as an on-the-air DJ at 99.1 KGGI broadcasting in San Bernardino and Riverside, while Ramirez continued to tour and make music under the Lighter Shade Of Brown name. 
A Brief Reunion
For nearly fifteen years Gutierrez and Ramirez scarcely spoke but that changed in 2015 when the duo reunited to perform on stage at Art Laboe's Summer Love Jam. "When we performed again it was like nothing changed, like we had never left that stage," Gutierrez said, recalling the long-awaited reunion. Invigorated by a wave of 90s nostalgia in Hip-Hop, Gutierrez and Ramirez took up a year-long reunion tour.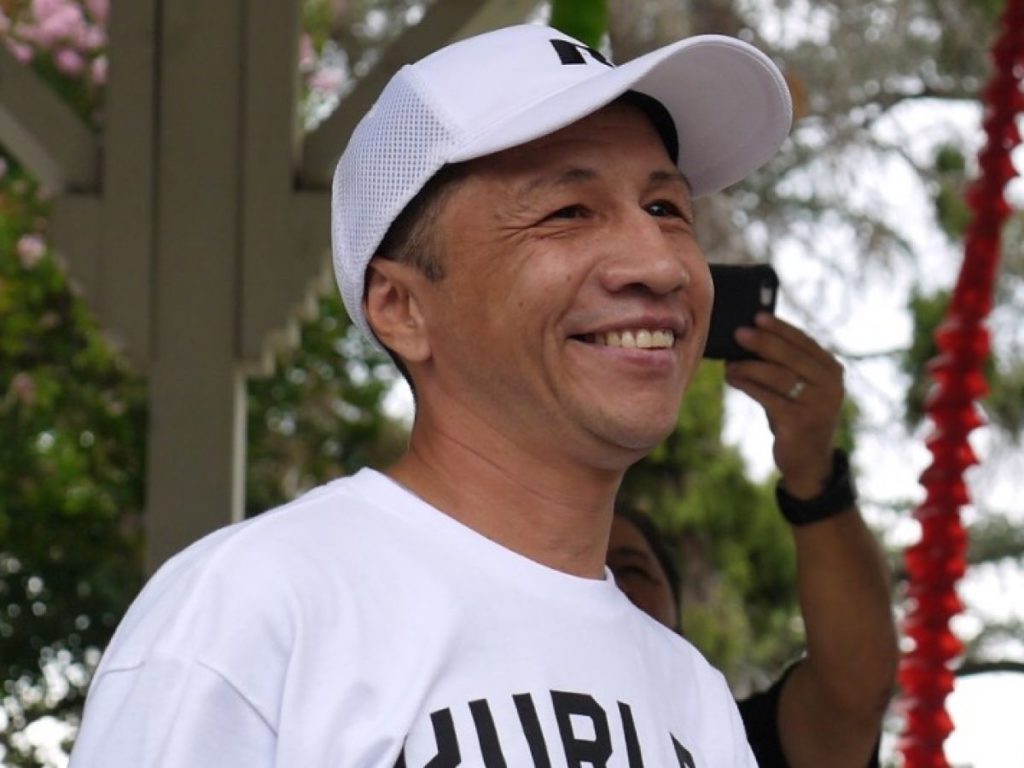 Sadly, the duo's reunion would come to an abrupt and tragic end. On July 7th, 2016 Ramirez was found unconscious on the streets of Las Vegas, his body covered with severe burns after lying for hours on the pavement under the brutal heat of the relentless Nevada sun.
Ramirez was taken to the Sunrise Hospital and Medical Center where he remained in a coma for eleven days before passing away at the age of forty-six from complications of heat stroke and sun exposure.
Despite Ramirez's tragic and untimely passing, Lighter Shade of Brown still remains a revered and beloved staple among old school hip-hop and Chicano rap listeners. Despite the group's prominence, it wasn't until much later that Gutierrez fully appreciated the profound cultural impact of their music in an era where Chicanos still had relatively little representation in hip-hop.
"Never at that time could I imagine how our music impacted people, and what it did for the culture and the movement," Gutierrez said. "We had no idea that 30 years later we were going to be forefathers of this movement that opened doors and broke down barriers."
A Lighter Shade Of Brown: Thirty Years Later
While the duo never quite reached the same level of mainstream success as some of their contemporaries, Lighter Shade Of Brown still not only helped break down barriers for Chicanos in hip hop but Latino emcees of all backgrounds. Helping pave the way for modern Chicano/Latino emcees to follow, Lighter Shade Of Brown's contributions to Hip hop are forever cemented in their music which is still enjoyed by countless fans.
Thirty years later, at forty-seven and now a family man, Gutierrez is grateful that after three decades fans continue to show their love for Lighter Shade Of Brown.
"Today you got people my age with kids that know our songs because their parents instilled it in them. Like when our parents played disco and all of the oldies for us, that's why music is timeless because it's always going to be here. When I'm gone thirty years from now, hopefully we'll have a new Art Laboe playing "On A Sunday Afternoon" and that'll live on forever. That's the dopest thing about our music."
Robert 'ODM' Gutierrez is still an on-air personality at 99.1 KGGI FM and a YouTube personality. He continues to make new music to this day and still performs, keeping the legacy of Lighter Shade Of Brown alive.
Get Columns Like This In Your Inbox
To receive weekly updates like this in your inbox, subscribe to The Daily Chela newsletter here.