Ramona Gardens is one of the oldest projects in Los Angeles, but the community still loves it.
Providing resources since 2018, Project Hope California (PhCA ) has long done their part to assist the youth and families of Southern California. Their mission is to speak about the importance of hope, healing and opportunity for all.
With the rise of COVID-19 across many cities, however, communities are coming together now more than ever to provide support to their neighborhoods.
Ramona Gardens "Grab and Go"
To show their support, PhCA is hosting a Grab and Go on Saturday at Ramona Gardens. The Grab and go will be held in the 30-acre lot of Boyle Heights, where Ramona Gardens has been up and running since 1941.
Join PhCA and Ramona Gardens from 1:00pm to 3:00pm where the Grab and Go will serve members of the community.
Uplifting Communities
This year has taken a toll on many individuals, and in return many have stepped up to the plate to support their communities.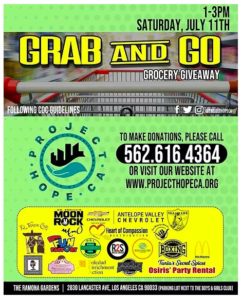 Community outreach also helps uplift the city, while spreading kindness and unity.
If you want to contribute to the event you can learn more at www.projecthopeca.org or head toward 2830 Lancaster Avenue, Los Angeles CA 90033 this Saturday.
If you know of any events that help bring communities together, let us know!
Get Columns Like This In Your Inbox
To receive weekly updates like this in your inbox, subscribe to The Daily Chela newsletter here.