Latino students are less likely to return to school in the fall compared to other students.
As colleges and universities grapple with delivering quality education in an online environment, a recent survey of college students in the U.S. revealed there is a strong sentiment for returning to school in the fall term even if classes continue to only be held online. But the biggest worry regarding their academic survival is among women, minority, and international students.
The Higher Education Data Sharing Consortium (HEDS), an organization of colleges and universities, has been conducting surveys among college students regarding their handling of the COVID-19 crisis. In their latest findings, the surveys reveled that about 90% of college students are planning to return to classes in the fall even if they are online.
This is especially the case for students who have a strong sense of connection with their school or those who have received some type of support from their school.
The survey findings also show that the biggest worry for college students right now is doing well in an online environment, which is followed by their other worry about being isolated and not having friends or mentors around. Latinos and African Americans are more likely to worry about meeting basic needs in food and housing.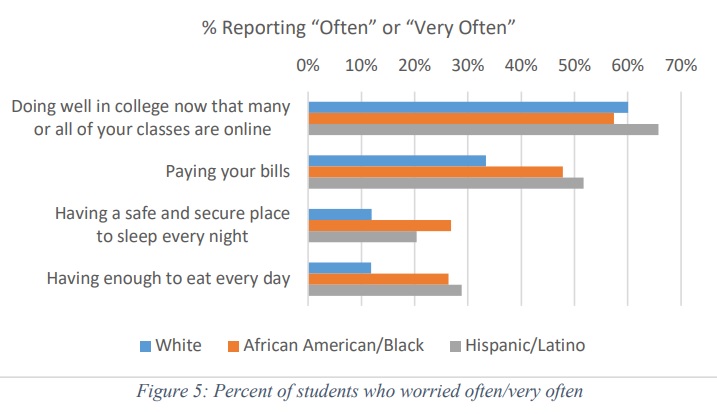 In fact, minority college students are less likely to return to school in the fall compared to the rest of students, but the main reason for them is financial. Those students that are less likely to return to the fall if classes are held online mentioned tuition costs and quality of the online education as the main factors for not returning to school.
The good news is that many of those respondents also say that taking a break from school would be the best option compared to withdrawing from school for good.
On the other spectrum, there was a recent survey conducted of college presidents and other top college administrators regarding their response to the COVID-19 crisis. According to this survey conducted by Inside HigherEd, over 90% of presidents and chancellors reported that their main worry is the mental health of their students, and only 18% mentioned that they have already invested in resources for delivering mental health services.
Also, this survey shows that over 80% of respondents find keeping students motivated in an online environment as a top challenge. This is by no means a surprise as most students were not expecting or ready for an online-only education when they first registered at a traditional school.
As most college students said they will continue their studies in the fall even if their classes are online-only, about half of the college presidents and chancellors mentioned that they are uncertain if classes will return to their normal state any time soon and one of their top worries is student enrollment.
The best advice for college students during these unprecedented times is to continue in search of answers and help. For those students in need of financial aid, they should consult with their financial aid office to see if they qualify for the CARES Act emergency funds for college students. These are emergency funds that are part of the $14 billion aid for colleges and universities as part of the Coronavirus Aid, Relief, and Economic Security (CARES) Act, which went into law in March 2020.
The purpose of such emergency funds is to provide cash grants to college students for their school expenses such as textbook and other course materials, technology, food, housing, and childcare.
Get Stories Like This In Your Inbox
To receive weekly updates like this in your inbox, subscribe to The Daily Chela newsletter here.