COVID-19 continues to ravage the Latino community.
As states across the U.S. begin to reopen their economies, we are reminded that it will be a challenging and unprecedented process that will likely take months before things return to normal.
The latest unemployment report from the U.S. Bureau of Labor Statistics with numbers from May show that the number of unemployed persons went down slightly compared to the numbers in April.
Sadly, the unemployment rates by race, ethnicity, and education show that Latinos, African Americans, women, and those without a college degree, still have the highest rates of unemployment.
Latino Unemployment
Of the 20 million of unemployed in May, around 5 million are of Latino descent. This means the unemployed population is about 25% Latino.
As soon as the COVID-19 pandemic began, not only did most of us go into panic mode, but policy makers and policy analysts also began to question the structure of the U.S. economy for managing such a public health crisis.
COVID-19 is an unprecedented public health crisis all over the world, with an ending that is nowhere near. But this crisis has also become an economic one as the whole fabric of society is adapting to social distancing and other public health measures for preventing widespread infection.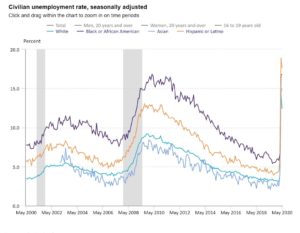 A sad result has been a high unemployment rate that we haven't seen since the Great Recession of 2007-2009.
According to the news release in June of the U.S. by the Bureau of Labor Statistics, "The employment rose sharply in leisure and hospitality, construction, education and health services, and retail trade. By contrast, employment in government continued to decline sharply."
This slight increase of employed individuals from April to May has brought relief to many, but there are still more improvements to be made, especially as large employers like K-12, community colleges, and state universities shrink their workforce due to budget cutbacks.
State Budget Cuts
Even small state universities like the University of Alaska is going to see its share of budget cuts. The Board of Regents of the University of Alaska last week decided to slash around 40 programs as a scale-down effort due to a decrease of sources of revenue.
This cut, according to the Board, will save about $4 million to the university system.
Other state employers like the State of California are also planning severe cuts for balancing their state budgets due to the COVID-19 crisis. Just this past month, Governor Newson from California revised its proposed budget from January and is now calling for drastic cuts to be able to balance a $54 billion deficit.
In his message, Governor Newson called on essential priorities, like public health, public safety, public education, and small businesses but he is also asking the federal government to step in and support local jurisdictions in the state.
It was not long ago that a major study on Latino businesses in 2016, conducted by Stanford University's Stanford Latino Entrepreneurship Initiative, concluded that "Perhaps more surprisingly, we do not find that Latino firms are concentrated in just Latino neighborhoods.
Seventy five percent of Latino firms are in non-Latino neighborhoods. Less than one-quarter of firms are in majority Latino neighborhoods, and a majority of firms report that over half of their clients or employees are non-Latinos.
Together, these statistics tell us Latino firms serve a broader constituency than just Latinos, and that an increase in their wealth would impact more than just the Latino community."
With a high unemployment number for Latinos across the U.S. and budget cuts that loom in the horizon, especially in big state like California where the Latino presence is high, the question remains whether the Latino population will continue to face a slow economic recovery.
Get Columns Like This In Your Inbox
To receive weekly updates like this in your inbox, subscribe to The Daily Chela newsletter here.