Bold, colorful, flamboyant—one could argue Chicano culture was built for the runway.
"Who you trying to get crazy with, ese? Don't you know I'm loco?"
Those are the words of Owen Wilson before engaging in a high-stakes runway walk-off against Ben Stiller in the hit comedy Zoolander. The scene, which borrows its dialogue from the song "Insane In The Brain" by Cypress Hill, is also the extent of my knowledge when it comes to the professional fashion world.
So when designer Rio Uribe invited me to sit front row at his latest fashion show on the rooftop of the Petersen Automotive Museum in Los Angeles this past weekend, you can imagine my surprise at the sight of El Triste— a cholo-inspired marionette—strutting down the runway to a remix of "I Got Five On It" by Luniz.
Sometimes reality is more loco than fiction.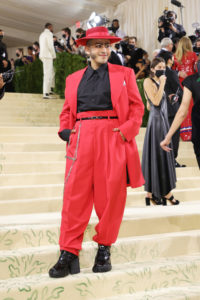 Gypsy Sport, the brand Uribe founded in 2012 and named after a breed of horses, fashions itself as gender-neutral. But overtones of traditional Chicano street culture, famous for its masculinity and machismo, are hard to ignore.   
"Since I was a kid, I remember seeing people like Gwen Stefani rocking the Chola aesthetic, and lots of fashion magazines have been lifting inspiration from us without actually uplifting the Chicano communities," Uribe told me after the show. "It's important now more than ever to reclaim our culture."
Uribe's decision to lead with El Triste—"the saddest clown in Los Angeles"—was part of that reclamation. More than a bold nod to urban Chicano culture, it was a glimpse at a world few people in the audience will probably ever truly appreciate or experience so intimately again.
And it was beautiful.
Cain Carias, the Mexican American puppeteer from Westlake behind El Triste, was more than happy to play a part. "Fashion should include Chicanos," he said. "It brings a different twist."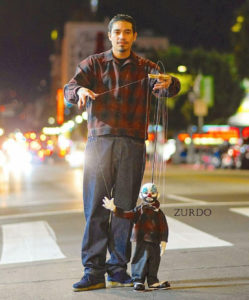 Twist is putting it mildly. Chicano culture has evolved over the decades to span everything from art to cars to civil rights. To package it all into a single comprehensive show is audacious for any designer.
Yet Uribe found a balance. Watching the precision of each step, it was impossible not to get swept up in the atmosphere. The music. The cheers. The designs. The delicate interpretation of a culture that over the years has precariously found itself wedged between barrios and boardrooms.
Had another designer draped models in zoot suits and splashed lowriders onto a giant 4k screen, it not only would have felt exploitative, but it likely would have missed the mark.
However, that is what makes Uribe different. Despite being formally named Vogue designer of the year, Uribe is an unapologetic self-identified Chicano who respects and understands the nuances of the culture he looks to for artistic inspiration—the good, the bad, the ugly.
Unlike other designers, Uribe isn't mining inspiration from a source he has no connection with. He is mining inspiration from his own childhood. A place where he once tended to friends who got jumped into the gang. A place where his father builds and cruises lowriders until this day.
"Chicano culture is so multifaceted and diverse, but my family is why I love my culture," Uribe said.
That proximation to urban Chicano culture was unmistakably clear on the fashion runway, right down to his decision to play "More Bounce To The Ounce" by Zapp and Roger, a longtime West Coast Chicano favorite that the average East Coast designer surely would have overlooked.
Bold, colorful, flamboyant—one could argue Chicano culture was built for the runway.
Yet Uribe manages to indulge without succumbing to the excesses that so often doom other designers. And in true Chicano fashion, his latest show was bigger than just Mexican Americans. It included people from all walks of life.
In many ways, Uribe seems genuinely interested in approaching fashion from a different perspective.
Carias, who hopes the show opens doors for more Chicano artists in the fashion world, agrees. "This was my first time experiencing a runway," he said. "Rio saw something in me that I didn't."
Please Consider Becoming A Subscriber
We have made tremendous strides since we first launched last year, but we can't keep growing without your support. Please consider becoming a Daily Chela subscriber and supporting our work. Choose from our different plans here.