Trump didn't just launch a war on undocumented immigrants. He launched a war against legal immigration too.
Since taking office, Trump has made harmful changes to numerous immigration policies, from detention, asylum, deportation, and refugee resettlement program, to denying entry to those from majority-Muslim countries.
Collectively, these changes are an attempt to create an atmosphere of nationalism and fear. In addition, they are trying to stop immigration to the United States by people of color by not just physically denying them at a U.S. port of entry, but rolling back some legal rights that people have in order to become a resident or citizen in this country.
It's important to know the different changes the administration has made to the legal immigration system.
Here is a list of some of those changes and attacks:
Diversity Visa Program
The program was established with the Immigration Act of 1990. The program permits people from countries with low U.S. immigration rates to gain lawful permanent residency. The Trump administration has started suspending this program from countries such as Tanzania and Sudan. In addition, they have restricted who can apply for the program.
Denying Refugee Entry
Prior to 2016, the United States admitted approximately 110,000 refugees. By 2018, that number was slashed to 50,000. Now in 2020, it's been slashed to 18,000, weakening this critical humanitarian program at a time where approximately 258 million international migrants are on the move, according to the United Nations Department of Economic and Social Affairs Population Division.
Attacks on Women
The Trump Administration has given more power to visa officers to deny pregnant women from entering the country, another way of restricting the extent of the 14th amendment that grants citizenship to all persons born in the U.S.
The ban is aimed at persons from Asia, Africa, Latin America, and the Middle East which are required to have a visa to visit the U.S. This rule is a way for the White House to signal to officers overseas that the women who are close to delivering their child should be added to the growing number of immigrants unwelcome to the U.S.
Denying Families and Workers
In 2015, there was a six percent denial rate of foreign-skilled worker requests, also known as H-1B visa which was implemented by the Immigration and Nationality Act of 1965. By 2019, that denial rate went from 6 percent to 32 percent, adding more obstacles for workers and families to go through.
"Wealth Test" For Immigrants
In January 2020, the Supreme Court provided the Trump Administration a victory as they were allowed to impose its brutal "public charge" immigration policy. In addition, the court removed a brief stop that was in place by a lower court, thus allowing the policy to go into effect on February 24, 2020, except in Illinois.
This policy punishes immigrants and their families for utilizing particular public benefits like SNAP (food stamps), Medicaid, and forces them to provide evidence that they are wealthy enough to not rely on government assistance in the near future. Court proceedings against this policy are still ongoing.
Asylum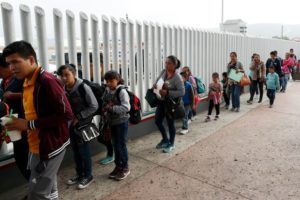 The Trump administration has made it almost unbearable for people to apply for protection in the United States. The administration continues to apply new restrictions on asylum seekers. As a result, it is restricting migrants from applying for asylum if they traveled through another country before reaching the U.S. and didn't apply for asylum in the previous country before arriving at the port.
Muslim Ban
The Supreme Court upheld Trump's third version of his Muslim ban excluding entry of people from Muslim-majority countries like Yemen, Iran, Libya, Syria, Somalia and Chad. The ban was expanded in January 2020 to include and target more people of color from African countries like Sudan, Nigeria, Tanzania, and Eritrea, Myanmar and Kyrgyzstan.
The ban further denies protection towards those from countries experiencing war and humanitarian crisis and natural disasters. Most of these countries are victims of the Pentagon's illegal proxy wars according the U.N. Security Council article 39.
Permanent Residency
At the end of 2017, backlogged green card applications increased by more than 35 percent. As a result, it is leaving thousands of people who are seeking citizenship or their green card (permanent residency) in limbo.
In addition, the United States Citizenship and Immigration Service (USCIS) officers now have the power to straight up deny or reject any visa or green card applicant that does not have sufficient evidence or contains an error on their application without giving the person an opportunity to fix it. As a result, people with the appropriate paperwork and valid visas who are trying to renew could be placed in deportation proceedings.
Deportation Proceedings
Since the Trump Administration made it easier for U.S. Citizenship and Immigration Services to deny visa applications if something or anything is missing, even though they are not an enforcement agency, the new policy from 2018 has allowed them to funnel people it denies into deportation proceedings by issuing a "Notice to Appear" (NTA).
This will not only push people into deportation proceedings, but will add to the immigration court backlog that already exists.
Immigration Courts Pushing Deportations
Prior to 2016, over 355,000 deportation cases were administratively closed but the Trump administration moved to reopen them in 2018. In addition, the administration pushed to speed up the deportation process by forcing judges to rush through cases.
The Justice Department created a case quota requirement for immigration judges. The administration is limiting immigration judges' ability to cease deportation proceedings against immigrants unless in very limited circumstances.
Xenophobia
The United States Citizenship and Immigration Services (USCIS) changed its mission statement to remove the phrase that describes the United States as "a nation of immigrants." Trump also described immigrants to "animals" and scorned immigrants from "shithole countries."
Attacking Naturalized Citizens
The Department of Justice (DOJ) created a new division in its Office of Immigration Litigation that is specific to denaturalizing foreign-born citizens referred to by the Department of Homeland Security (DHS).
The administration already referred 100 cases to the Justice Department to prosecute. As a result, creating an atmosphere of insecurity and fear among permanent residents and naturalized citizens with their families that they will be targeted by the new division.
DACA And TPS
Trump campaigned in 2015 to "Make America Great Again" and in the same breath told millions of immigrants who had some type of legal protections to get out. With the termination of DACA and TPS, he leaves millions of families vulnerable to deportation.
With Trump already adjusting the legal immigration system to reflect his agenda, the termination of T.P.S. and D.A.C.A. lies in the hands of the court system that has already proven to be on the side of Trumps agenda.
Accelerated Deportations
The Trump administration announced in July 2019 that it will expand deportation regulations to include removal of undocumented immigrants that cannot provide evidence they have lived in the U.S. for two consecutive years.
This gives the Department of Homeland Security the power to deport immigrants without any proper legal due-process protections granted to most people. That includes the right to an attorney and a hearing before a judge.
Charging a Fee for Asylum
The Trump administration is imposing a new fee for asylum seekers and eliminating fee waivers that already exist, making it difficult for low and moderate income immigrants to seek asylum and apply for citizenship or renew their DACA status.
These changes by the Trump administration received no pushback at all from Congress or the Democratic Party, the party that calls itself "the resistance" to the Trump agenda. Thus, allowing his agenda to gain momentum and take shape.
Lastly, the administration has spent more time deregulating and attacking the legal immigration system, rather than providing a pathway to citizenship for people fleeing violence in their home country. Majority of people don't support the changes to the legal immigration system, so it is important to be aware of them and challenge them so that people have a pathway to citizenship in this country.