Lowrider cars are America's most dynamic underground tradition.
The airbrushed murals. The candy paint. The warm breeze that slaps you across the face when the hydraulic pump springs you high into the heavens, all as curious onlookers gather on the corner to point and admire.
Nope, nothing beats the excitement and attention you get when bouncing up and down the boulevard in a swooped-up lowrider car.
I know this because I've owned my fair share of lowriders. My first car was a 1967 Chevy Impala with baby blue vinyl interior. My second car was a dropped 1990 Lincoln Continental that scraped the pavement when pulling into a gas station. And my first bike was a lowrider Schwinn with gold plated forks and mirrors (I was too broke to afford real gold, of course).
But lowriding was about more than chopped suspension coils and white wall tires. Like many Mexican Americans, it was about pride, family, community, la raza—preserving an outlet to compete and express cultural heritage through art.
As journalist Ted West once wrote, lowriders "express the refusal of a young Chicano American to be Anglicized. There has never been a clearer case of the automobile being used as an ethnic statement."
Lowrider Cars
Perhaps nowhere has lowriding remained more popular than in the west. From California, to Oregon, to Arizona, to Colorado, to New Mexico, lowriders not only originated in the densely populated Mexican American towns of the west during the 1940s, but continue to thrive until this day through annual car shows and competitions.
In fact, despite the recent announcement that Lowrider Magazine will no longer appear in print, last year saw one of the largest lowrider resurgences since the 90s. All in all, over 100 lowrider shows took place in 2019. And cities such as Los Angeles, Las Vegas, and Phoenix all hosted shows that brought out 500+ lowrider cars.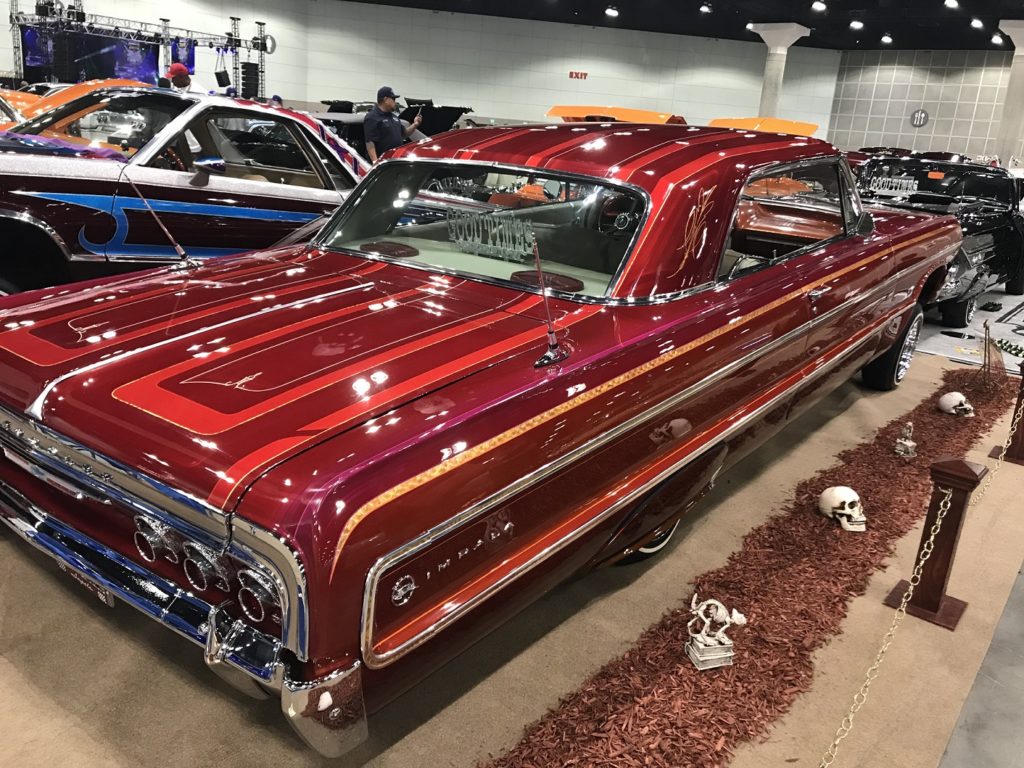 The benefit is undeniable. California alone is home to hundreds of small businesses that specialize in pinstriping, airbrushing, upholstery, hydraulic pumps, and other customizations. These businesses have provided incomes for families, created jobs and promoted solidarity among car enthusiasts.
The spirit has transcended generations. For many Latinos in the lowrider community, customizing cars has become a family affair, a chance to banter and bond—for fathers to pass knowledge and skill sets down to their sons.
Lowriders Are About Community
One might think of it as a modern twist on the old Soap Box Derby races of the 1950s. Likewise, lowrider competitions between families and rival body shops not only serve as an outlet and escape from the lure of gangs, but a way to channel and showcase talent.
I've seen the benefits firsthand. In the town where my family lives, for example, local lowrider clubs work with city officials each year to organize a lowrider parade through downtown. The event, which lasts three days and celebrates Mexican culture, concludes with traditional bands, music, and food.
Unfortunately, lowriders are often viewed in a negative light. Rather than associate lowriders with work ethic and family, Americans often associate them with poverty or street gangs, negating the real value car competitions bring to working class, predominately Mexican American communities.
Of course, none of this means lowriders don't have their downsides. Getting pulled over by police is often a daily occurrence. Hydraulic pumps occasionally fail. And customizing engines takes a lot of time and effort.
But in the age of "Fast And Furious," who really needs more speed?
At the end of the day, lowriding isn't about speed. Nor is it something to be ashamed of. If anything, it's something to be proud of, a peaceful recreational activity that creates a sense of accomplishment and camaraderie.
One might even call it America's most dynamic underground tradition.
Note: This essay was edited and expanded on from a previous essay by Brandon.
Get Columns Like This In Your Inbox
To receive columns like this in your inbox, subscribe to The Daily Chela newsletter here.