Improvements have been made, but home ownership continues to remain an obstacle for many Latinos.
As the year begins with a strong economy, and election season continues, housing has emerged as an important policy topic.
Throughout the U.S., many communities are lacking affordable housing at the same time when construction of new homes mainly goes into large houses that are beyond the budget of the average U.S. worker.
The crisis disproportionately affects Latino workers. Without adequate housing for everyone, especially a large minority population, we cannot expect a sustainable future.
There are countless tales even from wealthy and vibrant communities, like in Palo Alto, California, that we hear of workers sleeping in their cars just to avoid long commutes to work.
Local governments do not have enough funds to create massive, public housing as they used to in the past. But some communities are getting creative and asking private companies to step in.
Such was the case of Amazon in Arlington, Virginia. Amazon put $20 million into Arlington's Affordable Housing Investment Fund for building affordable housing in the area.
It was also the case with Microsoft, which donated about $500 million in Seattle, Washington for adequate housing projects in the city.
Latinos and Home Ownership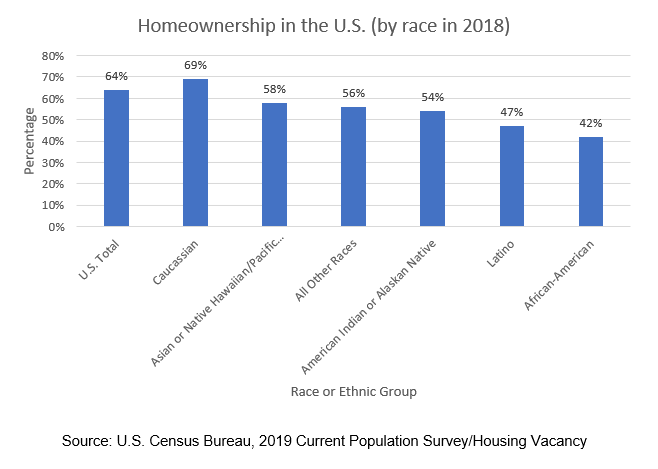 In 2019, the home ownership rate in the U.S. was about 65%. But the latest data by race from 2018 shows Latino home ownership was only around 47%.
The Latino community, which represents almost 20% of the total U.S. population—and faring worse than national averages in unemployment, education, and health statistics—faces the greatest challenges for securing affordable housing.
A 2019 study done by a Latino-focused organization, Salud America, reported that decades of disinvestment in U.S. minority communities, has led to worsened physical and mental health in these communities.
From that study, it was found that:
The percentage of Latinos who are "housing cost burdened" (defined as those with more than 30% of their household income spent on housing costs) increased from 42% in 2000 to 57% in 2015, and expecting 2020 to fare no better for Latinos as the national average went up in 2019 to 32%.
Except for African Americans (58.3%), 47% of Latinos are more burdened by housing costs than other racial/ethnic groups.
Across counties, every 10% increase in the housing cost burdened is linked to 29,000 more children in poverty, 86,000 more people who are food insecure, and 84,000 more people in fair or poor health.
Latina women and other minority women have a higher rate of eviction.
Latino home ownership rates have been decreasing in the past few years.
Overall, there are several factors that are causing the home ownership crisis such as stagnant wages, slow construction of new homes, reduction of construction of new but small homes, reduced home-mortgage availability, and increased home prices.
But for Latinos, and other minorities like African Americans, decades of discrimination in the housing market has also reduced many opportunities to accumulate wealth throughout generations.
For example, descendants of Latinos that immigrated in the mid-1950s, still have less of a chance of securing a down payment for a home if they were singled out in the housing market back then due to racial and ethnic discrimination.
As housing will be a hot topic in this election year, we need to raise our concerns to public officials and bring awareness as solutions will command public, individual, and private business efforts.