Intensifying weather, increasing militarization, and disparities in immigration policies have heightened the risks to migrants attempting to cross the border.
Although the number of migrants at the U.S.-Mexico border has steadily increased since 2020, they have sharply spiked since President Joe Biden took office. When the frequency of crossings increases, so too do migrant deaths.
In 2021, the Department of Homeland Security (DHS) documented 557 migrant deaths along the southern border. Twenty twenty-two proved to be far more deadly, with 853 documented deaths. The numbers are undoubtedly much higher since Border Patrol only includes deaths reported to authorities, and figures don't account for migrants who go missing.
For organizations like Border Kindness-Bondad Frontera, the situation at the U.S.-Mexico border isn't merely a political talking point, it is a daily reality where countless people are caught in the United States' antiquated and increasingly exclusionary immigration system.
The San Diego/Mexicali-based org began work in the fall of 2018 as a direct response to the "migrant caravans" leaving various Central American countries.
The organization provides asylum-seekers, unaccompanied minors, and other migrants with comprehensive services, including food, shelter, clothing, medical care, and legal services. Broadly their programs and interventions focus on specific vulnerable populations of women, children, and the elderly, offering them a health and wellness clinic, a children's empowerment center, day laborer outreach, and other migrant assistance programs.
Border Kindness-Bondad Frontera's Water Drop and Humanitarian Aid program is perhaps its most direct approach to aiding migrants making the dangerous trek through the deserts of the Southwest. Since 2016, the Water Drop team has maintained a consistent presence along the California borderlands. Teams of volunteers strategically leave life-saving humanitarian aid, placing bottled water and supplies in the deserts and increasingly remote mountain regions.
This is because draconian immigration policies and militarized border security have forced migrants to navigate more dangerous and life-threatening corners of the region.
Climate Change Is Worsening Crossing Conditions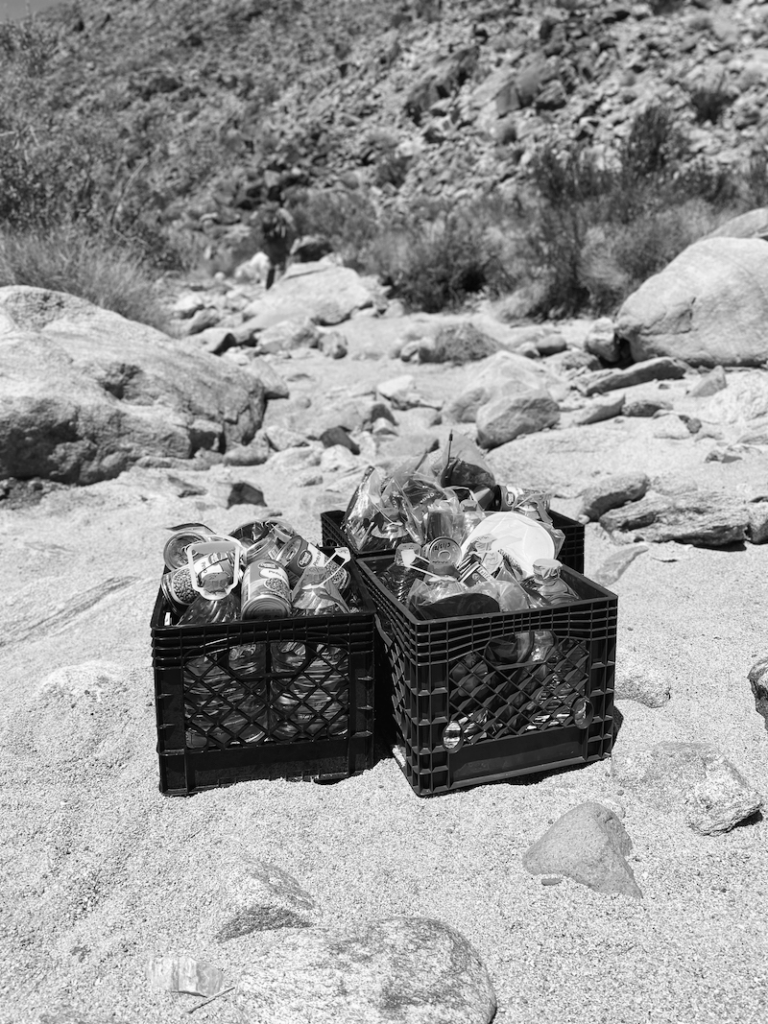 The borderlands are like a second home to Jacqueline Arellano and James Cordero, who have been organizing Water Drops for 6 years before bringing their program to Border Kindness-Bondad Frontera in early 2022.
The pair have firsthand knowledge of the desert's harsh, unrelenting nature and of the worsening conditions along the border. They've volunteered with various migrant/border outreach programs for nearly a decade and are familiar with the myriad of snaking canyons and spiraling mountain ranges that migrants must traverse when attempting to cross the border.
Exposure to the elements is the primary cause of migrant deaths. Since the implementation of Operation Gatekeeper by the Clinton administration in the mid-1990s, Customs and Border Protection's policy of "prevention through deterrence" has continually militarized the U.S.-Mexico border and intentionally pushed migrants into increasingly remote and deadly regions of the desert in an attempt to deter border crossings.
Heat also continues to take a heavy toll, especially as climate change causes higher, more dangerous temperatures to linger for longer. While the peak temperatures of 2022 were not as high as the previous two years—where temperatures reached up to 130 degrees—California's Imperial and San Diego counties still reached a record amount of daily temperature extremes.
Much of Arellano and Cordero's time is spent with their team studying and tracing maps and marking locations of already-dropped supplies. They've created an almost puzzle-like map where known pick-up points and locations of crossings are marked across the U.S.-Mexico border. Cordero says that they leave supplies in areas where migrants are most likely to pass through via multiple pathways. The most vital part of planning is knowing when to come back to track what supplies have been taken and what needs replenishing.
"We have learned that we cannot take anything we think we know in the desert for granted because doing so can cost someone their life," said Cordero. "The most important thing in the desert is to remain committed and consistent, even if an area does not appear traveled it doesn't mean it will stay that way, and just because an area isn't frequented doesn't mean it's not worth our time."
The equally harsh conditions of the desert's winter season add another layer of challenges to the team's efforts. Arellano said that the mountain ranges of California's border with Mexico have higher elevations with colder temperatures. From November to March, Arellano and Cordero's team leave the usual food, water, and socks, along with added cold weather clothing to help offset the temperatures.
"We've hiked through snow and ice on our supply drops," said Arellano. "We frequent these areas during the colder months to check usage and restock quicker because we know what the outcome could be if we do not."
The challenges of trying to survive in the desert are multiplied for migrants coming from Haiti, Cuba, and Venezuela. Migrants from Western Hemisphere countries crossing for the first time are unfamiliar with the terrain along the U.S.-Mexico border, leaving them to rely even more highly on coyotes to find routes into the U.S. This puts them at extreme risk of violence and deteriorating health after long treks through multiple countries. Many border and immigration advocates fear this trend will continue as imperialism, economic instability, and climate change continue to displace people from all over the world
"The global realities of late-stage capitalism are resulting in increased migration, and they're unfortunately occurring at the same time that the inevitable realities of climate change are beginning to impact our planet in real ways," said Arellano. "This means that resources are becoming increasingly exploited globally, while corporate profits continue to soar unrelentingly."
Arellano and Cordero said that at the Day Laborer Outreach sessions they host, they often hear from farmers who have been forced to migrate "due to their ancestral way of life no longer sustaining them as the land does not yield as it used to." As resources dwindle, people with the least are the most impacted and left vulnerable to violence and organized crime in their home countries. As a result, they are left with no choice but to migrate at a time when it has never been more dangerous.
Surviving Harsh Terrain Only To Be Met By Increased Militarization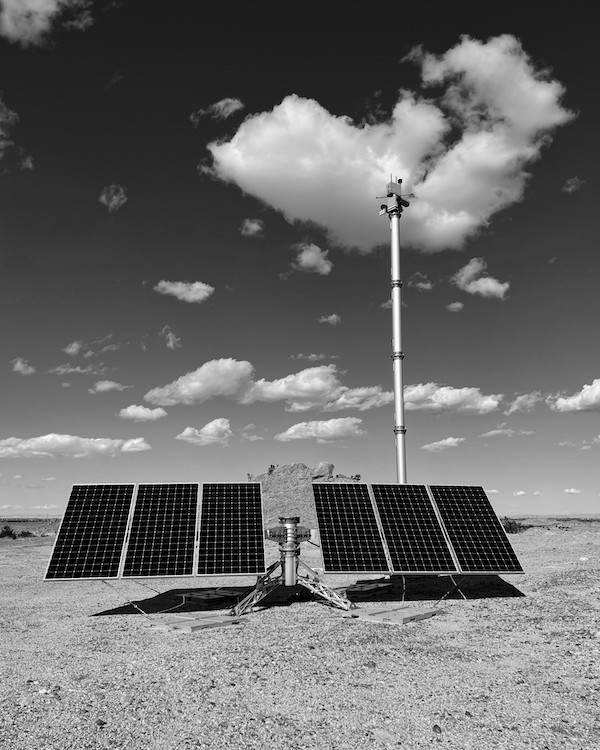 Throughout their work, Arellano and Cordero have labored under the looming threat of continuous militarization of the border, which persists under the Biden administration.The government has installed dozens of new solar-powered Autonomous Surveillance Towers (AST) across the California border with Mexico.
Additionally, state authorities have set up various Army Reserve surveillance stations to assist in watching camera footage and alerting Border Patrol. Construction of former President Donald Trump's border wall continues under Biden, who has also maintained Trump-era immigration policies that have only increased the rate of repeat border crossings.
Continued surveillance and militarization at the U.S.-Mexico border has not only changed where migrants are crossing, it has also shifted the distances that migrants have to travel.
"There seems to be a great presence of Border Patrol along the actual border itself, in areas of plain sight for the public, and less Border Patrol along the border in remote areas," Cordero said. "This absence of agents has been noticed, and migrants come through these areas that require longer walks."
As more and more migrants—particularly those who are unfamiliar with the unforgiving terrain—continue to make the dangerous treks into the Southwestern deserts, the increased presence of patrols at the border has continued a decades-long trend, funneling them into increasingly more isolated and lethal passages of the borderlands.
Inconsistent Funding and Implementation Of Immigration Policies
A lack of adequate funding for humanitarian aid groups has proved to be an obstacle just as treacherous as draconian immigration policies and punishing desert terrains. Nonprofits and mutual aid groups continually struggle to acquire steady funding, donations, and other forms of material aid. Border Kindness-Bondad Frontera doesn't seek or receive resources from local, state, or federal governments. Volunteers make up the organization, and its support comes from individual donors, partnerships with community-based businesses, and ostensibly progressive foundations and corporations.
The height of the COVID-19 pandemic intensified funding challenges for Border Kindness-Bondad Frontera which have continued into 2023.
"Donations are not coming as strong as they were before the Biden administration took over," Cordero said. "Throw in a pandemic with people losing work, and now the current financial crisis with inflation, and corporate price gouging, sometimes there's not the extra money available to donate."
Likewise, the organization is keenly aware of the need to responsibly and ethically bring attention to the plight of migrants without resorting to exaggerated or exploitative narratives. Arellano said that they follow a principle of "attraction versus promotion" where the focus is on doing the work, sharing the particulars of what that work looks like, and trusting their efforts will speak for themselves. In the view of advocates like Arellano and Cordero, their responsibility is to provide aid and protect the work they do to better safeguard migrants making the dangerous journey to the border.
"We have been adamant that we will continue to communicate the reality of state sanctioned border violence and death without resorting to gruesome trauma porn, we don't share photos of those who have died and we don't tell stories that are not ours without consent, though unfortunately those would be the kind of details that garner attention," Arellano said. "It can be a challenge to get the message out, so we focus on providing real tangible aid and fulfilling the mission we set out to."
In addition to stifling volunteer and fundraising efforts, Arellano said that COVID-19 also put the racial bias embedded into the U.S. immigration system on full display, like Title 42, which was invoked by the Trump administration to block entry to the U.S. for migrants primarily from Mexico and Central America. Much to the ire of many immigration support groups, the practice has continued and expanded under the Biden administration. "COVID-19 has continued to affect issues along the border in part because some of the policies [that used the] pandemic as justification—such as Title 42—were especially transparently showcasing the ways that these policies were reserved for migrants of color from exploited nations of origin," Arellano said.
Advocates often point to the disparities illustrated by the U.S. government's lifting of travel restrictions to facilitate the acceptance of thousands of Ukrainian migrants while continuing to exclude BIPOC asylum seekers, leaving them to face incarceration, political instability, and in some cases, death. The safety and support the United States rightfully extended toward Ukrainian migrants isn't shared with migrants of color, particularly those from nations that continue to suffer the destabilizing effects of Western imperialism.
"Policies with such cruelty have an enduring impact even after they are overturned because the fractures in communities they create are long term and now generational," Arellano said. "The instability persists and will continue to do so long after this is supposedly resolved."
Despite these seemingly insurmountable obstacles, Arellano and Cordero say that humanitarian aid along the border will continue to be a necessity, regardless of who or what party occupies the White House. Organizations like Border Kindness-Bondad Frontera know the aid and services they provide for migrants won't exist without their efforts. This makes it even more crucial to ensure that migrants' needs on both an immediate and long-term basis are met, which requires securing more consistent and dependable sources of funding, volunteers, and other material support.
Arellano said that whether it's providing communication with migrants, donations of food, shelter, and medical attention, or spreading the word within communities about the importance of taking these actions, any form of support makes it possible for them to continue the work.
"Reaching out to organizations to offer support is huge; sharing the information and work is huge," Arellano said. "Those impacted by the border need us to provide consistent support, attention, care, and community. This means educating ourselves and others about the reality of what is happening, and it also means providing direct support in tangible ways and doing so consistently because it's that consistency that promotes security."